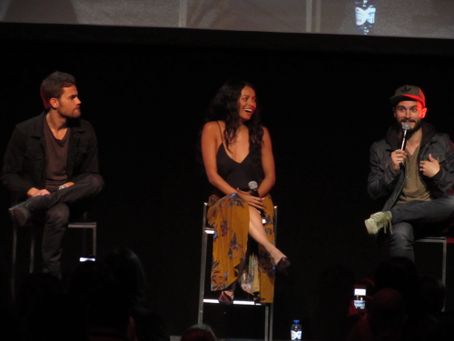 Last month (May 20th&21st) we went to Bloody Night Con (by KLZ Events) at The Egg in Brussels (Belgium). BNC is a fan convention that focuses on The Vampire Diaries and its spin off The Originals. We had been looking forward to it for months and that was mainly because of the amazing guest list. In the weeks leading up to the convention there were three cancellations: Ian Somerhalder (Damon Salvatore, TVD), Daniel Gillies (Elijah Mikaelson, TVD & TO) and Claire Holt (Rebekah Mikaelson, TVD & TO). Of course we were very disappointed , but the girls from KLZ made sure there were some great substitutions. Because of this the final guest list was the following: Paul Wesley (Stefan Salvatore, TVD & TO), Kat Graham (Bonnie Bennett, TVD), Michael Malarkey (Enzo  St. John, TVD), Riley Voelkel (Freya Mikaelson, TO), Nate Buzolic (Kol Mikaelson, TVD & TO; Saturday only) and Charles Michael Davis (Marcel Gerard, TVD & TO; Sunday only). Of course we will tell you all about the convention, the guests, the meetings (photo&autographs), the panels and of course the fun we had. Today we will talk about(and show you some of the highlights of) the last panel of the weekend; the The Vampire Diaries Panel consisting of Paul Wesley (Stefan Salvatore), Kat Graham (Bonnie Benett) and Michael Malarkey (Enzo St. John).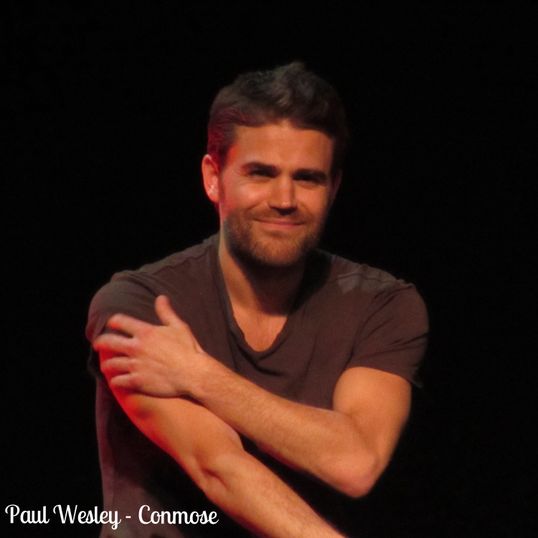 They seemed to have a lot of fun together on stage. Here are a few things we learned from listening to this very funny panel:
There was a question about their first meeting and what their first thought about each other was; Paul answered that he first met Kat in Vancouver ( where a lot of the filming took place). They all went on a cast hang out in a restaurant together. He also met Candice (Caroline), Zach (Matt) and Michael Trevino (Tyler) there. Paul said he remembered he was thinking that Kat was very pretty. He said he remembered he remembered he thought that about Michael Malarkey too. He also said he remembered Michael was reading a book his first day on set and  he thought "Wow this guy is studious...he is an intellectual!".
Michael: "I first caught a glimpse of Paul Wesley at a table read is when I believe I first saw you or met you..."
Paul: "I was probably being an asshole."
Michael: "He was being an asshole, completely preoccupied, but really great hair. I don't quite remember if we chatted much at that time, but when we first did start to chat I think we realised we had a lot of similar interests and we got along pretty quick. First time I met Kat... I'm trying to remember..."
Kat: "Honestly I don't remember meeting you.."
Michael: "Actually I do remember! You were walking...I was sitting on set somewhere on stage 12. And you were walking by with Candice and you were like: I've heard you're pretty good, I want to work with you. I remember you saying that...and we ended up working together quite a lot"
Kat: "I think eight years ago is when I first met you (looks at Paul), or no almost nine. It was 2009..." At that moment Paul starts moisturizing his hands. Kat: "You're just gonna moisturize? Just in front of everyone, you're just gonna start moisturizing yourself? That's so...Okay thanks, sorry I don't remember. I've loved them since the moment I saw them, but I don't actually remember meeting them..".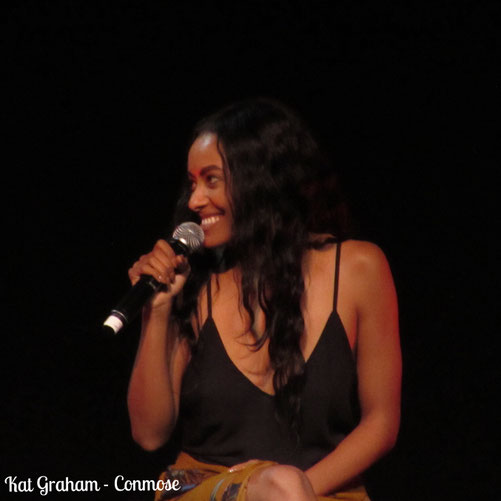 Someone also asked Paul to describe himself in three words, his answer was: "Just charming, stunning and just very intelligent..." Then someone told him she had been waiting to meet him for 8 years now, she thanked him for helping her through some tough times and started crying. Paul's response was very nice, he said: "
"That's so sweet,thank you very much. You know it's so nice, we do these fan conventions and this really is such a nice moment and I really appreciate that so much. You know in 8 years of the show, you kind of work on it and sometimes you forget why you're doing it. And then it's so sweet to hear that and I am so grateful that I was able to be a part of that and that I was able to make a difference in your life..."
When asked about their favorite quotes:
Kat: "Nothing splendid has ever been achieved except by those who dared believe that something inside them was superior to circumstance."  (by Bruce Barton)
Paul: "I'm not a quote guy, but I think Einstein had a couple of quotes that were really good...I'm not kidding. Yeah Einstein had some great quotes" (starts googling)
Michael: "Let everything happen to you. Beauty and terror. Just keep going. No feeling is final" (Rainer Maria Rilke)
Paul: "Okay guys I got one! Imagination is more important than knowledge" (Einstein)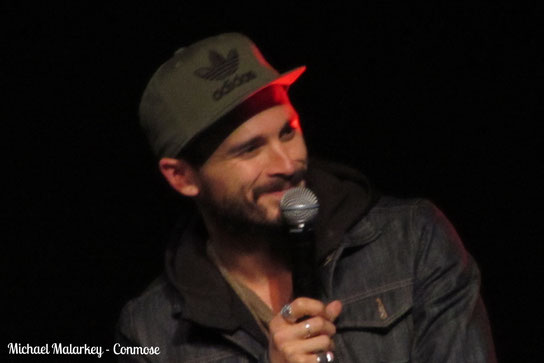 When asked about their first fan event, Paul and Kat quickly remembered theirs. It was part of the "Hot Topic Tour" and they took over a mall. Apparently it was madness. Michael's first fan event was in Rome and he said he had no idea what he was getting into. He didn't realize that the show had such a big impact internationally. The first time he came out for his panel, he was shocked that everyone was applauding for him. He thought Paul was behind him. He also talked about how fans were trying to get to them in a high speed car chase.
When someone asked what the worst part of auditioning was they were very like minded: they hate it, all of it. But they do have their ways to get through them. Kat: "I just treat it like the job and I don't expect or think that there is anything after the audition. I don't call it even an audition, I say that I'm gonna go to work and I do the scene like I'm at work. And I just get to act and I just remember that I just like acting. Like that's the best part about this. I just...I f#cking love to act, I have a great time. And if I get the job...okay cool, that's awesome. But that's not why I go in (...) I will throw the script out after I leave the audition, even if I like worked on it for hours or days, I literally throw it out and I completely let it go. And that has been very helpfull for me." Paul said he hasn't done an in person audition since The Vampire Diaries, he hasn't done one for years. He is pretty nervous about doing one in the future, he thinks it's gonna be terrible.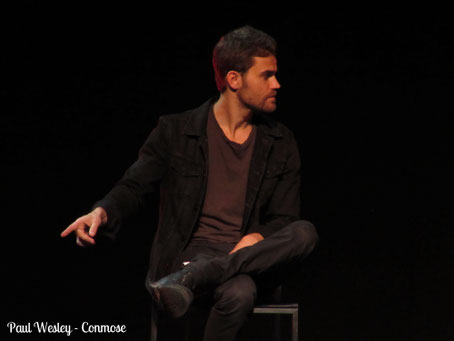 Then someone asked Paul about the most embarrassing thing that happened to him and he had two answers to that questions: "The first one was when I was in 8th grade. I used to wear really baggy pants, because I used to think I was a Hip-Hop Legend. I used to like, rap and I was very influenced by the Hip-Hop culture (...)anyway my pants fell down in the middle of the hallway. Everyone saw my pants fall, because they were like sitting below my ass. And I just remember being so embarrassed.  And then the other moment was in the first week of High school as a freshman and I was sitting in the cafeteria leaning back on my chair. And I just...I fell on my ass and the whole cafeteria laughed and then stood up. All the seniors stood up and they all go: douche! Everyone called me a douche. It was so embarrassing, I turned red and I just got depressed".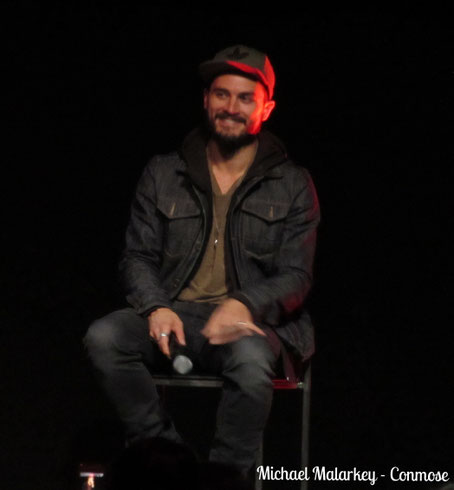 Paul learned how to drive a stick shift on set and Michael still can't drive a stick shift. For Paul this was a great day on set. Michael thought of his dressing room on set as his "safe space" , his home away from home. He painted the walls blood red to get into character and he also had his guitars and his DVDs in there. He misses it. When asked about funny moments together Kat says her and Paul have never been serious together, except for one time when they had a big fight. Michael said there are a lot of funny moments when they are on the road. 
Do they sing under the shower? 
Paul: "Actually, when I'm in the shower, I'd like to go into like deep thought..."
Michael: "I'm one of those guys, that gets in there, furiously scrubs and gets the hell out. It's kind of an inconvenience sometimes.."
Paul: "Do you feel like...when you're in the shower...I'm like a machine in there..I'm not playing. I'm not there to enjoy myself. I'm there to clean myself."
Michael: "No,no...let alone serenade myself...naked.."
Kat: "I sit in the shower for 30 minutes"
Paul: "Do you take baths?"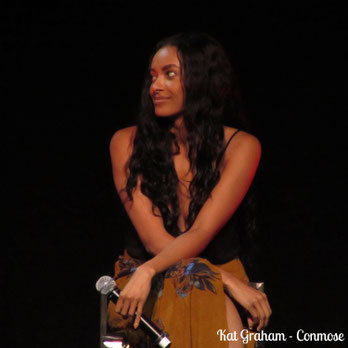 Kat: "Yeah I basically, this is were the Russian in me comes out, because I will go in the shower. 30 minutes, maybe longer. Get out, go into the bath. Get out, get back into the shower..."
Paul: "That sounds like fun..."
Kat: "It is, I have such a good time.."
Paul: "I don't do baths, but I don't know..."
Kat: "I got lights that change color, it's like...I play music. But I actually don't really sing..That's the one place..I do sing in the car, Who sings in the car (Michael puts up his hand) I will sing my heart out in the car. I don't care who's in it..."
Michael: "If I take a bath, I feel like I need to take a shower afterwards..."
Kat: "Because you have been sitting...."
Michael: "Because I feel like I have been sitting in my own vile. "
Paul: "I know exactly what you mean..."
Of course they talked about a lot more and luckily we taped almost the whole panel and the closing ceremony of Bloody Night Con. So check out the video below, if you would like to see more...