It's been a while since I've written a series talk. I started to watch Mad Men a while ago, finished it and then felt like I didn't find anything I wanted to watch. That all changed suddenly when I tried an episode of the Handmaid's Tale. Firm the first episode I was hooked. Seriously. I can only write this article now that I have finished watching season 3. And I'm now just waiting for Autumn/ Winter to be able to see season 4... Maybe this is unnecessary to say, I think you already get, but I LOVED the Handmaid's Tale. I can say it's one of my favorite series ever. So! Let's talk!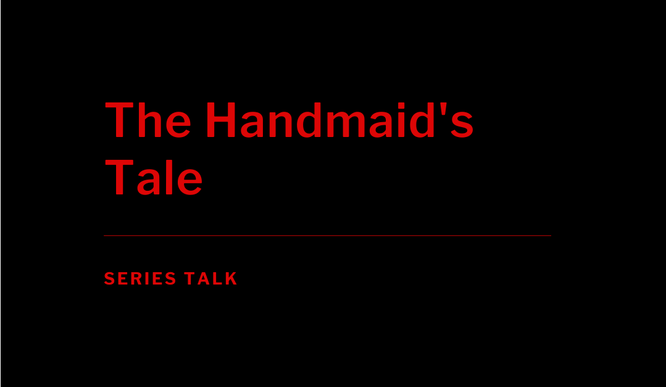 The story
The Handmaid's Tale takes place in a dystopian future, after a Second American Civil War. It takes place in the Republic of Gilead, which is situated in a part of the former United States. Fertility rates have dropped dramatically because of pollution and sexually transmitted diseases. Gilead is a very strictly religious society and is being led by a male elite. 
The few women who are still fertile, are forced to become handmaids. They need to have children for the male elite and their wives. The handmaids are being raped by the men (called 'commanders') en then forced to give the child to them. The handmaids are all called after 'their' commander. For example: In the Handmaid's tale we follow a woman, who's the handmaid of Fred Waterford. So she is called 'Offred'. She can no longer use her own name anymore. 
The Handmaid's Tale follows Offred (whose actual name is June). before Gilead existed, she had a husband and a child. At the beginning of Gilead, June and her family tried to flee. During this, she got separated from her husband. June got caught and her daughter was taken from her. Now she's placed in the Waterford's home as Offred. She needs to have her child. 
The actors/ actresses
The story of this series great. Amazing. And the cast only makes it better. The cast is really outstanding. The lead role is for Elizabeth Moss who plays the role of June Osborn/ Offred. Before this series, I watched all seasons of Mad Men and I was so happy to Elizabeth Moss again. She is such a great actress. I can't imagine anyone else playing the role of June. 
And it's not just Elizabeth Moss in this series who plays an impressive part. I also loved Yvonne Strahovski as Serena Joy Waterford. She plays this role so well. it's amazing! I also really loved the scenes between Elizabeth and Yvonne. 
And there are many more great roles and actors/actresses in this series. Like Ann Dowd, who plays 'Aunt Lydia', the woman in charge of all the Handmaids. She has such a tough character to play. Aunt Lydia is ruthless, but still, you can see a 'person' in there. I'm never really sure about what she's thinking or how she will react. And especially when we learn more about the background of Aunt Lydia, the character gets even more interesting. 
I also thought Amanda Brugel was great as Rita, the 'Martha' of the Waterfords. A Martha in Gilead is a housekeeper and cook in the house of the commanders. And Amanda plays the amazing role of Rita. So impressive. 
Okay, and I will name one more (but I can say so much much more. I'm so enthusiastic about this series!): Alexis Bledel. I know her already for her role in Gossip Girl. In The Handmaid's Tale, she plays the role of a handmaid. And she plays the role so well! 
My thoughts
Well, I couldn't be more thrilled. I absolutely loved this series. Please bring the complete cast to all comic cons. All day every day. And make more seasons. Hahaha. Yeah, this series has really impressed me. The story is so strong. I just watched one episode and I couldn't stop watching it anymore. I literally watched every second I could. At home, on the train, on the bus, while walking. As you can see, I've been a very pleasant person hahahahaha. I was just watching the Handmaid's Tale, as often as I could. So let this article also be a warning. be sure you can put your life on hold ;). But because you'll just want to watch the next episode. And the next. And the next. 
And now, now I'm done. And I definitely feel the after series dip. Will I find something just as great as this again? Why did I watch everything so quickly and didn't enjoy it longer? When I was watching, I just wanted to see it all. Now I'm thinking: I shouldn't have rushed. I wish I was still watching haha. But well, I've seen 1 to 3 now. And now I can just wait for season 4. And write. And talk. About the Handmaid's Tale of course. Because it's awesome!