SPOILER ALERT!
Well that was one hell of a start of the season, right? We decided we are going to continue with the "Stuff&Thangs" articles and make Sunday "Walking Dead Day". Today we are going to highlight two fan favorites: Tyreese (Chad Coleman) and Glenn (Steven Yuen). So sit back relax and let us tell you "Some stuff and thangs you might not know about Chad Coleman and Steven Yuen".
Chad Coleman (Tyreese Williams)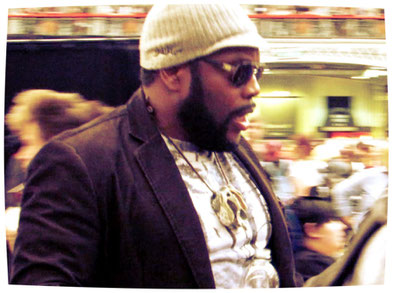 - Chad dropped out of school to serve in the U.S. Army. During his time in the army (1995-1999) he worked as a video camera man.
- He was hired as a stand in for Theo Huxtable in "The Cosby Show", but not for very long. Coleman was fired, when he did not want to do what the directors asked from him. He later commented on this with: "Oh God, I was such a prima donna! (...) Of course I was fired."
- He says he probably said the word "Wow" 500 times, when the writers of "The Walking Dead" told him he was gonna get killed off.

- He is closely connected to some charity organizations. One of them is: Girls for a Change (Camp Diva). He is their official spokesperson for their "Date with Dad" program. He is also closely connected to the "Make a Film Foundation". This foundation grants wishes to children wit serious medical illnesses, to help them leave their legacy in teaming up with professionals.
Another one is one of his own called "Chad's fighting Chance", where he and a team go into the hood to help kids to grow and change through boxing with a trainer.
-His favorite Tyreese scenes are: the hallucination scene with The Governor and the forgiveness scene with Carol.
- Next to his role as Tyreese in "The Walking Dead", Chad also played a great role in "The Wire". In this greatly acclaimed television series, Chad plays the role of the reformed criminal Dennis "Cutty" Wise. And he is not the only "Walking Dead" actor to appear in this series. Seth Gilliam (Father Gabriel in TWD) plays the role of Ellis Carver and Lawrence Gilliard (Bob in TWD) plays D'Angelo Barksdale.
- His favorite sport is football. And he is a big fan of the New York Giants.
- His weapon of choice in a real zombie apocalypse would be Tyreese's hammer, because you can never run out of ammo and it's incredibly consistent.
Steven Yuen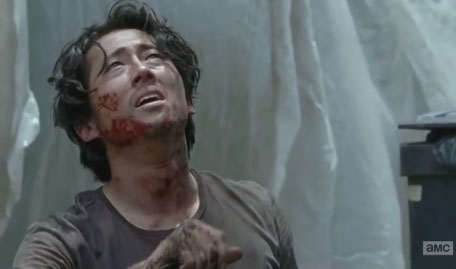 - Steven was born in Seoul (South Korea), but his parents moved to the US when he was 5 years old. His real name is Yeun Sang-yapp. He grew up in Troy (Michigan), which is a suburb of Detroit.
- Yuen has a degree in Psychology with a focus in neurosciences.  He graduated from Kalamazoo College in 2015.
- He once told Conan O'Brien, that he is ashamed about the size of his nipples. He says they are too small.
- Speaking of Conan O'Brien, Steven visited South (and North) Korea with Conan.
- Just like almost everybody else on this planet, Steven also hates the character of Lori.
- His little brother Brian owns a bakery called "The Bun Shop". Steven is one of the shareholders.
- He played a small role in "The Big Bang Theory" as Sheldon's first roommate, before Leonard. He even warns Leonard about Sheldon's craziness and tells him to run.
- He loves basketball and is a huge fan of the Detroit Pistons. While he was working on "The Walking Dead", he used to drive all the way from Atlanta to Detroit to see the game. That's an 11 hour drive.
- Although Steven played Glenn on one of the most popular horror shows ever, he really is not into horror himself. He says he can't watch anything with ghosts or demons in it.
- Lauren Cohan, who plays his wife Maggie on "The Walking Dead" is one of his closest friends.