Just one more week until "The Walking Dead" saga continues. I've been watching the trailer for season 8 and it looks like we will finally see "our" group of survivors stand up to Negan's Saviors. Just one more week...7 days...that is quite long actually, so to make the wait bearable we give you another edition of our "Stuff & Thangs" articles. This week Lennie James (Morgan) and Lauren Cohan (Maggie).
Lennie James (Morgan)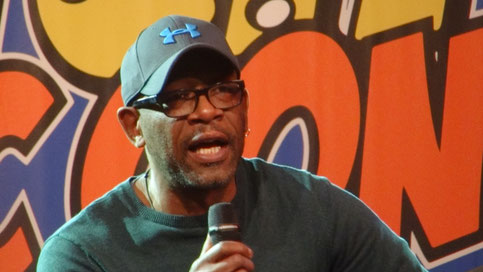 - Lennie James is British. He was born on 11 October 1965 in Nottingham, England (UK).
- Lennie's mother died when he was nine years old. His father was never in his life. After the death of their mother, Lennie and his brother Kester chose to live in a children's home instead of living with a relative in the USA. He remained in foster care for eight years. He says he was very lucky that the children's home, where they lived, was run by good people. He also says that his foster family is still in his life and he considers them as true family.
- When he was a teenager, Lennie wanted to become a rugby player. He never aspired being an actor and thought he was going to be a social worker or physiotherapist. And then he met a girl that wanted to be an actress. Since he wanted to be close to her, he followed her to an audition. The rest is history...
- When we attended Lennie's Q&A at Dutch Comic Con 2017, someone asked him what he would do in a real zombie apocalypse. His answer was: "I would run screaming down the road...like a nine year old child. Nothing like Morgan. If you gave me a stick, I would use it on myself". You can check out this hilarious moment in the first video.
- Morgan's staff is 100 % real. It is made of wood. At first the sticks were made of Mahogany wood, but they had to change that because Lennie kept breaking them. Now thesticks are made of Ash wood. There are different versions of the stick for the stunts, so Lennie won't hurt the stuntmen. When Morgan got the staff in the story, Lennie made a deal with the makers. He wanted  Morgan to be only as good as he could be and he didn't want any stuntmen coming in, to make him look better. So every time the staff is swung, Lennie is swinging it himself.
- He says he really hates the character Jared (Joshua Mikel) in "The Walking Dead". Jared is the one who takes his stick in season 7.  He also says he is a very nice guy in real life, but he hates him as a character; "Yeah he took my stick, I hate that guy! I hope me and him will come back around..." (Check out the second video for this answer).
- He loves working with Melissa McBride (Carol). He says that the days he gets to work with her are the best days on set. Those are very easy, lovely and enjoyable days. According to Lennie everyone loves to work with Melissa.
- One of his favorite moments in "The Walking Dead" is when Carol and Daryl reunite after being apart for a long time (season 5).
- He says he has a lot of respect for the cinematographers and directors of photography. He says he just can't see the world like the great photographers and cinematographers do. He says they see and manipulate light in a way that he just can't. So if Lennie could do any other job on the set he would like to learn how to do that. 
- He has been with his wife for a long time. Together they have three daughters: Romy (born in 1990) and twins called Celine and Georgia (born in 1994).
- He is considered as the main cook in the family and he loves the Caribbean kitchen.
- Lennie is a big fan of the Tottenham Hotspurs (an English football club).
David Morrissey (The Governor)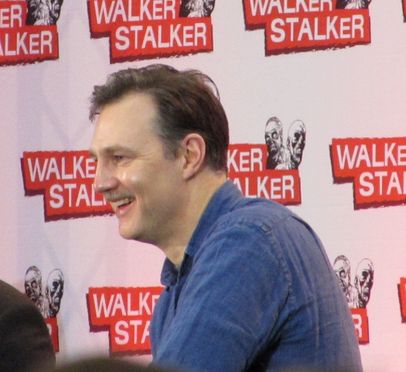 - David Morrissey is British. He was born and raised in Liverpool, England (UK).
- David is married to Esther Freud (since 2006). Her father was British painter Lucian Freud. Lucian was the grandson of the famous psychoanalyst Sigmund Freud. This makes David, Sigmund Freud's great grandson-in-law.
-  He says being on "The Walking Dead has ruined the show "Mad Men" for him. He used to love watching it, but now when he watches it and thinks: "There you are in your air-conditioned studios and your nice suit, drinking — how can you pick your check up at the end of the week?". David adds that he has a lot of respect for the people that play the walkers in the show. As if the heat and humidity in Georgia isn't enough, they have to walk around in prosthetics and covered with guts, fake blood, flies and ants.
- Since 2014 David has been an avid supporter of the UNHCR. In 2017 the organization made him a goodwill ambassador. He visited Syrian refugees in Lebanon and you can read about his "trips" at the website of the UNHCR.
- Wheb he was achild he wanted to be a lot of things when he grew up, like a policeman, an astronaut, a soldier and so on. He realized that being an actor licensed him to be all of these things..
- His photoalbums are very important to him and he is very nervous about his digital photo's; he's constantly making back-ups.
- David is the proud father of three children; 2 sons called  Gene and Albie and a daughter called Anna.