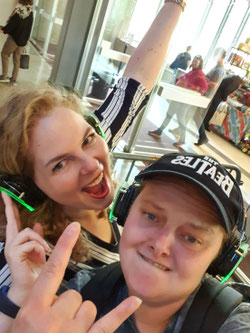 We think it's time for another duo movie review. We always love to do these and in the past we already did them for movies like: "Suicide Squad" and "Star Wars VIII: The Last Jedi". Last weekend we both went to the new Quentin Tarantino movie, the long awaited "Once Upon a Time...in Hollywood". I am a huge Tarantino fan and I have seen all his movies, so I couldn't wait for this one and Carola had been watching some Tarantino movies in the cinema lately as a build up to Tarantino's ninth movie and in my opinion one of his best. 
Yes! I love doing duo movie reviews and we should do it way more often! So here we go. Indeed, I was psyched to see Once Upon A Time in Hollywood. I had seen Jackie Brown, Pulp Fiction and Reservoir Dogs in the cinema and I loved seeing them again. After seeing the trailer of Once Upon A Time in Hollywood a lot of times in the cinema, the moment had finally come: I was going to see the movie! 
Once Upon A Time.....there were two amazing actors
Let me start with saying that I really loved this movie. I thought it was really awesome. I thought Brad Pitt & Leonardo Dicaprio were great in their roles as Cliff Booth and Rick Dalton. It's very interesting that Brad plays Leonardo's stunt double. And they do it both so well! I really liked them together on screen and they're both so convincing! Besides these 2, I also really loved Margot Robbie as Sharon Tate. How about you Liv?  Oh I loved Pitt and DiCaprio as a duo, their chemistry was great. To me they are two of the best actors walking around in Hollywood at this moment and pairing them up is yet another brilliant move from (the master himself) Tarantino. Margot Robbie is magnificent in every role she gets. But what to think of the rest of the cast. It's finger-licking good. I also loved Al Pacino as Marvin Schwarz and what to think of Michael Madsen, Tim Roth, Kurt Russel, Luke Perry, Timothy Olyphant, Dakota Fanning, Bruce Dern, Damian Lewis and so on. Besides the cast, I also loved the visual aspect of the movie, which for me is Tarantino all the way. I loved the scene with the neon billboards and the movie billboards. That felt like a true homage to the Hollywood of the sixties. 
If we're still talking about actors and actresses: I was also really impressed by Julia Butters. She is the child that plays a scene with Rick. She was amazing! And yes, it was so great to see Luke Perry. I also felt sad. But it was so good to seem him in this movie as well. And yes, the movie is a great homage to the 60s! I really loved that about the movie. Everything felt right. So much detail! And how we get to see some of the scenes of movies that Rick Dalton plays in. They fit in so well. These scenes capture the whole 60s feeling perfectly. Exactly, I loved the scenes between Butters and DiCaprio, especially the one where they have a little talk before the scene starts (you'll know what I mean if you watched the movie).
Expectations
Did Once Upon A Time match your expectations? For me it did, for most part! I had looked forward to the movie so much! And from the trailer, I could already see the chemistry between Leonardo and Brad. And that was even better in the movie. The only thing that I really expected to be different was "Charlie". In the trailer (I went to the cinema a lot, so I might have seen the trailer 10 times), there's this moment where a girl says "Charlie will like you", and then you see Charlie smiling. I really had expected that Charlie would have a bigger role (himself), because it was such a significant part of the trailer. Besides that, the movie was surprising, yet  what I had hoped for! 
Hell yeah, it was what I expected and more! "Pulp Fiction" is one of my favorite Quentin Tarantino movies and for me "Once Upon a Time ...in Hollywood" has that "Pulp Fiction" feel. For me there are a lot of scenes in the movie, that gave me the true Tarantino feel...first of all the car scenes. I love the dialogues that take place in the car. Besides that I also loved the music in the movie (as always) and especially the radio parts. Every bit of music comes from a source in the movie (like the car radio or a gramophone player) and that's one of the little things that I love about this movie...it's perfect in every detail. Oh and the feet. Not that I am a fan of feet, but Tarantino must be! The guy loves portraying feet in his movie. If you don't know what I mean, just re-watch some of Tarantino's movies and I guarantee you'll see it too.  
Hahaha yeah I know the feet thing. And of course the feet rub story from Pulp Fiction! I must admit that I don't have a great ear for music in movies. I often don't really notice / remember it. I know it sounds strange. I have to watch twice to pay more attention to the music! I mean, I know it was good. But it's hard for me now to remember what I heard at which scene. It's also very hard for me to say what my favorite Tarantino movie is... I'm doubting between Jackie Brown and Reservoir dogs. But I also really enjoyed the Hateful Eight. 
The story
I also thought the story was great.. There are so many angles and I really loved that. First of all, I would just watch the movies to see all these scenes of old movies that Rick Dalton is playing in. Second of all, the angle of insecurity, Rick being a afraid of being a "has been" is incredible. I loved both. But then also to see the huge difference between Rick and Cliff. I mean: look at their houses. Their cars. Their spendings. It shows the difference in acting jobs and how much it was appreciated. And then I'm not even talking yet about the Manson storyline. There's so much in this one movie. On the one hand, there's not happening a lot: it's just a few days in the life of Rick & Cliff. And on the other hand: There's so much to notice. And I love it. Exactly, I think we agree on the fact that this is another fine example of the geniality of Tarantino. I loved every second of the movie and to see all those familiar faces. One of the most exceptional things is the way the Manson Family story is the very dark background, to a much lighter story of true friendship. I already said it and I will say it again...just two words: instant classic!