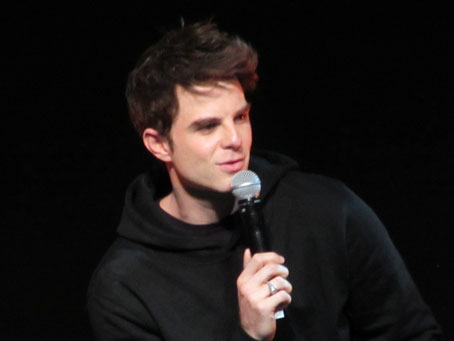 Last month (May 20th&21st) we went to Bloody Night Con (by KLZ Events) at The Egg in Brussels (Belgium). BNC is a fan convention that focuses on The Vampire Diaries and its spin off The Orignals. We had been looking forward to it for months and that was mainly because of the amazing guest list. In the weeks leading up to the convention there were three cancellations: Ian Somerhalder (Damon Salvatore, TVD), Daniel Gillies (Elijah Mikaelson, TVD & TO) and Claire Holt (Rebekah Mikaelson, TVD & TO). Of course we were very disappointed , but the girls from KLZ made sure there were some great substitutions. Because of this the final guestlist was the following: Paul Wesley (Stefan Salvatore, TVD & TO), Kat Graham (Bonnie Bennett, TVD), Michael Malarkey (Enzo  St. John, TVD), Riley Voelkel (Freya Mikaelson, TO), Nate Buzolic (Kol Mikaelson, TVD & TO; Saturday only) and Charles Michael Davis (Marcel Gerard, TVD & TO; Sunday only). Of course we will tell you all about the convention, the guests, the meetings (photo&autographs), the panels and ofcourse the fun we had. Today we will talk about (and show you some of the highlights of) the panel of the amazing: Nate Buzolic.
Nate Buzolic Q&A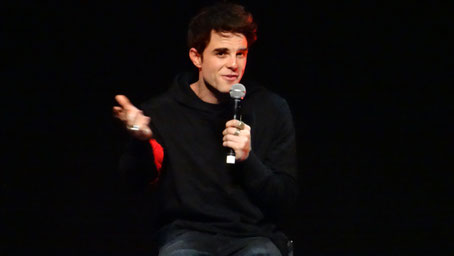 Nate Buzolic was born on August 4th 1983 in Sydney, Australia. He is mostly known for his role as Kol Mikaelson, the bad boy of the Mikaelson Family in The Vampire Diaries and its spin off The Originals. Nate would only be attending on Saturday, so he had two panels. The first one was the one with Riley Voelkel, we already wrote about that one so check it out. 
- Nate Buzolic talked a lot about his love for God. He had just been on a trip to Israel, where he visited a lot of religious places to understand the journey of Christ. He gave out some crosses he bought in Nazareth. 
- His advice to people who want to be an actor is that you have to be willing to never get there. The destination is not really important,it's all about the journey. When you love acting and storytelling, you have to make your life about acting and chasing your dream. When you enjoy the pursuit of that dream, life is much more rewarding. "If you constantly keep focusing on the result, then you'll find you'll have missed out on the journey and that's the most important part. So I would just say to you, whatever your passion is, pursue it. Pursue it to the ends of the earth, but enjoy the journey that it is. Because once you get there that's it and something else comes up."
- He has always been rooting for Stelena (Stefan and Elena) instead of Delena (Damon and Elana) He says he's always been rooting for the good guys.
- He also talked about Pretty Little Liars.It was his first show in the U.S. and he enjoyed doing that. He likes doing the American accent, just because it is so different from his Australian accent or the British accent of Kol.
- He likes Belgian chocolate a lot.
Quick choices for Nate Buzolic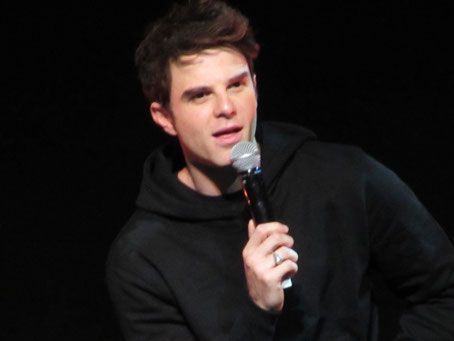 Nate Buzolic also answered some quick choices:
- Blonde or Brunette? Brunette
- Beer or Wine? Neither, well Jesus turned water into wine so let's go with that.
-  Waffles or French Fries? Waffles
-  Delena or Stelena? Stelena
- Klaus or Elijah? Clothes or Elijah? I am gonna go Klaus...
- Beach or Mountain? Mountain
- Night or Day? Day
-  Tea or Coffee? Tea
- Cat or Dog? Dog. Wait is it Kat Graham? Or...? Ok, dog.
-  Party or sleep? Sleep
- Belgium or Belgium?  That's a tough one....I'm gonna go with Belgium.
Of course Nate talked about a lot more. Curious? Check out the video below! Just keep in mind: My camera had some problems, so at some point there is some interference, but it's not that bad.
Video panel Nate Buzolic Bloody Night Con