Whenever we are going to a convention we try to do our homework. This means we try to watch as many movies or series as possible, starring one of the actors that will attend the convention. Last year at WolfCon we already met Ryan Kelley at WolfCon 3.0 and he talked about one of his earlier movies, called: "Prayers for Bobby". In this movie he starred alongside Sigourney Weaver, so that sounded interesting. When I looked it up on ImDB, I saw the movie had a high rating and I decided I wanted to watch it. But the movie was nowhere to be found here in The Netherlands. After a very long search I gave up and hoped I would stumble upon it some time in the future. But now that we are going to WolfCon again and Ryan is a guest again, I rebooted my search for the movie....again. When I was browsing Amazon, I finally found it and ordered it. I just watched it and it lived up to its expectations, so let's talk about: "Prayers for Bobby" ... But first of all we are going to tell you some more about Ryan Kelley (if you would like to read more, check out our article about meeting Ryan).
About Ryan Kelley (short version)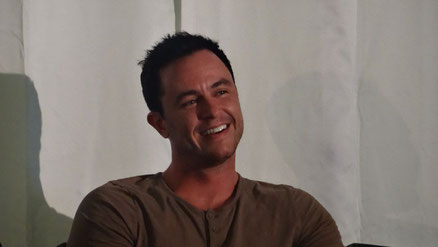 Ryan Kelley was born on the 31st of August 1986 in Glen Ellyn, Illinois (US). He has got 14 siblings (9 sisters and 5 brothers and 9 of them are adopted). He's known for his roles in Mean Creek, Prayers for Bobby, Still Green and lots more! In Teen Wolf, he has an amazing story line full of surprises! Who doesn't like Deputy Jordan Parrish? Ryan joined the cast of Teen Wolf as from season 3 as Stilinski's new deputy. I remember that I thought something was off about this new character and I didn't really trust him. It turned out that Parrish had something to hide, but he also turned out to be a good guy. What stood out when we met Ryan last year was his spontaneity and his good mood. Carola and I both did a photo op and nothing seemed to be too crazy for Ryan. He happily did a wide variety of poses and all with a big smile.
Of course I did some research and dug up some cool fun facts. I'll sum some of them up below, just to describe what kind of a man Ryan is:
- Some of his younger siblings are still in high school. Their friends are big "Teen Wolf" fans. Ryan says that every time he comes home, there is a big stack of pictures for him to sign. He says they might sell them on eBay (lol).
-  He loves Pasta and calls it his favorite thing in the world. 
- Before Ryan landed the role of Deputy Jordan Parrish he auditioned for two other roles: Scott and Isaac.. 
- Ryan has a great taste in TV series (at least in my humble opinion). Among his favorite shows are:  "The Walking Dead", "Sons of Anarchy", "Game of Thrones", "Vikings" and "House of Cards".
- If he could pick any creature from the show, he would like to be an Alpha Werewolf.
- Ryan says his favorite prop from the set is his deputy uniform. When he puts on the badge and the gun on his hip, he actually starts to feel like a deputy. 
- He dream role would be to be in a movie production like "The Godfather". That one movie everyone talks about and regards to as a classic.
- Because a big part of his siblings are adopted, he would like to have a hand in a foster agency or something else to help kids that need it.
- Before he landed the role of Jordan in Teen Wolf he played in "Prayers for Bobby". The director of that movie is Russel Mulcahy and he also happens to be one of the directors of "Teen Wolf".
The story of "Prayers for Bobby"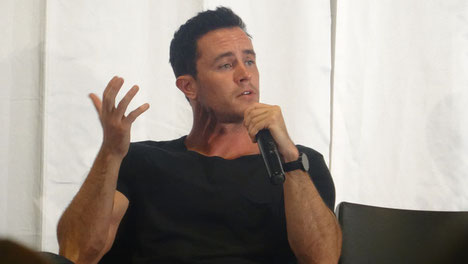 "Prayers for Bobby" is based on the true story of Bobby and Mary Griffith. It is set in the late 70s/early 80s. Bobby is a teenage boy, coming from a religious family in Walnut Creek, California. The movie begins with Bobby walking on a bridge over a highway. He seems to be very unhappy and tears are running from his eyes. We go back to a few years earlier and at first we seem to be seeing a happy family of 6, consisting of the deeply religious Mary (Sigourney Weaver), her husband Robert (Henry Czerny) and their 4 children: Ed (Austin Nichols), Bobby (Ryan Kelley), Joy (Carly Schroeder) and Nancy (Shannon Eagen). Soon we find out that Bobby is wrestling with the idea that he might be gay. He is afraid to tell anyone, because according to the religious believes of the family homosexuality is a deep sin. Bobby tries to be a "normal" teenage boy, in order to please his mother, but in doing that he get more and more depressed. Then he comes at the point of taking a jar of painkillers to help him find his peace, but at the last moment he refrains from taking them. His brother Ed finds him and Bobby tells him his secret. He asks Ed to swear not to tell this to their parents and especially their mother. Ed, however, is deeply concerned about Bobby and decides to tell Bobby's secret to their parents. Mary reacts exactly as Bobby expected and she treats him like he has an ilness, that can be cured. She puts up notes with biblical texts all over the house and insists that Bobby goes to a psychiatrist and takes up a strongly religious lifestyle in order to "cure" him. While the other members of the family seemed to have made their peace with Bobby's sexual orientation, Mary gets more and more frantic about it. At one point Bobby decides to go to his free minded cousin in Portland for a few months. Over there no one judges Bobby for who he is and who he loves and he finally feels free and happy. He even falls in love with a guy called David (Scott Bailey).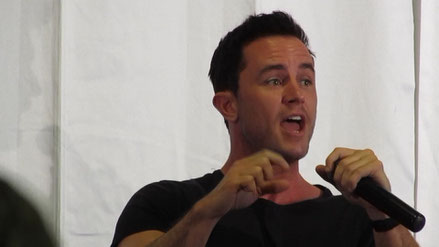 When he returns home, he tries to tell his mother about his boyfriend, but she does not want to hear anything about it. The whole thing spins out of control and when Bobby says she has to accept him as her gay son or as no son at all; Mary chooses for the no son at all option. Bobby returns to Portland and is very disappointed. He meets Davids parents and seeing how accepting they are against their gay son, hurts Bobby and he thinks about his mother. At one night Bobby sees David with another man and that is the proverbial straw. Bobby commits suicide by jumping of a bridge and being overrun by a big truck. What follows is Mary's struggle to come to terms with her sons death and her opinion about his homosexuality...
My opinion
I thought "Prayers for Bobby" was an amazing movie. The story is very confronting and I am not ashamed to say I shed some tears while watching it. Although the story of Bobby Griffith unfolded itself almost 40 years ago, the subject of gay acceptance is still very timely. There are still large parts of the world where homosexuality is seen as a sin or even a crime and even in The Netherlands, where people are known to be very open-minded about things like homosexuality and drugs, we have a long way to go. The acting of Sigourney Weaver and also Ryan Kelley is exceptional. I think everyone that is opposed to homosexuality and sees it as a sin has to watch this movie and think about what their narrow mindedness brings to life. We do not want to live in a world, where you are condemned for falling in love with someone of the same sex. Although this is definitely not a feel good story, the movie did leave me with a satisfied feeling and it certainly gives some things to think about. Watch this!