This summer.. Liv & I went to Wolfcon! We had so much fun. And at Wolfcon we met Ryan Kelley and he is such an awesome guy. He made big impression on us, so we really want to write an article about meeting him and sharing our story with all of you!  (Carola = normal font, Liv= italic font).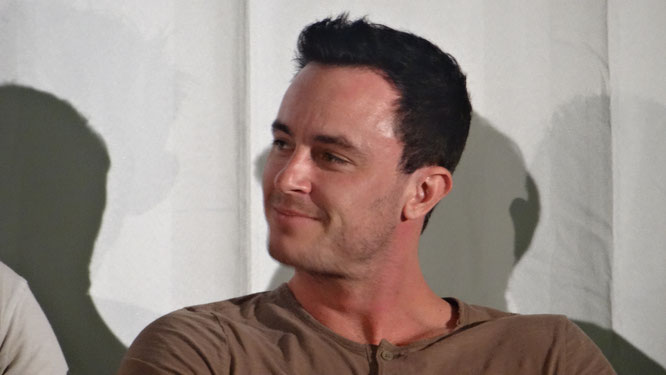 Ryan Kelley
Ryan is an American actor. He has got 14 siblings (9 sisters and 5 brothers  and 9 of them are adopted). He's known for his roles in Mean Creek, Prayers for Bobby, Still Green and lots more! In Teen Wolf, he has a pretty amazing story line full of surprises! Who doesn't like Deputy Jordan Parrish? Ryan Kelley joined the cast of Teen Wolf as from season 3 as Stilinski's new deputy. I liked the character from the beginning! Well I did like him from the beginning, but  I remember I did think he was too perfect you know? I was afraid that he turned out to be a new villain. In preparation for Wolfcon we wrote some articles about the guests of Wolfcon. Of course I did some research and dug up some cool fun facts. I'll sum some of them up below, just to describe what kind of a man Ryan is:
- Some of his younger siblings are still in high school. Their friends are big Teen Wolf fans. Ryan says that every time he comes home, there is a big stack of pictures for him to sign. He says they might sell them on eBay (lol).
-  Ryan Kelley loves Pasta and calls it his favorite thing in the world. 
- Before Ryan landed the role of Deputy Jordan Parrish he auditioned for two other roles: Scott and Isaac.. 
- Ryan has a great taste in TV series (at least in my humble opinion). Among his favorite shows are:  The Walking Dead, Sons of Anarchy, Game of Thrones, Vikings and House of Cards.
- If he could pick any creature from the show, he would like to be an Alpha Werewolf.
- Ryan says his favorite prop from the set is his deputy uniform. When he puts on the badge and the gun on his hip, he actually starts to feel like a deputy. 
- He dream role would be to be in a movie production like The Godfather. That one movie everyone talks about and regards to as a classic.
- Because a big part of his siblings are adopted, he would like to have a hand in a foster agency or something else to help kids that need it.
- Before Ryan Kelley landed the role of Jordan in Teen Wolf he played in Prayers for Bobby. The director of that movie is Russel Mulcahy and he also happens to be one of the directors of Teen Wolf.
During the panels, we noticed how funny Ryan Kelley is! It was amazing. Don't forget to check out his Instagram as well and you will now what we mean! There were a lot of panels during Wolfcon. So we had a lot of opportunities to see Ryan. All the guests were fun & spontaneous. They were great with the fans and really made it an awesome and unforgettable weekend. It was a great combination of different roles and big and small parts in Teen Wolf. All of them were polite, kind, fun and enthusiastic. So this was definitely an awesome line up for a con. 
Photo op
Liv ad I both did a photo op with Ryan Kelley! And I'm glad we did, because he was great at the photo ops. He was doing poses with everyone and asked what pose you'd like to do. He really took the time for everyone and anything was possible. I've never seen that before at photo ops! This really gave everyone the opportunity to have an unique moment and photo with Ryan. Yes that was really great, although I must say that I have seen it before; remember Rick Cosnett?  But I must admit it's not something that happens a lot, so when it happens it is absolutely great.
No one was rushed and Ryan Kelley just had a quick chat with everyone about the pose you wanted. He was great. Funny and kind. He made everyone feel at ease. This was really a one of a kind photo op. And definitely one of the mot fun ones I've done. I asked for a 'crazy pose' and I'm really happy with the result. Liv did a shooting pose, which looks awesome as well! Ryan, thanks a lot for the great experience, we loved meeting you!  Oh yes we did, really I saw the guy doing the weirdest poses with all pleasure. It's great to see an actor that is so kind for and thankful to his fans.