Last year we met Leslie David Baker at Comic Con Los Angeles. As a huge fan of The Office US,  I was thrilled that Comic Con Los Angeles had announced some actors and actresses from the series and that there was going to be an Office reunion panel! As guests, there were  Leslie David Baker, Creed Bratton, Kate Flannery, Phyllis Smith, Oscar Núñez and Brian Baumgartner.  How awesome is that?? 
Today we will tell you all about meeting Leslie David Baker and that story... It starts with the one that got away: Ryan Hurst.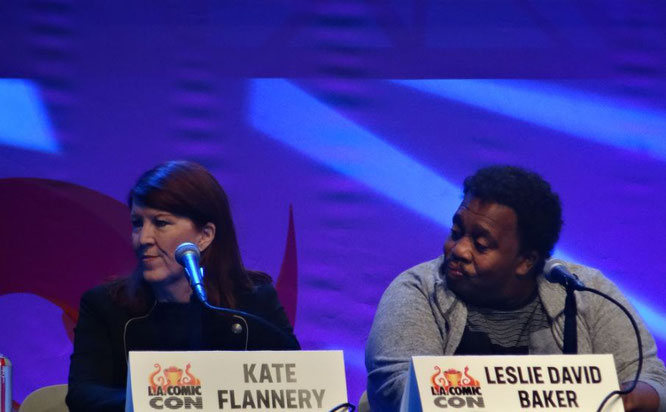 Preparing for Comic Con Los Angeles
When we found out comic con was around the time we would be in LA, we knew we were going. As soon as the tickets went on sale, Liv & I both our tickets. From that moment, all the fun and preparations could start. Obsessively checking out the website & Facebook of Comic Con Los Angeles to see which guests would be announced. Discussing what we wanted to do there, which photo ops we wanted and thinking about panels that might be organized. We can keep ourselves busy like that for months haha! 
Well, while preparing and discussing, we decided to buy some photo ops together (it was allowed to go in one photo op together). So we were looking at people we both wanted to meet. We started with buying a photo op for Elijah Wood. Then, we decided we also definitely wanted to meet Ron Perlman and Ryan Hurst.  We would do the photo ops with Elijah and Ron on Saturday. Ryan would be there on Saturday and Sunday, so we decided to his photo op on Sunday. For the other actors/ actresses we would decide on the spot if we wanted to get a photo or autograph.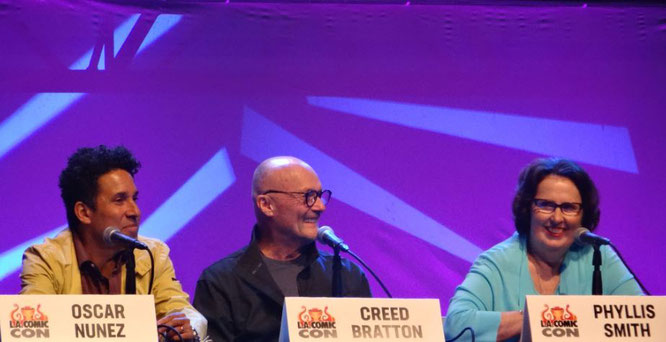 The Office US at Comic Con Los Angeles
After our photo op with Elijah Wood on Saturday at Comic Con Los Angeles, we went to see the Office Reunion panel (with Leslie David Baker, Creed Bratton, Kate Flannery, Phyllis Smith, Oscar Núñez and Brian Baumgartner) I was amazed about popular "The Office" is. In The Netherlands I don't know that many fans of "The Office". But the panel at Comic Con Los Angeles was (as far as I have seen) the busiest one. It was super, super busy. I absolutely enjoyed it though. I'm a big fan of the series. It's been a while since I've seen it and seeing them on stage brought back all the "Office" feelings! When this panel ended, we were exhausted! We had also planned to see the Jay and Silent Bob panel, but by then (and way earlier already) our feet told us otherwise.  We went to sit down for a moment. I had really enjoyed this panel! And I was thinking about photo ops or autograph with someone from the Office, but I wasn't sure yet! 
The one that got away
We had our photo op with Ryan Hurst on Sunday, so on Saturday we were focusing on other guests and things to do. On Sunday we jumped out of bed, only to see that Ryan unfortunately had to cancel for Sunday...NOOOOOO! He got away again! It was at this point that we began to think that we just weren't meant to meet Ryan and we started to call him 'The One That Got Away'. We could ask for our money back for the photo op, or get a photo op with another one of the guests. Liv and I decided to do that, since we were planning to buy some more anyway! 
Then we started discussing: Who did we want to meet? We both had slightly different preferences. So we did the only thing you can do at such a moment: Both pick one and do two photo ops (And do both together). Win - win situation! Liv decided to get a photo op with Clayton Cardenas (Known for the Mayans). I wanted to have a photo op with someone from the Office. And then I had think of who. It was definitely hard to choose with whom I wanted a photo op. I was mainly doubting between Oscar and Leslie. It was a tough choice but eventually I decided I wanted to have a photo with Leslie David Baker!  
Meeting Leslie David Baker
WHOOP WHOOP we went to Comic Con Los Angeles on Sunday again and I was excited to meet Leslie David Baker. First we attended the Mayans panel We had to rush out of the Mayans panel to be in time for the photo op. I was so excited! We were going to see Leslie David Baker and have a picture!
Leslie plays the role of Stanley Hudson in the Office US, a role he did for 188 episodes. Stanley is a sales representative at Dunder Mufflin. 
It was great to meet Leslie David Baker. He was very happy and for the photo op he was sitting on a chair. I was quite nervous and thrilled to see him. I'm really happy with the result of the photo take a look below!