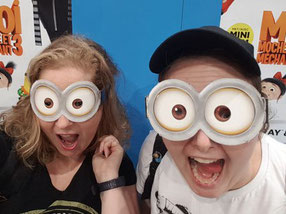 Unfortunately the summer seems to be over and we are not happy about that at all. But every cloud has a silver lining and our silver lining is being formed by the traditional fall and winter editions of our favorite comic cons. One of our favorites is Heroes Dutch Comic Con in Utrecht. We were there at their first edition in 2015 and we haven't missed one ever since. The upcoming edition will be the ninth edition of Heroes Dutch Comic Con and it will take place in the Jaarbeurshallen in Utrecht on November 23rd and 24th, 2019. As usual we will give you some more information about the media guests that have been announced so far. Up until now HDCC announced two actresses and one actor. Let's not waste any time and talk about the guests so far of Heroes Dutch Comic Con.
Marie Avgeropoulos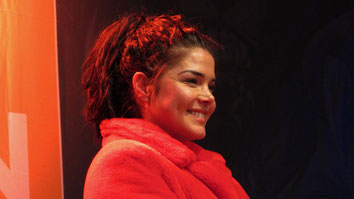 Ever since the show started it has been one of the most popular shows on Netflix and after 6 seasons it's still going strong. The seventh season started filming in August of this year and it will be the final season of the show. I am of course talking about "The 100" and one of the fan favorites is coming to Utrecht. Octavia Blake is one of the main characters of the show and she is played by actress Marie Avgeropoulos.
Marie Avgeropoulos was born on June 17th, 1986 in Thunder Bay, Ontario (Canada). She was raised on the shores of Lake Superior and spent most of her young life outdoors. In her free time, she went fishing, hunting and camping. It was here that she learned the survival skills, which led to her fulfilling her childhood dream of being an action heroine in later life. She learned to play drums at the age of 16 (more about that later). After studying journalism for two years, she decided to go backpacking in Europe, to find out what she really wanted. After a few months Marie returned to Canada and decided to move to Vancouver, to chase her dream of becoming an actress. Back to the drumming. Since playing the drums was one of Marie's favorite hobbies since she was 16, she had developed quite some skills. Because of this, a friend invited her for a casting call in Vancouver (the agency was looking for drummers. This was the start of Marie's acting career, because the audition landed her some roles in various nationwide commercials. It was around this time (2008-2009) that Marie was noticed by director Chris Columbus ("Home Alone 1&2", "Harry Potter 1,2&3", "Mrs. Doubtfire and more). In 2009, he signed her for the role of Valli Wooley in his 2009 romantic comedy : "I Love You, Beth Cooper", a role well appreciated by critics and audience.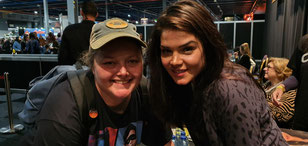 At this point, living on the West Coast of Canada paid off. A lot of the most popular American TV shows are actually shot in Vancouver. Some famous examples are: "Riverdale", "Arrow", "Supergirl", "The Flash" and "Supernatural". After her role in "I love you, Beth Cooper", Marie made a name for herself and landed some roles in TV shows; one of them being "Supernatural". She also landed a role in another Chris Columbus movie: "Percy Jackson & the Olympians: The Lightning Thief". The year 2010 was a good year for Avgeropoulos, Her role as Kim Rhodes in "Hunt to Kill" was well received and it became her breakthrough role. In the the meantime she was still doing television work. In 2011, Marie played alongside Joseph Gordon-Levitt and Seth Rogen in the Golden Globe nominated "50/50", a comedy about a guy that learns he has cancer and his struggle against the disease. Yes, you read it right...a comedy movie. Marie was ready for more, so she took her Harley Davidson and her dog and she headed for the City of Angels (Los Angeles). She had no papers to work in the US, but she did have her do-or-die attitude. Six months later, she got her papers and this led to some roles in the US, including a recurring role in MTV's "The INbetweeners". In 2013 she got a big  recurring role in CW's "Cult". Unfortunately the show failed to get popularity, so it was cancelled after episode 7. Not long after this, CW offered Marie Avgeropoulos the role of Octavia Blake in their new Sci-Fi show "The 100", which turned out to be an enormous hit. Marie is closely associated to the charity organisation Food for Life. A few years ago, she traveled to India and visited a school for underprivileged kids, operated by the organisation. While she was there, Marie adopted one of the kids.
Marie will be attending Dutch Comic Con on both days of the event.
Photo op: €40
Autograph: €30
Meet&Greet: €100
Evanna Lynch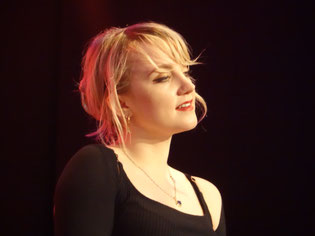 "Don't worry...you're just as sane as I am!" This is one of my favorite quotes of Luna 'Looney' Lovegood in the "Harry Potter" franchise. Last edition "Slytherin" was in the House, when Tom Felton (Draco Malfoy) attended Dutch Comic Con and now it's time for "Ravenclaw" to rock the House, because Evanna Lynch is coming to Utrecht. Ever since she first appeared in "Harry Potter and the Order of The Phoenix", Luna became a fan favorite. Evanna reprised her role as Luna in "Harry Potter and the Half-Blood Prince", "Harry Potter and the Deathly Hallows Part 1" and "Harry Potter and the Deathly Hallows Part 2".  She also did the voice of Luna in the accompanying video games. She also played in the musical "A Very Potter Senior Year". Evanna is known to be a huge Potterhead herself even before she got the role of Luna Lovegood, but more about that later on, right now, let's get to know Evanna Lynch...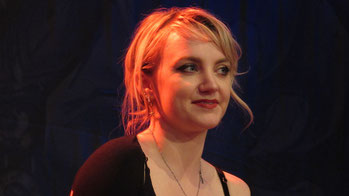 Lynch was born in Termonfechin, Ireland on 16 August 1991. From a young age Evanna was an over achiever. She was the third of four children. Her parents were school teachers. She says she has always been close to nature and a big fan of the "Harry Potter" books, written by J.K. Rowling. At the age of 11, Evanna had been in and out of hospitals, battling an eating disorder. When Evanna talks about her two year battle against the disease, she says it was a way of getting attention. All of her siblings were very brainy and she had the feeling that she did not have anything special to give. So she started eating less and exercising more. At one point the anorexia took over her life completely and the "Harry Potter" books were the only thing that took her mind of it. When she was hospitalized she started writing letters to J.K. Rowling and the two became pen pals. Lynch says that J.K. Rowling's kindness and of course her books made her want to live again. 
Evanna says that her life at one point was all about numbers and counting calories, but when she opened the books she forgot about all of that. There was one particular character in the books, that she related to the most: the quirky Luna Lovegood. Luna was different and she didn't judge herself for it or others for that matter. That's when Evanna thought: "I want to be like that". During their correspondence, Rowling had offered her work as an extra, but she declined, because there was only one role Lynch wanted to play. In January 2006, she discovered an open casting call, for the role of Luna. She got a few call backs and eventually landed the role of Luna. Rowling didn't even know about it until the producers mentioned her name. Then she saw that this girl, was the same girl she had been corresponding with. Talk about magic, right?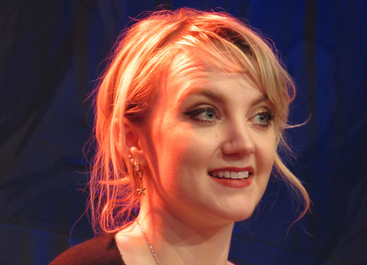 Evanna also mentioned that getting the role did not suddenly cure her from her disorder, she had to overcome the disease by battling her negative thoughts over and over again. She also knew she would not get through making the movies, if she did not take care of herself. The movie "Harry Potter and the Order of the Phoenix" in 2007 was her on screen debut and she nailed it. The critics were lyrical about her performance . Rowling says that out of all the actors, Evanna had the most influence on how the role of Luna was written further. The rest is history. Over the last decade, she has been appearing in TV shows, Movies and on stage. In 2013, she was cast as Bess Houdini in the British stage tour production of "Houdini". She got critical acclaim for her role as Emily in the 2015 drama movie "My name is Emily". If you want to know more about Lynch's projects check out her IMDb page.
Evanna Lynch will be attending Heroes Dutch Comic Con on both days.
Photo op: €50
Autograph: €45
Michiel Huisman (Cancelled)
"Game of Thrones" is one of the best TV shows ever made and it starred not one but two 'Dutchies' in main roles. Besides our very own Carice van Houten, who played Melisandre in six seasons of the popular show, there was another Dutch name to be found on the call sheet, being Michiel Huisman as Daario Naharis. He is the commander of the Stormcrows (a group of ruthless mercenaries) and he devoted himself to Daenerys Targeryan. Over the last years Michiel Huisman has been working hard to make a name for himself internationally, but in The Netherlands he has been a household name, since his breakthrough role as Bart in the teen movie and series: "Costa!". Last week Heroes Dutch Comic Con announced him as the third guest for their winter edition later this year.
Michiel Huisman was born on July 18, 1981 in Amstelveen (The Netherlands). He started acting at a young age and after a few minor roles in Dutch movies and TV shows, he landed the role of Rover in the Dutch soap series "Goede Tijden, Slechte Tijden" (which translates to "Good Times, Bad Times"). In 1999, he lands his first movie role in the movie: "Suzie Q" , directed by Martin Koolhoven (also the first collaboration with Carice van Houten). Besides being an actor, the young Michiel can sing too and he is lead singer of the pop rock band Fontane. In the early zeroes, Fontane is asked to make some music for Dutch movies "Costa!" and "Volle Maan" ("Full Moon Party"), in which he also has an acting role. In "Costa", Huisman plays the role of Bart and in "Volle Maan" he plays Bobbie. Especially "Costa!"is a huge success in the Netherlands and he reprises his role as Bart in the TV series that follows the success of the movie. In 2003, two members of Fontane leave the band and Huisman pursues a solo career as musician. He also keeps on acting in movies and TV shows, like "Phileine Zegt Sorry" ("Phileine Says Sorry") and "Floris" (a 2004 movie inspired by  the 60s TV show starring Rutger Hauer). In 2006 Michiel plays the role of Rob (alongside Carice van Houten) in the critically acclaimed Dutch World War II movie "Zwartboek" ("Black Book"), he also takes his first international steps when he plays a role as backpacker in the British Crime series "Daziel and Pascoe".
In the years following Michiel keeps on working on national and international projects. In 2007 he and his girlfriend Tara Elders become parents of  a daughter named Hazel. In 2009 Huisman and his family move to the US and this marks the beginning of his international career. While he still keeps on playing in Dutch productions (like "De Co-Assistent" and "Bloedverwanten") he also gets roles in international shows and movies, like "Treme" (as Sonny), "World War Z" (as Ellis), "Nashville" (as Liam McGuinnis) and "Orphan Black" (as Cal Morrison). In 2014 he gets a chance to play the role of Daario Naharis in "Game of Thrones". He replaces British actor Ed Skrein, who had played the role in season 3. Also in 2014 he plays a role in the Academy Award nominated biographical drama movie "Wild" (as Jonathan) and he stars in an advertising campaign for Chanel No. 5. In 2015 he stars opposite Blake Lively in the movie "The Age of Adaline". At the moment Huisman is well on his way to become a big name in Hollywood. In 2018 he starred as Steven Crain in the popular Netflix show "The Haunting of Hill House". Want to know more about Michiel's work, check out his IMDb page.
Michiel Huisman had to cancel his appearance at DCC 2019, because of a new job. He got cast (opposite Kaley Cuoco) in "The Flight Attendant".
Well that's it for now, but of course we will keep you posted on Heroes Dutch Comic Con in follow up articles. The next guest has already been announced, so keep an eye on our channels for the next part of this article.