This upcoming March, Andy Kleek and Monopoly Events will join forces to bring Comic Con back to Liverpool for its third edition. The event has grown out to be the biggest of its sort in the Northwest of England. Liverpool is known as the city of The Beatles, The Mersey and Football, but in the weekend of March 6th-8th it will be the city of Comic Con! Tens of thousands of comic and movie culture fans will make their ways to the famous Liverpool Docks, to dive into the world of: Cosplay, Manga, Anime, Comics, Movie and Television. In this series of articles we are talking about the movie- and TV guests of Comic Con Liverpool. Have you read the first part already? Well let's get going on part two...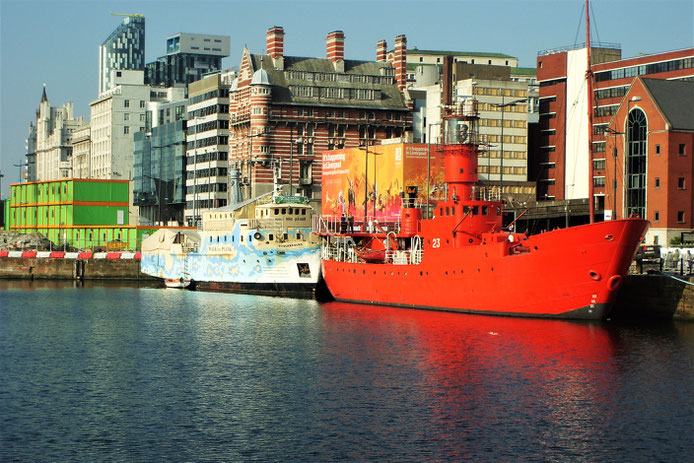 David Harbour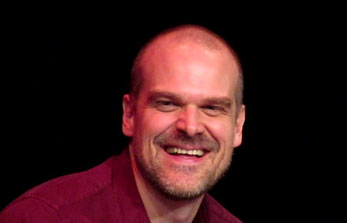 "Mornings are for coffee and contemplation..." 
When Hopper (David Harbour) spoke these words in episode season one of "Stranger Things", he instantly became my favorite character. Sure, I also love the other characters (especially Millie Bobby Brown as Eleven), but you've gotta love Chief Hopper. Last year German Comic Con Dortmund announced David Harbour as a guest. When it became clear, that it wasn't possible for us to be there, we were heart broken (well maybe not heart broken, but it did hurt....a lot!). But now we get a second chance because David Harbour will come Liverpool this March and when I saw this announcement, I was jumping around. Let's talk some more about David Harbour!
David Kenneth Harbour was born on April 10th, 1971 in White Plains (New York). His parents, Kenneth and Nancy, both worked in real estate. He also has a sister named Jessica. I can't find a lot of information about his early life, but it seems that he knew he wanted to be an actor from a young age. In primary school he already appeared in plays. After primary school, David went to Byram Hills High School in Armonk (New York). Subsequently he went off to Dartmouth College in Hanover, New Jersey. He graduated as an Ivy League Alumni from Dartmouth in 1997.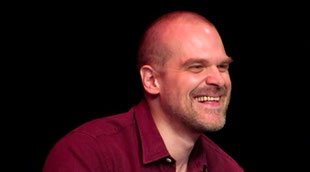 Harbour began his professional acting career on Broadway in 1999. He played one of the farmhands in the revival of the 50s play "The Rainmaker". Woody Harrelson played one of the lead roles in this revival. Also in 1999, Harbour made his television debut, playing a waiter in "Law & Order". It was also around this time that David was institutionalized by his parents following a mental breakdown. In 2018, Harbour revealed that he was diagnosed with bipolar disorder during this time in the psychiatric hospital. He has been taking medication for it and he also mentioned that acting helps him to remain stable too. He talks about how he always felt like an outcast or as too sensitive, but acting allowed him to channel this neurosis into a character. He never has any episodes when he is on a job.
In 2002 David returns to television, playing another role in "Law & Order: Special Victims Unit". In the episode called "Dolls" (season 4, episode 7), he plays the role of child molester Terry Jessup. In 2004 Harbour makes his movie debut, with a small supporting role as Robert Kinsey in the biographical movie "Kinsey", with Liam Neeson in the lead role of biologist Alfred Kinsey. In 2005, David lands small roles in: "War of the Worlds" (as dockworker), "Confess" (as FBI agent McAllister) and "Brokeback Mountain" (as Randall Malone). Although his grandfather apparently wasn't very happy with him playing the role of Malone, Harbour mentions he is very proud of being a part of the movie. Also in 2005, he was nominated for a Tony Award for his role as Nick in a production of "Who's afraid of Virgina Woolf?". In the years that followed, Harbour kept on playing (small) roles in movies and TV shows. 
In 2008, Harbour land s a role in the 22nd James Bond movie "Quantum of Solace". He plays the role of CIA section chief of South America Gregg Beam.  Also in 2008, David plays the role of Shep Campbell in the movie "Revolutionary Road", which also was the reunion movie of Leonardo DiCaprio and Kate Winslet (after their performance on "Titanic"). In 2009 he appears in "State of Play". In 2009 he returns to "Law&Order" and makes quite an impression with his role as Paul Devilis in the 9th episode of season 8 of: "Law & Order: Criminal Intent".  David's next role of importance is a recurring role as MI6 agent Roger Anderson in ABC's "Pan Am" (2011-2012). Also in 2011, David plays the role of D.A. Scanlon in "The Green Hornet", starring Seth Rogen and Christopher Waltz. A year later he plays alongside Jake Gyllenhaal again in "End of Watch" (2012), but again in a supporting role as Officer Van Hauser. In the years following Harbour kept on playing (supporting) roles in movies and TV shows, like: "Parkland" (as Gordon Shanklin), "The Newsroom" (as Elliot Hirsch), "The Equalizer" (as Masters), "Rake" (as David Potter), "Manhattan" (as Reed Akley), "A Walk Among the Tombstones" (as Ray), "Black Mass" (as John Morris)  and "State of Affairs" (as David Patrick). Unfortunately, all of the TV shows were short lived and it seemed impossible for David to take it to the next level in Hollywood. It was at this point that he kind of ready to leave Hollywood and go back to New York. He thought this was it, he had reached his top. And then a 'strange thing' happened. A thing that changed his life for good...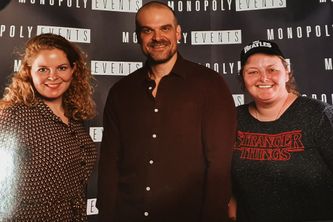 In 2015, Harbour received the script for a show called "Stranger Things" and he was really intrigued when he read it. The script moved him as well as the character of Hopper. He decided to take a chance and was cast as Jim Hopper in "Stranger Things". Later on, David stated that during the filming of the first season his hopes for the show's success were not very high. And he mostly blamed that on himself. He had the feeling he was blowing it. He also thought it was strange that there was not much advertising about the show and that scared him even more. He thought that this was because of the low expectations for the show. Fortunately, it turned out to be a huge success and suddenly everyone was talking about the Upside Down, Eleven and everything related to the adventures going down in the fictional town of Hawkins. The character of Hopper, was not an instant fan favorite, but at the end of the first season everyone loved Hopper and everyone loved the man portraying him!
In 2016 Harbour also played in one of the most anticipated movies of that year: "Suicide Squad". The movie revolves about a bunch of super villains from the DC Universe, that get recruited by the government to operate as a defensive task force. Minor detail: a small bomb is planted in their necks and this will be able to detonate at any time they want to escape or cause problems. David plays the role of Dexter Tolliver (the President's National Security Advisor).  The popularity of "Stranger Things" only keeps growing in the years that follow and the character of Hopper becomes a fan favorite over season 2 and season 3. David Harbour is hot and happening and in 2019, he plays the title role in the reboot of "Hellboy". Harbour will also play in the upcoming MCU movie: "Black Widow" with Scarlett Johansson in the title role. The movie is expected to be released in April/May 2020 and David will play the role of Red Guardian (Alexei Shostakov). I sure as HELL (pun intended) can't wait to meet David at Comic Con Liverpool.
David Harbour will be attending Comic Con Liverpool on Saturday and Sunday (7th-8th of March). 
Autograph: £70 (€81)
Photo Op: £80 (€94)
Mickey Rourke
The next guest is one of Hollywood's bad boys from the 80s is coming to Liverpool. He played Marv in "Sin City", John in "9 1/2 Weeks" and Randy Robinson in "The Wrestler". I am of course talking about Mickey Rourke. This amateur boxer gone actor, was a household name in the Hollywood of the 80's. 
Mickey Rourke was born as Phillip Andre Rourke Jr. in Schenectady (New York) on 16 September 1952 as the son of Anne and Phillip Andre Rourke Sr., who was a bodybuilder. Mickey was 6 years old, when his father left the family. His parents divorced and his mother remarried Eugene Addis, a police officer in Miami Beach with five sons from a previous relationship. Mickey, his mother and younger brother and sister moved to Miami. 
During his early teenage years, Mickey was not interested in acting at all...instead he focused his attention on sports. He had a troubled home life, so to escape the life at home he took a training in self defense at the Boys Club of Miami and he also learned how to box at 5th Street Gym in Miami Beach (which happens to be the same gym where the greatest of all time Muhammed Ali made a name). Mickey turned out to be pretty good at boxing and he decided he wanted to be an amateur boxer. At the age of 12, he won his first boxing match (he fought under the name of Phill Rourke or Andre Rourke). In 1969, he suffered a concussion while sparring with former World Champion Luis Rodriguez. Two years later, Mickey competed at the 1971 Florida Golden Gloves and he suffered another concussion during a match. Following this, the doctors advised him to take a year off to rest and Mickey decided to retire from boxing for a while...
Not long after a friend told him about a play he was directing. It was called "Deathwatch". The lead actor of the play had quit on him and Mickey agreed to step in and that's when the acting bug bit. Mickey decided he wanted to pursue acting and he borrowed $400 from his sister and moved to New York. He enrolled in the renowned Actors Studio and worked a whole lot of odd jobs to earn a living during his studies. During this time he studied under Sandra Seacat and she encouraged Mickey to search for his father (whom he hadn't seen since his parents divorced). Later Rourke talked about this time as the moment things started to click in his life. During the late 70s Mickey appeared in some TV movies, but in 1979 he made his Feature Film debut, with a small part (as Reese) in Steven Spielberg's hysterical war comedy "1941". In 1980 he had a supporting role in the slasher movie "fade to Black" (as Richie). In 1981, things seemed to become serious for Rourke, when he got a small role in "Body Heat". His screen time was limited, but people started to notice him. In 1982, he received critical acclaim for his role as compulsive gambler Robert 'Boogie' Sheftell and was rewarded with the award for Best Supporting Actor from the National Society of Film Critics. In 1983, Francis Ford Coppola cast him for a leading role in "Rumblefish" (his sequel for "The Outsiders").  In 1984, Rourke played the role of Charlie in "The Pope of Greenwich Village". Although the movie (starring Daryl Hannah and Eric Roberts) was not as successful as hoped, the critics were positive about Mickey's performance. 
1986 turned out to be the year of Mickey's definitive breakthrough. With his role opposite Kim Basinger in "9 1/2 Weeks" he suddenly became one of the most desired men of the world. The story revolves around Elizabeth (Kim Basinger), who recently divorced her husband. When she meets John (Mickey Rourke), she gets into a sexual relationship with him, although she barely knows anything about him. When John pushes Elizabeth's sexual boundaries, things get complicated. All of a sudden Rourke was a sex symbol and the world was at his feet. In 1987, he played opposite Robert DeNiro in the supernatural thriller "Angel Heart", which became a cult classic.  In the same year he excelled as alcoholic writer Henry in "Barfly". In 1988 he wrote his first own screenplay for "Homeboy" and he also starred in the movie about a small time boxer called Johnny Walker. It was around this time that things started to go south, as more and more reports of alleged drugs and alcohol abuse came to the surface. It was also said that Mickey was unpredictable and difficult to work with. He was nominated for Razzie Awards for his roles in "Desperate Hours" and "Wild Orchid". In the early 90s his acting career got more and more overshadowed by the problems in his personal life and his alleged rebellious behavior on set.  After his roles in "Harley Davidson and the Marlboro Man" and "White Sands", Mickey decided he wanted to go back to the boxing ring. He stated that he had no respect for himself as an actor anymore and that he was on a path of self destruction. During this return to the boxing ring, Rourke suffered some serious facial injuries and he needed so reconstructive surgery. He also kept onn acting on the side and it is said that he turned down the role of Butch in "Pulp Fiction". Fun Fact: This role in the classic Quentin Tarantino movie is one of the many movies Rourke is said to have turned down. Allegedly he also passed on roles in other high profile movies, like: "Platoon", "The Silence of the Lambs", "48 Hours", and "Top Gun". During the nineties, Rourke combined boxing and acting but he was not able to turn things around and he later stated that at this point he considered himself a 'has been'. In the late nineties he played in some straight to video movies and his acting career seemed to be over.
But in the new millennium things picked up for Mickey and little by little he fought his way back. This all started when he took on small roles in Robert Rodriguez's "Once Upon a Time in Mexico" in 2003 and Tony Scott's "Man on Fire" in 2004. Although small roles these were the movies that were the base for later collaborations.In Robert Rodriguez's movie adaptation of "Sin City" (2005), Rourke played Marv and this marked his comeback in Hollywood. He won several awards for his role in the movie and renowned movie magazine Total Film named Mickey 'Man of the Year'. In interviews from this period, Mickey is very clear about his past and future as he states that he messed things up earlier on and he blames himself for all of it. He also states that he thinks his best work is yet to come. When Mickey gets handed the screenplay for Darren Aronofsky's "The Wrestler" (2008) he doesn't think much of it. It's the story of Randy 'The Ram' Robinson, a 'has been' pro wrestler who has to come to terms with his career ending and his life outside the ring. Mickey really wanted to work with Aronofski, but he didn't really care for the way Randy was portrayed in the script. He asked if he could rewrite some of Randy's parts. Aronofski agreed and Mickey took on the role. He started to train with former WWE wrestler Afa the Wild Samoan and during this period he had to change his view on Pro-Wrestling. He always thought that the whole thing was just one big choreographed show. While he was training for the movie he realized that it takes years and years of hard work to become a pro wrestler. With this new gained respect he trained his ass of and for a good reason. "The Wrestler" was a huge success and scooped up awards. Mickey got nominated for an Oscar and won the Golden Globe Award for his performance (as well as several other awards). In the years that followed Rourke kept up the good work in movies like: "Iron Man 2" (2010, as Ivan Vanko), "The Expendables" (2010, as Tool), "Immortals" (2011, as King Hyperion"), "Sin City: A Dame to Kill For" (2014, as Marv) and more.
Mickey Rourke will be appearing at Comic Con Liverpool on Saturday and Sunday.
Autograph: £72 (€85)
Photo Op: £72 (€85)
Gold Ticket *: £174 (€206)
* Gold Ticket includes Photo Op, Autograph and Private Mini Meet & Greet at table.
Costas Mandylor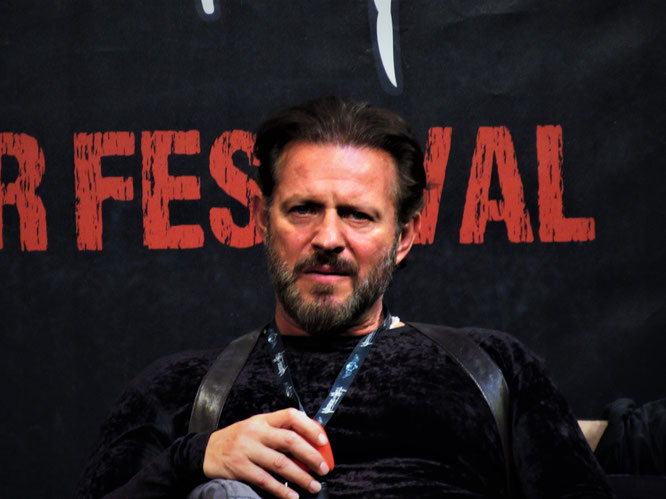 "I want to play a game". Most of you will immediately link this quote to a movie franchise that started in 2004 and consists of no less than 8 movies up to now. I am of course talking about the "Saw" franchise and the next guest has been a part of the franchise from "Saw III". Costas played the role of Detective Hoffman in "Saw III" (2006), "Saw IV" (2007), "Saw V" (2008), "Saw VI" (2009) and "Saw 3D" (2010). Costas Mandylor started out as a professional football player, but he had to give this up due to a serious injury. Following this he took up acting. Let's start at the beginning.... 
Costas Mandylor was born as Costantinos Theodosopoulos on 3 September 1965 in Melbourne (Australia). He is the son of Greek immigrants Louise (née Mandylaris) and Yannis. As a teenager Costas divided his time between hanging around in bars (his family was involved in the nightclub business), working out and boxing with his younger brother Louis (who is also an actor) and playing soccer. It turned out that Costas was pretty good in kicking the football around and when he was 18 years old he moved to Greece to play professional football for Panathinaikos in Athens. Mandylor trained with the team of Panathinaikos for a few years, but when he was 21 years old he moved back to Australia to join the National League and play for Green Gully SC in Melbourne. In 1987, Costas was forced to quit playing due to several (serious) shin injuries. Following this he started to search for alternative ways to earn some money. Some of his friends told him he should try his luck in show business. His tall, dark and handsome appearance could be a strength and at first Costas laughed this idea off. But it did not take him long to realize that his friends could be on to something....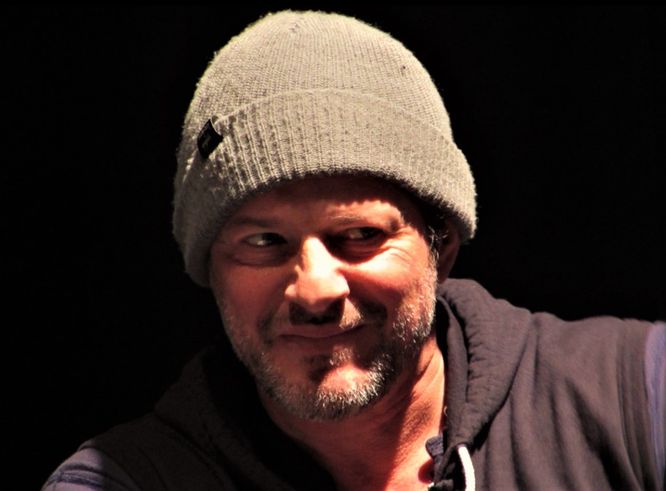 In 1987 Costas moved to the United States to try his luck in Hollywood. He started taking acting lessons and took on a version of his mother's maiden name, because he thought his original name was too long. When he arrived in the US, Costas started taking acting lessons and during the first years he was unable to find any acting job, so he had to take any job available to survive. In 1989, he landed his first real role as Avram in "Triumph of the Spirit". The movie is based on the true story of Greek Olympic boxer Salamo (played by Willem Dafoe), who was taken prisoner during WWII. He was placed in the Auschwitz prison camp and had to fight to entertain the Nazi's. This was the only way to stay alive. "Triumph of the Spirit" was shot on location in Auschwitz-Birkenau. When Costas was done filming he returned to Los Angeles and he auditioned for a role in Oliver Stone's "The Doors" (1991). He got a small supporting role as Italian Count  in this movie about the legendary band The Doors and its lead singer Jim Morrison (portrayed by Val Kilmer). Also in 1991 Costas landed a lead role in the gangster movie "Mobsters" as Mafia boss Frank Costello. This role seemed to have Costas Mandylor written all over it. when he was 13 years old, he worked as a dishwasher in a club in Melbourne. According to Costas he saw all kinds of people there, including real life gangsters and he met dangerous people from the underworld of Melbourne.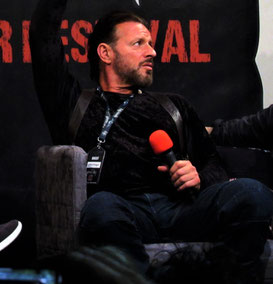 In 1992 he landed his breakthrough role in the CBS television drama "Picket Fences". He played the role of Officer Kenny Lacos for 4 seasons, untill the show ended in 1996. Over the decade that followed, Costas could count on a constant job flow. He played in dozens of movies and tv shows, like: "Players" (1997-1998), "Bonanno: a Godfather's Story" (1999), "The Pledge" (2001), "Sex and the City" (2001), "Gangland" (2001), "Charmed" (2002), "7th Heaven" (2004-2006) and many more. In 2006, his second breakthrough role came when he was cast as Forensic Hoffman in the third installment of one of the biggest horror franchises at that time: "Saw III", followed by "Saw IV" in 2007. Also in 2007, Costas played the role of Hondshew in "Beowulf". This movie also starred big names like: Angelina Jolie, John Malkovich, Robin Wright and Anthony Hopkins. In 2008 and 2009, Mandylor reprised his role as Hoffman in "Saw V" and "Saw VI" and in 2010 he took up the role once more for "Saw 3D". Over the years that followed, roles kept on puring in and Mandylor kept himself busy in Hollywood. This year, he has some new projects coming up.
Costas Mandylor will be appearing at Comic Con Liverpool on Saturday and Sunday.
Autograph: £ 30 (€35)
Photo op: £ 30 (€35)
That's it for now..but keep an eye on our website for the next article, because more about Comic Con Liverpool is coming up soon! Tickets for Comic Con Liverpool are available on their website.