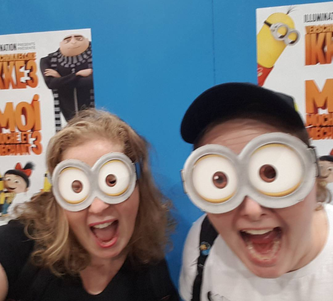 If you are reading this, you probably also read part one and part two of this series (if not...you should!). I was actually not expecting to write another one of these for Dutch Comic Con Winter Edition 2019, because the film and Tv guest-list was finalized with Chandler Riggs a few weeks ago. Unfortunately, however, there has been a last minute cancellation. Due to work obligations "Once Upon a Time" fan favorite Colin O'Donoghue had to cancel. And of course we think that is a big shame. But not long after the cancellation Dutch Comic Con came with a worthy substitution for the man who plays Hook in "Once Upon a Time". Let's start howling, because none other than Tyler Posey is coming to Utrecht this weekend. Tyler is mostly known for his role as Scott McCall in "Teen Wolf". We love "Teen Wolf" and in the past we have been to Wolfcon (a "Teen Wolf" convention) multiple times, but we never got the chance to meet the man behind the main character of the show. So, thank you Dutch Comic Con! In this article we will tell you a bit ore about Tyler Posey.......ARH-WHOOOOOOOOOOO!
Who is Tyler Posey?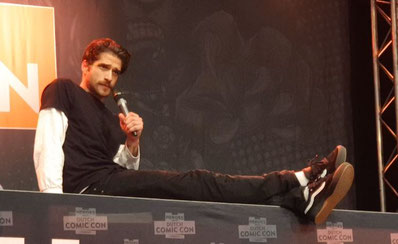 Tyler Garcia Posey was born on October 18, 1991 in Santa Monica (USA) as the second son of writer/actor John Posey and Cyndi Garcia Posey (who was of Mexican descent and passed away of breast cancer in 2014). Tyler has to brothers: an older brother named Derek and a younger brother named Jesse (also an actor). He grew up in the suburb Santa Clarita and he developed an interest in acting at a very young age. His father frequently brought him to sets and at the age of 6, Tyler was already acting on stage, alongside his dad. He attended Hart High School and also loved playing the piano. Tyler began working on both TV and Movies in the early 2000's.
His first major role was a recurring lead role in the medical drama series "Doc", where he played the role Raul Garcia (he played this role for 86 episodes between 2001 and 2004). He made quite an impression with this role as a little boy that gets orphaned when his mother falls ill and dies. He and his mother lived in the basement of a church. Later he gets adopted by a New York Police officer. Posey won several awards for this role. In 2002, he appeared alongside Arnold Schwarzenegger as Mauro in "Collateral Damage". Also in 2002, he played the son of Jennifer Lopez in the romantic comedy "Maid in Manhattan". In 2005 and 2006, Posey played in several TV shows and movies, like: "Inside Out" (2005, as Obert), "Into the West"(2005, as Young Abe Wheeler), "Sue Thomas: F.B.Eye" (2005, as Danny Abas), "Smallville" (2006, as Javier Ramirez) and "Brothers and Sisters" (2006-2007, as Gabriel Whedon).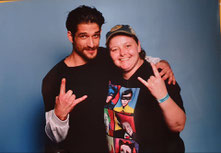 In 2007, Tyler auditioned for the role of Jacob Black in the "Twilight" film series. He lost the part to his friend Taylor Lautner. They got to know each other while auditioning for the same roles over the years. In the same year he did get a role in "Veritas, Prince of Truth" (as Mouse). In 2009, he plays the role of Andrew Ortega in several episodes of "Lincoln Heights" and in 2010 he pays a small role in the movie "Legendary". The year 2011 turns out to be the year of his big breakthrough, when he lands the leading role of Scott McCall in MTV's "Teen Wolf", which is loosely based on the 1985 movie with the same name (starring Michael J. Fox). For those of you who don't know the show, let us tell you some more about "Teen Wolf"...
About Teen Wolf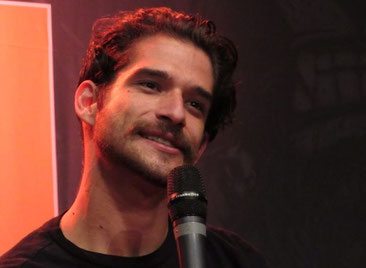 "Teen Wolf" is set in the fictional town of Beacon Hils, California. It revolves around best friends (and social outcasts) Scott McCall (Posey) and Stiles Stilinski (Dylan O'Brien). They both play in the Lacrosse Team of Beacon Hills High School, but they are not very good at it. It is safe to say that Scott and Stiles are not part of the popular crowd at school. This all changes one night, when a body is found in the woods. Well, half a body actually. Stiles is the son of the Sheriff and because of this he finds out about the body. Stiles (Always ready for an adventure) convinces Scott to help him search for the other half of the body. Of course, things go terribly wrong, when Scott and Stiles get seperated. Scott decides to go home and on his way stumbles upon a ferocious animal, which starts to chase him. When the monster catches up on Scott, he gets bitten... The next morning Scott wakes up and he notices that the wound from the bite has healed overnight. Soon, Scott finds out that that's not all that changed. He is stronger, faster and turns out to be an amazing Lacrosse player all of a sudden. He tells his best friend Stiles about this and together they find out that Scott was bitten by and turned into a werewolf.
And then there are the love interests. Stiles is hopelessly in love with Lydia (Holland Roden), but Lydia does run with the popular crowd. She is the most popular girl of Beacon Hills High School and her boyfriend Jackson (Colton Haynes), the most popular guy (besides this he can also be be an enrmous jerk). And there is also a new girl in town: her name is Allison Argent (Crystal Reed) and Scott immediately falls in love with her. What complicates things is the fact that Allison turns out to come out of a family of famous Werewolf Hunters. 
Back to Tyler Posey...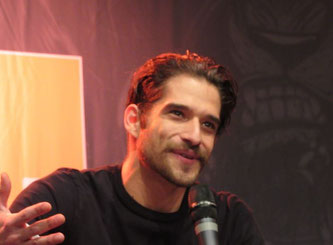 Besides "Teen Wolf" which ran for 6 seasons (from 2011-2017), Tyler kept on playing other roles in movies and TV series. In 2012, Tyler stars in the independent film called "White Frog". This comedy/drama film (directed by Quentin Lee) revolves around Nick Young (played by Booboo Stewart), a highschool freshman with autism spectrum disorder. When his brother Chaz gets hit by a car and dies, his world seems to be falling apart. While Nick struggles with his grief, he finds himself being 'adopted' by Chaz's best friends, including Doug (Tyler Posey). They support him and he learns about the secret life and fears of his seemingly perfect brother. In the years following Tyler appears in movies and series like: "Scary Movie 5" (2013, as David), "Workaholics" (as Billy Belk), "The Exes" (as Eric), "Yoga Hosers" (2016, as Gordon Greenleaf). In 2018, Tyler plays the role of Lucas Moreno in the horror movie "Truth or Dare", alongside Luce Hale (Aria from "Pretty Little Liars") and Gage Golightly (who also appeared in "Teen Wolf" as Erica Reyes). He also lands a recurring role in "Jane the Virgin" and does a lot of voice work. In 2020, Tyler will be playing a main role in the TV adaptation of "The Lost Boys" (movie from 1987 starring Kiefer Sutherland, Jason Patric and Corey Feldman). Besides all of this Tyler is also a musician and he sings and played guitars in multiple bands over the years.
Tyler Posey will be attending Dutch Comic Con on both days...
Autograph: €50
Photo Op: €70
Meet&Greet: €200