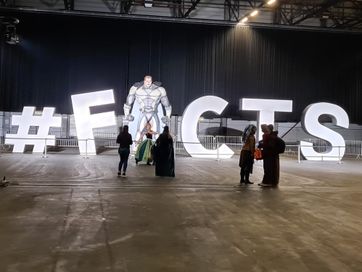 Sunday November 7th 2021, 7.00 am ...
It is early for a Sunday, very early ... normally I would be sleeping like a log. But not today! Today it's FACTS day! Birds are chirping and I jump out of bed...
Ok I might be exaggerating a little bit. I was very tired and when the alarm clock went off and I had to roll myself out of bed, but after I had coffee, I was almost jumping up and down. Finally! We were going to FACTS again and we only had one day. After more than one and a half year without comic cons we had a little taste of it a few weeks ago, when we went to Heroes Made in Asia. But now it was time for one of our favorite conventions. As always, the guest list was awesome and at FACTS there is always so much to do for 'geeks' like us. We were psyched!
Guest meetings and panels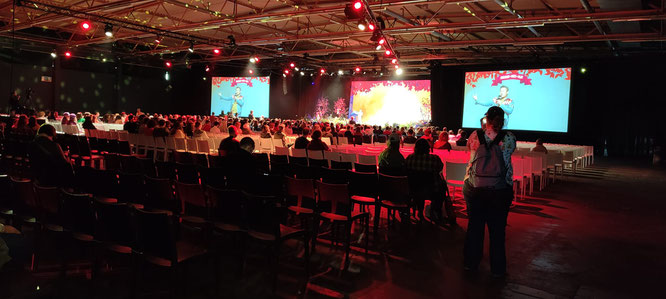 Like we said ... the guest line up was amazing and we had a very tight schedule. First thing on our program was the panel of Tomer Kapon, who you might know as Frenchie from the TV show "The Boys". We are both big fans of the show and Frenchie is one of our favorite characters. Of course, he talked a lot about his role in "The Boys". He talked about how amazing season 3 is going to be and about some of the 'controversial' scenes. We loved listening to the stories of Tomer Kapon and 30 minutes was too short in our opinion.
In the video below, you can see Tomer talk about how he loves to play the role of Frenchie and also a lttle bit about season 3 of "The Boys".
Our second (and our last) panel of the day was the Jack Gleeson panel. Jack is mostly known for his role as Joffrey Baratheon, who grew out to be one of the most hated characters in television history. He obviously did an awesome job as an actor, because in real life he turns out to be one of the nicest guys around. He talked about his role as Joffrey (and that famous scene between Jaime and Cersei), but also about Belgian beers and the music he loves...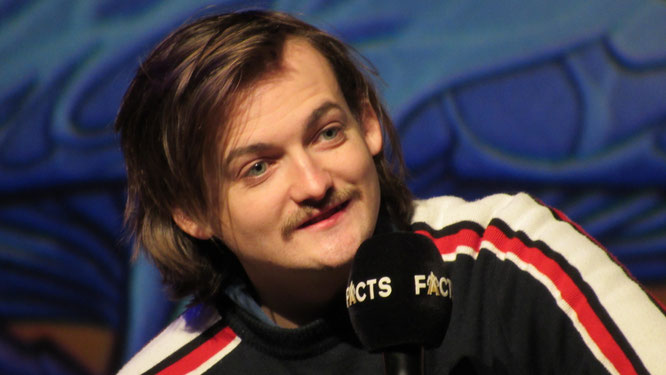 Are you curious about what Jack had to say? Well, just click the video below and watch almost the entire panel for yourself...
After this very amusing half an hour, it was time for photo ops! We had three of them and we were very excited about meeting some of the guests. Unfortunately, this also meant we missed the rest of the panels for the day. Well life is all about choices, right? The first photo op on the program promised to be a fiery one. Some years ago Mark Sheppard was a guest at Dutch Comic Con and as I was not watching "Supernatural" at that moment, I decided not to go for an autograph or photo. Later on I started watching "Supernatural" and I loved the character of Crowley. Needless to say, I was kicking myself for not going to meet him. You can imagine my happiness when FACTS announced Mark as a guest. I had to meet him somehow and bought a photo op beforehand. Carola hasn't watched "Supernatural" yet and was not that interested in going with me. However, I insisted on it, because I know for sure she will love his character. So, there we were...ready to meet the "King of Hell". It was our first photo op in more than one and a half year, so were pretty nervous. Mark was so nice and he even commented on our "Simpsons" clothes and my "Batman" hat. Mark himself was wearing a "Doom Patrol" shirt (as you can see) and that reminded me of the fact that I have to start watching that show again. I watched the first episodes and I loved it...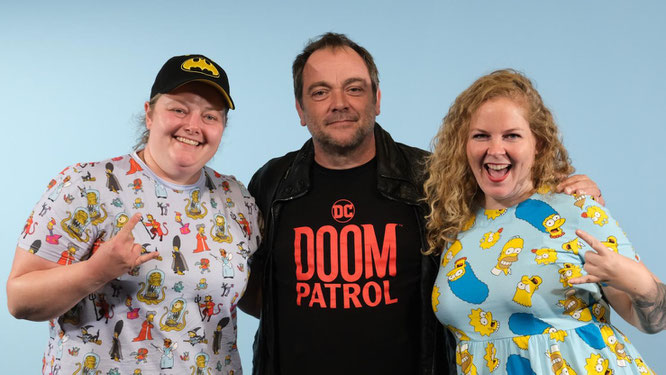 Next up was another audience with a king and as big "Game of Thrones" fans we could not wait to meet Jack Gleeson. Beforehand we read that Jack preferred social distance during the photo op and we were thinking about how we could respect this, but still make it a great moment. After some thinking, we decided we would ask him to join in on our excitement and below you can see the awesome result...#excitedisanunderstatement!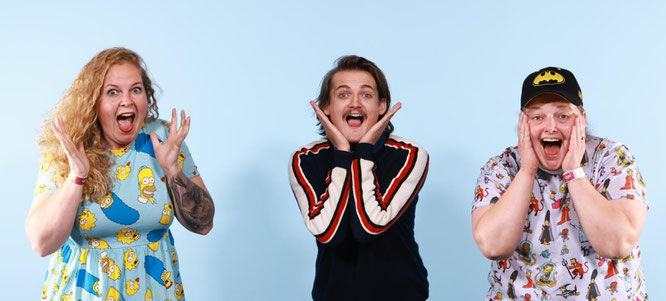 Right after this, we had to queue for Bob Morley and we got to talking with the girl in front of us. Because of this lovely chat, we did not have the time to think about how nervous we were and time flew by. Before we knew it, it was time for our photo with Bob.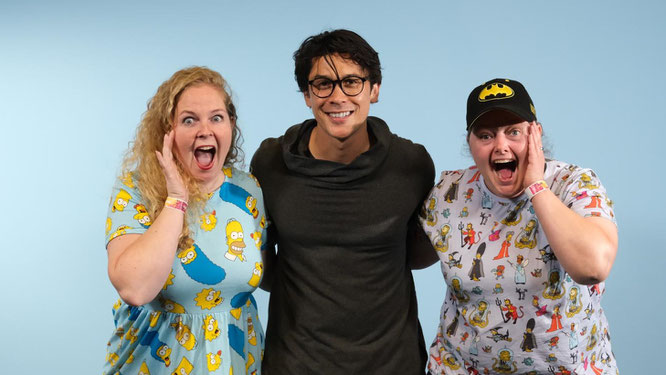 Then I decided she really wanted to meet Tomer Kapon. I went to his table for a selfie and that was awesome! Tomer was so nice and he started to talk about all sorts of things. Even after we took the selfie. He took his time to talk some more. What an awesome guy!
And last but not least I decided to go for an autograph of Dante Basco. Although I don't watch "Avatar", I love the movie "Hook" and Dante played the role of Rufio in this movie.  We also had a little chat with him and I was so happy with my autograph.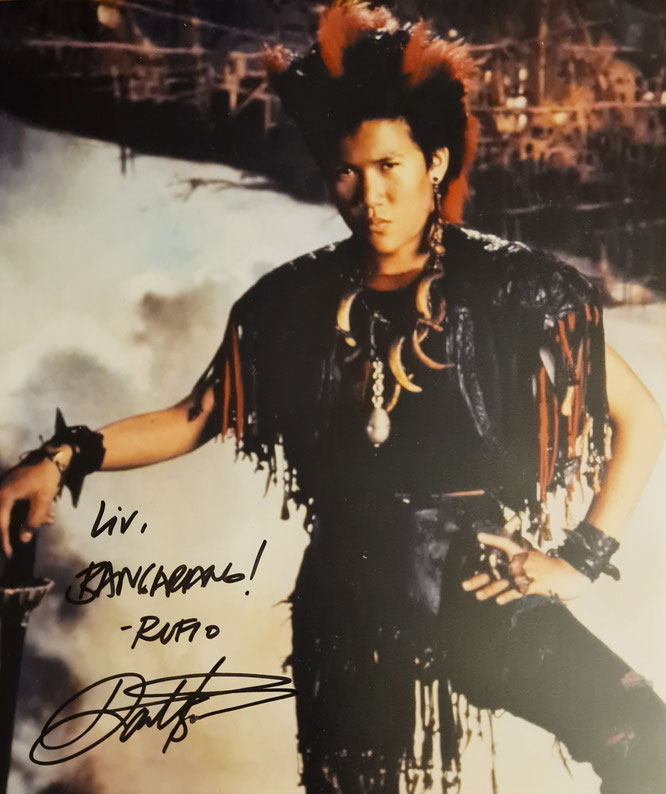 Props and fanvillage
So far for our adventures with the guests. There is a lot more to do at FACTS and we did our best to do as much as possible. One of the areas we always love to walk through is the Fan Village. This is the area where fan clubs and groups from all kinds of franchises gather to show their appreciation of the franchise they love. From "Harry Potter" to "Star Wars", from Lego to lightsaber! This is where you indulge yourself in all that geeky goodness and we did! Furthermore, you can find all kind of props all around the venue and all of these little things make the FACTS experience all the more fun! 
Merchandise
Oh, have we missed browsing through the merchandise stands in the merchandise area of a comic con. Due to Covid-19 there weren't as much dealers as usual, but there was enough to see and buy! The advantage that came with the smaller number of dealers, was that there was more room to walk between the stands and we loved that. Of course, we didn't leave empty handed. In fact, one of the first things I did was buy some shirts at the Legend Icon stand (and that was not the first time she bought shirts there). I bought the three shirts below. Which one is your favorite?
I also bought a "Stranger Things" shirt at the stand of Dirtees, which you will definitely see come by on our social media soon. Besides all of these shirts, I also got an awesome 40th anniversary edition of "The Godfather". This edition includes Blu-rays off "The Godfather", "The Godfather II" and "The Godfather III". It also includes the definitive shooting script of the first movie, 10 previously unreleased postcards and more than four hours of bonus materials.
Other
As always there was a lot to see and do at FACTS and it was impossible to do and see all of it in just one day. What to think about The Colossus? A 234 meter long inflatable obstacle course (one of the largest in the world). And an entire hall dedicated to the wonders of Cosplay? Workshops about all kinds of subjects? Dating for Geeks? A whole area filled with awesome comic artists? 
We also loved that there were places to sit, scattered around the event halls. At a lot of comic cons, it is almost impossible to get a place to sit.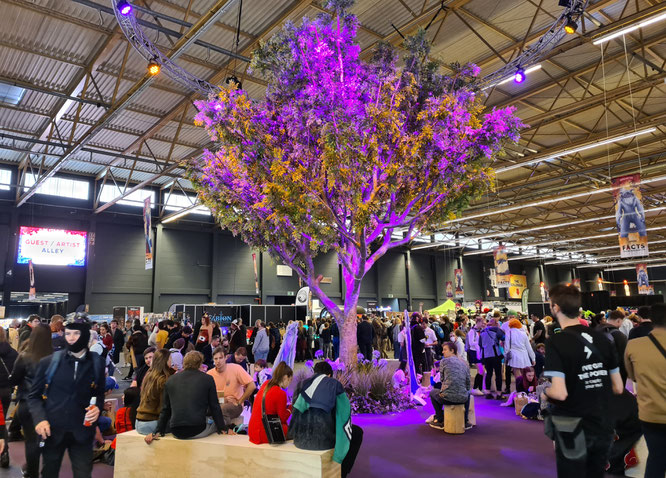 All in all, we had an amazing time at FACTS and we are so happy that we had the chance to visit again. Hopefully we don't have to wait to long for the next edition, because we absolutely adore FACTS. If you're still not convinced about the awesomeness of this convention, we dare you to come and have a look next time. Maybe we can grab a cup of coffee!