A while ago, Liv and I went to Comic Con Liverpool. At this comic con, there were a few guests from Sabrina the Teenage Witch: Melissa Joan Hart, Beth Broderick, and Jenna Leigh Green. The announcement brought back all of the memories of the series, which was great! At the comic con, Liv and I got a photo op with Melissa Joan Hart and Liv also went to get a PlayStation game signed. It was awesome! After all this, I decided it was about time to start and watch Chilling Adventures of Sabrina on Netflix.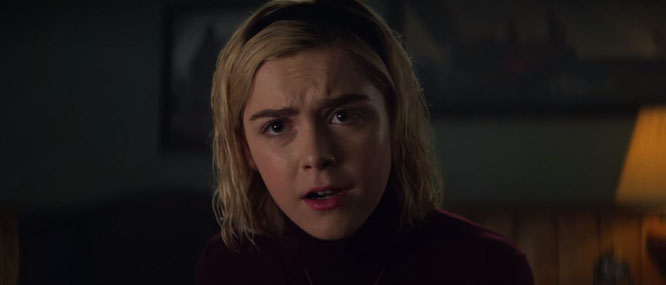 Chilling Adventures of Sabrina reimagines the origin and adventures of Sabrina: the Teenage Witch as a dark coming-of-age story starring Kiernan Shipka now as Sabrina Spellman. 
Sabrina is turning 16. Sabrina is half-witch, half-human. On her 16th birthday, she will be reborn. Sabrina has to cope with being half-witch. She must choose between the witch world and the human world with her friends. At the same time she, her family and the world, are threatened by evil forces. 
My thoughts
I started to watch Chilling Adventures of Sabrina because I met Melissa Joan Hart and my love for Sabrina the Teenage Witch was back! That's why I decided to give the 'new' a show on Netflix a go: Chilling Adventures of Sabrina. A big plus was Kiernan Shipka in the role of Sabrina Spellman. I know her for Mad Men and was enthusiastic  to see her in another role. 
Starting with the series, I had to get used to it a little. It wasn't like the Handmaid's Tale, where I was hooked from the first second. I really get to used to Chilling Adventures of Sabrina and get into the stories. Right now, I'm finishing up season 1 and I notice I'm more and more invested. In the story and the characters. Now I know them a little, know where the story is going and I like it. So far, it's not ending up in my top 10 most favorite series. But I like it enough to start on season 2. 
I like the dark atmosphere in Chilling Adventures of Sabrina. There are a lot of interesting characters when you get to know them. I'm curious to see where the show will go!  
The actors/ actresses
 Kiernan Shipka plays the role of Sabrina Spellman. I liked her role in Mad Men ( As Don's daughter Sally Draper). I was enthusiastic to see her in another role. But I have to admit: I had to get used to Kiernan as Sabrina a bit. After seeing Melissa Joan Hart in Liverpool my memories of the old series were more alive than ever. And the new series is quite different. But not in the wrong way. It's just something else and I had to focus on that. I think Kiernan is doing great as Sabrina.  
Sabrina's aunts, Zelda and Hilda Spellman are portrayed by Lucy Davis (Hilda) and Miranda Otto (Zelda). You might know Lucy already for Wonder Woman (as Etta), Shaun of the Dead (Dianne), Better Things (Macy) and more! Miranda is known for the Lord of the Rings the Two Towers and the Return of the King (as Eowyn), War of the Worlds (Mary Ann) and more!  
Some other names of the cast are: 
Ross Lynch as Harvey Kinkle
Chance Perdomo as Ambrose Spellman
Michelle Gomez as Mary Wardwell
Jaz Sinclair as Rosalind Walker
Tati Gabrielle as Prudence Night
Adeline Rudolph as Agatha
How many seasons?
Grade