Yes! It's interview time. This time, we spoke with the Brickboys. We had already seen them a few times at Dutch Comic Con and they really have some amazing Lego creations. We really love all the creations! It's so impressive. Every time we see the Brickboys at Comic Con we're so impressed. At Dutch Comic Con Spring 2019, we decided we would love to do an interview so we asked them. Well, the result is this article! Today you'll get to read all you need to know about The Brickboys! And hopefully, you will see them next time you're at a comic con!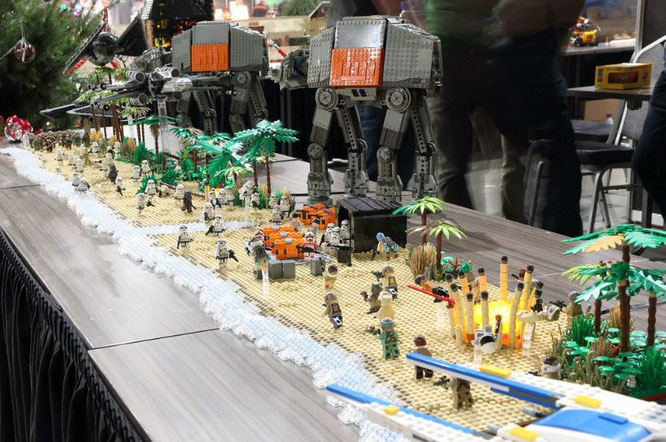 About Brickboys
For the people who are not familiar with the Brickboys yet, we asked Lars to introduce himself and the group: 
"My name is Lars, one of the Brickboys and currently I coordinate our attendance at comic con events. Aside from being a big Lego fan, I am a fan of everything from "Star Wars" to "Harry Potter" and "Lord of the Rings", which makes it so much fun to attend comic con events."
Thank you! Can you tell us a bit more about the group? How long do the Brickboys exist  and how did it start?
"The Brickboys group was started by HJR-Holland (nickname), who is both a massive "Star Wars" fan and a fan Lego. He initiated first contact between the Lego fan community and the organization behind several comic con events in the Netherlands. The first event we attended was Amsterdam Comic Con in 2016 and many events, like Dutch Comic Con, followed in the years since then. The Brickboys are part of the Dutch Lego fan community called Lowlug, this is an online forum and is officially recognized by the Lego company.
Awesome! It's great that you're attending all these events. Now that our readers have been introduced to you and the Brickboys. Can we ask: What does no one know about your group yet?
"That we are only a small group compared to the 80 Lego fans who attend Legoworld as exhibitioners, during the fall holiday."
How many members does your group have right now? And can people still join?
"Currently we are a group of about 12 Lego fans, but we are by no means a fixed group. The members attending events varies a little bit every event, mostly due to scheduling and also due to having finished Lego creations. People don't really join the group, they are approached and asked to join based on our experiences with them and their Lego creations. Also comic con events can be very intense, a lot goes on in a very short time, so it takes a group of people that can work with each other to make it a great time. The name being "Brickboys" does by no means exclude women, but unfortunately women are a minority in the Lego fan community. Let this be a shout out to all women out there that create themed Lego creations, feel free to contact us and maybe you can attend an event with us some day! Also sign up to the forum at Lowlug.nl to find more like minded Lego fans."
Let's talk about Lego!
We have seen you a few times at comic con already. You always bring amazing and inspiring creations. We see a lot of creations from movies/ tv series. Which movies/ tv franchises inspire you?
"I personally am inspired mostly by medieval and fantasy type movies such as "Lord of the Rings" and "Harry Potter", but I am also a big "Star Wars" fan so I am often inspired to build scenes from those movies. As for the other members, Sander is a big Marvel and DC fan so his creations are often based on various superheroes. Stephan and Jourian have been inspired by "Thunderbirds" recently, so they have created some parts of Tracey Island and some of the iconic vehicles from that series. Ruben and Frank are very all round builders but are also fans of "Dr Who" from which they have created several scenes and layouts. Marco is an "Assassins Creed" fan and has built the streets of Venice from one of the games."
Great to hear how you're all inspired in a different way. All creations we have seen from you guys are great. So we can't help but wonder: Which creation was the biggest challenge?
"Creations can be challenging for different reasons like size, complexity and detail. I once built part of the Resistance base and Millennium Falcon landing site, from "The Force Awakens". The challenge was finding enough reference images, because at the time of building the movie was not released yet. Stephan always challenges himself to find parts that most resemble structures that are seen in "Thunderbirds", this is a big challenge because some Lego parts can be quite rare and expensive. Barry is a very experienced Lego Technic builder so his challenge is often to recreate movements as natural as possible and also make the creation sturdy enough to function the entire event."
That's impressive! It'nice that it keeps being challenging. And when you have so many creations: Which creation are you the most proud of?
"We are each proud of our own creations!"
These creations look like there's a lot of work put into it!  How much work does a creation usually cost?
"Again this varies greatly, some of the most detailed creations can take months of evenings and weekends working on it. And sometimes a creation comes together in just several hours."
And when you have finished a creation: how do you decide what to create next?
"Sometimes we build layouts as a group, mostly this is based on what is popular at the time. Once five of us each built a section of beach from "Star Wars: Rogue One", because that movie came out in the same year. Most of the time just build things we are inspired by."
Comic cons & events
Let's talk about the events you usually attend. Like we mentioned already, we have seen you a couple of times at comic cons. Do you also attend other events? Or mainly comic cons? 
"As Brickboys we only attend comic con events. As Lego fans we attend all kinds of Lego events like Legoworld and various smaller events and meetings. At those events we usually attend as members of Lowlug."
And when you pick an event, or are being asked for an event: What is important to you/ What should the event be about?
"For Brickboys it is important for the event to have some connection to the popular franchises like "Star Wars", "Harry Potter", etc… We need to have enough parking spaces because our creations take up a lot of room in terms of transportation. Also the booth needs to be at a dry and enclosed space, we don't want to expose the Lego to extreme weather of course."
Do you also attend international events?
"Some of our members attend international events in Denmark, the US, Norway and Belgium. But we don't attend these events as the Brickboys, the Brickboys only attend comic cons in the Netherlands."
What kind of preparation do you need to do before you go to an event?
"I need to figure out who of our group will be attending, which creations they will bring and how big those creations are. We set up the day before the event, usually this only takes a couple of hours. Also we will have a group diner somewhere in Utrecht on Saturday, so we make sure to make reservations."
We love attending comic cons too. It's always so much fun and we're making great memories at each event. What's your best memory of an event?
"The best memories are made when we do things as a group. Every Saturday, after the first day of the event, we all go out to eat and drink together, this is a lot of fun and a great memory. During one of the events our booth was situated in front of the main stage. Despite the loudness of that stage it was fun to see all the guest and listen to the interviews."
Photos made by Sander Koenen
Star guests at comic con
At comic cons, they are usually also star guests. Do you sometimes also meet the actors/ actresses when you're at a comic con with the Brickboys? 
"During Comic Con Amsterdam one of the attending stars was Peter Mayhew (Chewbacca from "Star Wars"). Due to his age and physical condition, he needed a high chair to sit on during the photo sessions. Unfortunately the organization did not have a high chair available for him, but we did have two of them at our booth. Peter borrowed our chair every day, for about an hour and on the second day I got a free photo with him as a thank you!
Also during that event Natalia Tena (Tonks in "Harry Potter", Osha in "Game of Thrones") noticed our creations she had a quick look around and asked some questions. It's fun to see the actors and you also realize they are just regular people as well."
Are there any guests  you would still really like to see?
"In general we enjoy almost all the guests that attend, but it's fun to see guests who are also represented in the form of a Lego Minifigure."
Since you have Lego creations inspired by movies/ TV series, it must be fun to see the actors then at comic con, or to show them the creations. Have you ever seen the actors of movies/ series you make Lego creations about?
"Yes, several in fact. Sean Astin, who plays Samwise Gamgee in "The Lord of the Rings". Tom Felton who plays Draco Malfoy, Jason Isaacs who plays Draco's father Lucius and Natalia Tena who plays Tonks in "Harry Potter". Peter Mayhew, Chewbacca, and Ian McDiarmid, Emperor Palpatine, from Star Wars. Also many lesser known actors from those movies have attended these events in the Netherlands."
Photos made by Sander Koenen
Let's talk more about the Brickboys
First, we would really like to thank you for this interview! We're always happy to see you guys a comic cons and we definitely enjoy looking at all the creations. It's such great work! If any of readers is curious now as well.. Where will people be able to see you this year?
"You can find me at Legoworld in Utrecht and at Lowlug XL in Meijel, Limburg, the Brickboys will be at Dutch Comic Con in November."
Looking at the future, what are your ambitions for the group?
"We just like to have as much fun as possible while showing our creations and inspire others!"
Here's a question we now always try to ask people: "Our motto is "Excited is an understatement". What are you excited about?"
We are very excited about the classic "Jurassic Park" Lego set that was revealed recently!
Here's our last question, but a very important one! How can people book you for an event?