The House That Jack Built. The first time I heard about this movie, was in Lumiere cinema in Maastricht. I saw the trailer (I think I was going to watch a David Lynch movie). The trailer caught my interest right away: This one was going on my watch list. Seeing that the movie was directed by Lars Von Trier gave me mixed feelings. I have seen a couple of Lars Von Trier movies (Antichrist, Melancholia, the Idiots) and I wasn't super enthusiastic about them. But, I decided to stick to the feeling the trailer gave me and watch the movie in the cinema. It took me a while to go and see it (Blaming it on the snow!). But now I finally did.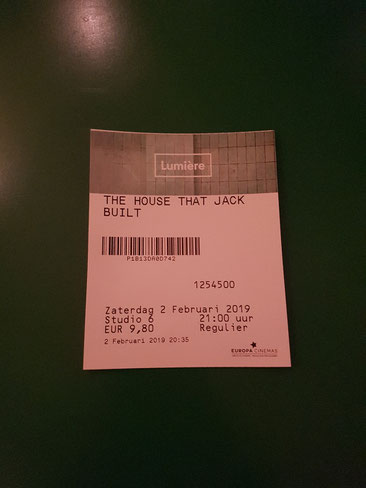 The story of the House That Jack Built
The movie is about Jack, a very intelligent serial killer. The movie looks at a course of 12 years and zooms in on the moments that had a big impact on Jack . You start with the beginning of Jack's serial killing career. We see what drives him to, what seems to be, his first murder. The movie zooms in on these events. We get to see those important moments, that influenced Jack's behavior, future decisions or way of killing. 
Uma Thurman plays a woman who stands along side the road with a broken car. She can't replace her tire and asks Jack for help. He doesn't actually want too, but she's very dominant and basically makes him help her. She hops into his car and starts talking. Jack tries to ignore it and keep quiet to get it over with. but the woman doesn't stop. She even jokes he might be a serial killer. That he even looks like one. And how it wasn't a very smart move to hop into his car. It's almost painful to watch a silent Jack, getting more and more frustrated and seeing Uma Thurman as a bossy and talkative woman, who doesn't know when to stop. 
It's a good start of the movie and show us a bit of how Jack is, why he kills and what frustrates him. Following on this, more events follow. 
My thoughts
I really liked this movie! It makes me reconsider watching other Lars Von Trier movies again. I really liked the approach of showing the events that influenced Jack. I like how all the events are different and show a different side of Jack. My favorite part is where his OCD takes over and he keeps getting back inside looking for blood stains, bringing himself in more danger than where he would leave a stain. The suspense is huge there and I was thinking, 'go away!', 'go awayyyyyy!'. 
And in the next events, you see Jack evolve and change. It's interesting to see how big the impact of some events is. And it kept surprising me. We saw the director's cut and there were some pretty shocking scenes. The movie is surprising and shocking at the same time. Jack doesn't stop for anything. 
I also liked how things are clarified with a voice over by Jack and the conversations Jack has with someone. It sheds some light on the events. For me, it really added value to watching all the events happen. There was a good balance. I will definitely buy the movie on DVD. What did you think of the movie? And what's your favorite Lars Von Trier movie?