Lumiere Maastricht and Bonnefantenmuseum Maastricht have organized a retrospective dedicated to the movies and life of David Lynch. Lumiere shows several movies of David Lynch. Bonnefantenmuseum Maastricht shows the David Lynch exhibition Someone Is In My House. Last year, we have already watched several movies of David Lynch in Lumiere. This week, we decided to combine a visit to the museum with some sushi and another movie!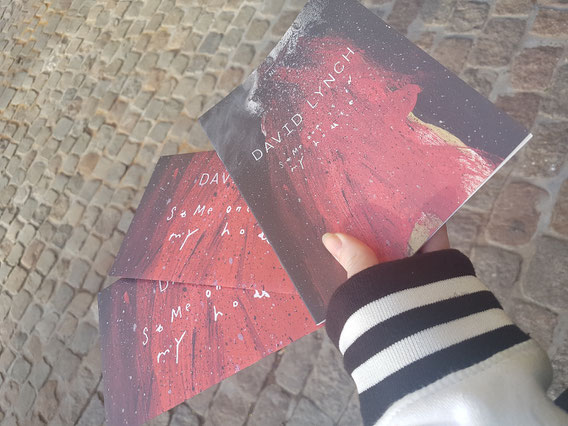 Someone Is In My House - David Lynch
I didn't really know what to expect from the exhibition in the Bonnefantenmuseum. But I was really excited to find out more about David Lynch. David Lynch is mainly known for his surrealist films and the TV series Twin Peaks. But, above all, David Lynch considers himself to be a visual artist. The exhibition 'Someone Is In My House', shows a selection of his paintings, drawings, photos, objects and short films.  
I was happy to see that the exhibition was quite large! I had no idea how much there would be for us to see. But the amount was pretty impressive. It started with some drawings. Some made at a very young age. From there, we saw more drawings, paintings and there was a short documentary playing. I really liked the diversity in art work. I didn't understand all of it, but there were some really impressive art works. I liked the 'house' themed items like the Snowmen photo series and the three dimensional mixed media paintings. The theme of being safe or not in your own home is very interesting. And David Lynch has found some creative ways to show his thoughts on that. For me that was the most interesting part of the exhibition.  
I also enjoyed watching a few old short films and seeing the drawings he made on matchstick boxes. It was a great exhibition and I really enjoyed the variety in art works. From drawings to lamps and mixed media painting: Everything is there! It's great way to get more insights in the David Lynch!    
David Lynch movies in Lumiere
Last year, Lumiere showed several movies of director Martin Scorcese. I really loved watching a lot of those movies! And so, when I found out there was a series of David Lynch movies coming up, I was very happy (#Excitedisanunderstatement). The movies I have watched in Lumiere up until now are: 
Lost Highway
Eraserhead
Blue Velvet
Mulholland Drive
I really enjoyed all of them. I think my favorites are Eraserhead (I love the 'girl with the cheeks' haha) and Blue Velvet. I'm definitely looking forward to watch some more. 
Which David Lynch movies have you seen?