We're full on with series talks lately! Oh yeah, we love watching a good TV series and even better: We love writing about it for you. After finishing La Casa De Papel, I hád to find something new. I was glad to see Netflix had some new episodes of Suits online and some of Gotham. Then, something very colorful caught my eye: Pose. I watched the trailer and it looked extravagant. Time to start watching!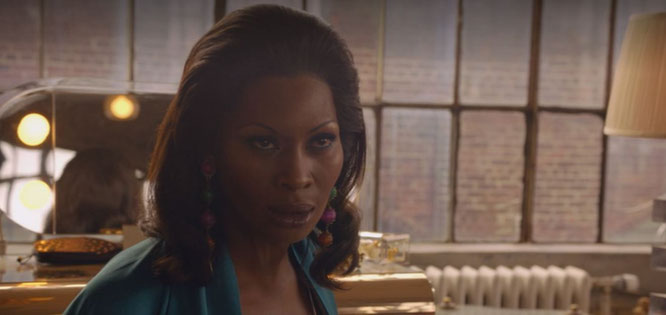 Pose is starting in my birth year: 1987 and it's all about dancing! Blanca dances in the 'house' of Elektra. A house is, what they call, the family you choose. And every house has a mother. Blanca wants to start her own house, leaving Elektra angry. In Pose, Blanca starts the journey of her own House an goes looking for dancers. 
My thoughts
I love dancing and I love the over top colors, outfits and manners. That was definitely reason enough for me to watch. Pose kicks off amazingly. Whether I like a series or not, depends a lot on the start. When I get intrigued by the story instantly, I won't stop watching quickly. And the first scenes of Pose were fascinating. Seeing the house of Elektra, sneaking into a museum. Stealing royal clothing and performing in it. Winning an getting arrested. And that's just in the first 10 minutes. I loved it. 
After that, the series shows quickly that there's more too it than just colorful scenes, extravagant clothes, dancing and music. Obviously, the series has a message and a touch of drama as well. It gets more serious. And that's perfect. I like a balance between funny, seriousness and surprises. And well, after lots movies like Pitch Perfect, I'm definitely in for something different about dancing & competitions.  
It's definitely about having a dream, fighting for it and all the struggles that will come on your way. And it's done very well! 
The actors
Pose has the largest transgender cast ever on TV. I'm seeing many cast members for the first time in Pose. I know Evan Peters (Stan Bowes) for American Horror Story and Kate Mara (Patty Bowes) for House of Cards. 
I really love the mothers of both houses: Elektra and Blance. Elektra Abundance (Dominique Jackson)  is extravagant and amazing. She can be so mean and is so full of herself. Dominique Jackson absolutely does an amazing job here. Main protagonist Blanca Rodriguez is played by MJ Rodriguez. I was on her side from the first moment I saw her. It's hard not to root for her. I like how she's plays a determined Blanca, full of ambitions. 
The cast is amazing, great dancers & awesome actors. 
How many seasons?
1 up until now. Season 2 will follow in 2019!
Grade