We've heard good things about the documentary Forgotten Scares: An in-depth look at Flemish horror cinema. After hearing such positive things, we decided we would love to write about it. (tip: Check out the teaser) We love Flemish horror movies. And we've already written a lot about them. (Remember for example our Rabid Grannies dvd review?). We contacted director Steve de Roover for an interview. Luckily for us and all of you, he was willing to answer some questions. 
Forgotten Scares: An in-depth look at Flemish horror cinema
we have heard such good things about you documentary! Can you tell us more about it? What's it about? 
Thanks for the kind words. "Forgotten Scares" is a feature-length documentary which tells the story about the birth of horror cinema in Flanders, Belgium. I show viewers a quite complete timeline from Harry Kümel's masterpiece "Daughters of Darkness" to Jonas Govaerts splendid boyscout slasher "Welp" (or "Cub", as it was called internationally), while ending with a swift look on a new wave of upcoming Flemish horror projects. 
You directed the movie. How, why and when did you come up with the idea to make this documentary?
I love movies, and also documentaries about movies. A few years ago I fell in love with "Not Quite Hollywood", written and directed by Mark Hartley in 2008 - which is a fun and  entertaining doc about 'the wild and untold story of Ozploitation cinema'. And since the success of that one, the floodgates have been open, with documentaries about every horror franchise, subgenre or semi-cultmovie ever made. Weirdly enough, while flicks like "Daughters of Darkness", "Rabid Grannies" or even "Leftbank", have become quite the classics in the international horrorscene, nobody had the idea to do something about these films. Also I discovered that in my own country some of these titles weren't properly released, and ofcourse the weird fact that "Welp" was wrongfully sold in the mainstream press as 'the first Flemish horrorfilm'.  So I wanted to put the record straight, once and for all. In 2014 I pitched the idea to a couple befriended horror filmmakers, and the response was incredibly positive. So I started digging and researching for about a year, and I conducted the first interview (with Harry Kümel) at the end of 2015.
The making of
How did you decide which movies to talk about/ which interviews to do in your documentary? 
I tried to paint a complete as possible picture from the first documented horrorfilm shot in Flanders up until now. So I included every horror-related genrefilm: from underrated 'splatter and gore'-fests, to post-apocalyptic movies, slasher-films, women-in-prison stuff and even some fun nazisploitation! And I talked to as many key creative cast- and crewmembers as possible. Some stuff got deleted in the editing, because the first cut was simply too long. Kill your darlings as they say!
How long did it take you do make the documentary? 
From start to finish it's about three years, but I did work on other productions in between.
How would you describe the process of making the documentary? 
Simply awesome. This is my love-letter to filmmakers that I respect, and films that I love. During the making of "Forgotten Scares" I got to know a lot of these pioneers better, and I got a deeper understanding how some of these underrated films got made. It's also fun to travel the world from filmfestival to filmfestival and discover how every audience reacts to your film!
What did you like the most about making this documentary? 
I loved every step of the process. From the research, to the interviews and the editing with my heroic editor Pieter Vermeersch. But what I loved the most? Discovering that even the most jaded horrorfans discovered some new stuff, that members of the audience go out on a search to buy these forgotten films just as I did after seeing "Not Quite Hollywood", and that a new generation is ready for a sequel to "Daughters of Daughters"!  
For people who want to see the documentary: Where can they buy it? 
"Forgotten Scares" will be released on DVD and Blu-ray in the Benelux through Zeno Pictures in April 2018. A couple months later it will also be available on VOD. Ofcourse my doc is also still making the rounds at international filmfestivals, so look out for it!
Flemish horror movies
What do you think sets Flemish horror movies apart from horror movies in other countries?
First of all we have some amazing locations in Flanders that work well in horror. Couple that with talented filmmakers with a unique voice in film making. With stories that dare to go further and don't shy away from controversial topics. Our horror cinema is finally grown-up, so I hope that the world is listening! 
What do you think the future of Flemish horror movies will look like? 
Grander, slicker and hopefully more diverse. It took a while to get going, but as I said before, Flemish horror is grown-up now, and the audience is ready to accept horror that is not english spoken. Let's welcome Flemish ghost stories, zombieflicks and gothic medieval witches!
What are your favorite Flemish horror movies? 
"Daughters of Darkness" without a doubt. This is horror with class! I also have a soft spot for "Welp".
What are you still missing in the Flemish horror cinema? 
Just more different horror movies to be honest. Something is moving, but I want to see more! "Welp" was a cool slasher, now I want to see a different take on that subgenre. With "Yummy", directed by Lars Damoiseaux, we finally will have a Flemish zombiefilm. Oh yeah, and let's also move away from the lowbudget trash. 
Future projects
Can you tell us a bit more about yourself, your work and ambitions?
I am a Belgian filmmaker, who loves horror, animals and vinyl records. Beside "Forgotten Scares", I directed the vampire short "Un Homme Bien", a few music videos, and the segment "Jacob" of the anthology feature "Follow". A couple of years ago me and partner-in-crime Kevin Hoed founded Skladanowsky, an independent production company that made a name with shiny commercials, jolly music videos and ambitious short films like "Has#tag" - directed by Adil El Arbi and Bilall Fallah, "Skai Blue" - written and directed by Guido Verelst, and the upcoming "Quality Time" by Kevin Hoed. Everybody has difficulties to pronounce the company name correctly, but because of that, we seem to stick into peoples minds! We have some new projects lined-up, that again stay true to the philosophy of our company: tell edgy and relevant stories, that people want to see. Be it a hard-hitting social drama or a crazy fucked-up thriller! I truly hope that we keep on growing, and that we end up more in feature-territory.                     
Are you working on any new projects? 
With Skladanowsky we are finishing up "Muil", a very ambitious and unique Flemish horror short, that is written and directed by Jasper Vrancken. This film is best described as body-horror in the vein of Cronenberg, meets "It Follows". Who doesn't want to see that, right? To fund the last bits of work (including another splendid score by KRENG, known from the Elijah Wood starrer "Cooties") we have a crowdfunding campaign going , so please support if you like unique horror! Also gearing up to do a follow-up to "Forgotten Scares", among other feature projects.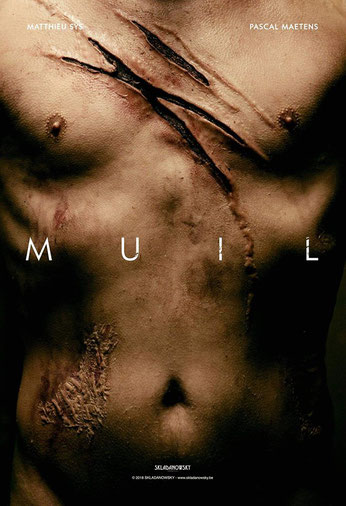 Want to know more?
We would like to thank Steve for this interview! We are happy to write about the documentary and to have gotten some amazing insights. we're also very curious to see Steve's other projects.   
How can people stay up to date about your work? Do you have a website or a Facebook/ Instagram page?