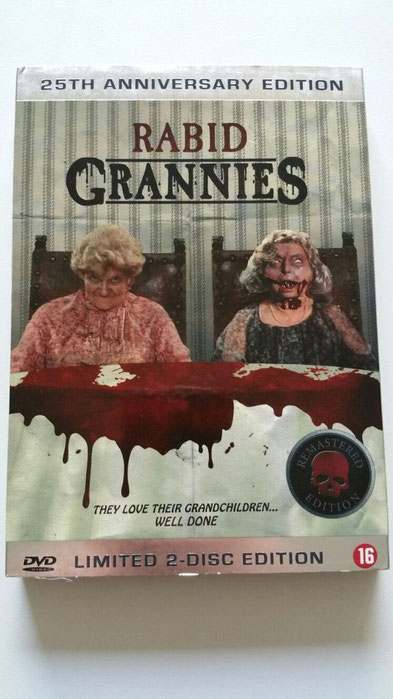 Last year at Weekend of Hell I bought this DVD, Rabid Grannies. I was intrigued by the cover, I honestly had never heard of the movie before. The cover and the story on the back just looked absurd and crazy. But nonetheless seemed like an great 80's horror movie. Recently I watched it and I have to say I wasn't disappointed at all.
Rabid Grannies is about a family who is going to the celebrate the birthday  of their 2 old rich aunts. No member of the family actually wants to go, but they attend the birthday party every year just so they can get some inheritance when the aunts die. The family consists of all types of different characters. Most characters have their feuds with each other and nobody really seems to enjoy themselves. Only one cousin of the family isn't there, he's been written out of the will of both aunts. It's because of rumors about him being active in satanic activities. And being arrested while taking part in a black mass.
But still, the aunts get a present from this black sheep of the family. And they are very glad that he actually thought of them. They receive a mysterious wooden box from him. When they open the box, a strange kind of smoke comes out of it. The aunts quickly change into horrific demons that start killing members of the family. Since the aunts live in a huge castle there is a lot of room for people to hide. All family members spread out and lock themselves in different rooms. The demonic aunts now start to hunt everybody down and kill them of one by one. Resulting in some very gruesome scenes.
Rabid Grannies 25th Anniversary Edition DVD
This dvd of Rabid Grannies is the 25th Anniversary Edition release by Zeno Pictures. And I think they did another great job with this one. It contains 2 discs. The first disc contains the original 1987 version without any re-mastering or re-editing. It also has some short interviews and the original theatrical trailer. The second disc contains the 2012 re-mastered and re-edited version of the film. It also has a making of documentary with an interview with producer James Desert. James looks back on the making of the film. He tells some interesting stories about how the movie came about and some fun stuff that happened during the making of this movie. You also get to see original behind the scenes footage of how they created some of the special effects. This documentary is about 35 minutes long and is a great bonus feature. But it is spoken in Flemish and there are no subtitles.
The original version on disc 1 is the one I watched. It is 88 minutes long and is the full uncut version of Rabid Grannies. The quality was pretty decent for a movie from 1987 that isn't re-mastered. It was a bit of an upgrade to VHS quality. But for me this isn't a bad thing, it adds to the charm. But I have to say, some scenes where a bit too dark, but this was just only on a couple of occasions.
The 2012 re-mastered version actually is shorter than the original one. Only clocking at 75 minutes. This is because a lot of dialogue at the start of the movie has been cut out. So, as far as I know,  none of the gore has been cut out. I only watched some bits. Also the documentary has some comparison of both versions. What I've seen of that one didn't impress me too much. It seems they added some coloring filters to the scenes to make them look better. Which results in the scenes getting this diarrhea brown color or just being colored blue. So I'd recommend watching the original first.
I'm very glad to have this DVD in my collection. From what I've read on the internet this is the only full uncut version of Rabid Grannies ever to be released. So if you're thinking about buying this film, buy this Rabid Grannies 25th Anniversary Edition release. Zeno Pictures absolutely did a great job on this one and I hope to see more releases like this from them in the future.