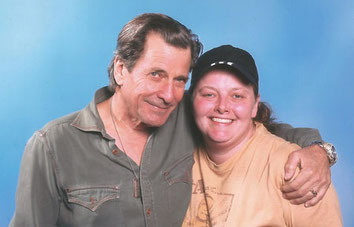 A few weeks ago Dutch Comic Con announced Dirk Benedict as a guest for their upcoming edition (25th-26th of March 2017 in Utrecht). Of course I was over the moon. I'm an 80's kid (born in 1980), so I grew up with shows like Dukes of Hazzard, Airwolf, MacGyver and The A-Team. Those were the days, right? And now decades later Dutch Comic Con gives me the chance to actually meet a member of the A-Team, how great is that! Years ago I went to the taping of a Dutch late night show, where Dirk Benedict and Dwight Schultz (Face and Murdock in the A-Team) were guests. I thought that was pretty cool, but now I get the chance to really meet one of them. As part of our Dutch Comic Con Week, I thought it would be cool to tell you some more about the man behind (the) "Face".
Dirk Benedict was born Dirk Niewoehner in Helena, Montana on the 1st of March 1945. Young Dirk was raised in the country (White Sulphur Springs in Montana). Growing up in a small town, he learned how to hunt and fish. He also loved playing football. His first experience with acting came in his freshman year in college, when he got the main part in a production of "Showboat". It was a "dare" from his college buddies, but there and then Dirk fell in love with the stage. In the following years Dirk played in a lot more (musical) productions. When he was 18 years old his father died and this had a huge impact on him. After his graduation Dirk started a two-year training program under the wing of John Fernald (who was the head of London's Royal Theatre of Dramatic Arts for 15 years).
In his early 20's he played repertory theatre in Seattle and Ann Harbour. He played roles in King Lear, Misalliance, Mister Roberts and Star Spangled girl (among others). In the meantime he also kept his interest in music and he formed a Dixieland Jazz Band while he was residing in Seattle. Just before their first real show, Dirk got a call for a meeting with an agent in New York. The agent got him a role in a Broadway show (Abelard and Heloise). Because of this he never returned to Seattle and he never got to make his debut as a Jazz Musician. Not long after the Broadway show ended, Dirk got his first real role in a movie (1972). He flew over to Sweden to star in Georgia, Georgia. During his time in Sweden he fell in love with Miss Sweden and he came in contact with a completely new lifestyle. He started a macrobiotic diet, based on eating wholegrain and vegetables.
Some years later (at age 29) he was diagnosed with prostate cancer and while doctors recommended surgery, Dirk refused the regular treatment. He moved to a secluded cottage and he kept on following the rules of his macrobiotic diet. He combined this with periods of exercise and fasting. He kept on doing this for three years under the guidance of Michio Kushi (a leading man in the area of macrobiotics). In his book, "Confessions of a Kamikaze Cowboy", Benedict states this helped him beat the cancer. After this ordeal Dirk converted to Buddhism and started writing books. In 1978 Dirk landed the role of Lt. Starbuck in Battlestar Galactica and at this time the doctors stated he was in good health. The creator and producer of Battlestar Galactica, Glen A. Larson, had written the role of Starbuck for Benedict, but Dirk had a hard time actually getting the role. The network people did not think he was the right man for the role. Luckily Dirk did land the role eventually and in my opinion he really was the right man for the job. In some interviews Dirk jokingly stated he had to sleep with Larson to get the job. He played the role of Starbuck in (the 1978 movie and) 21 episodes.
Templeton "Faceman" Peck in the A-Team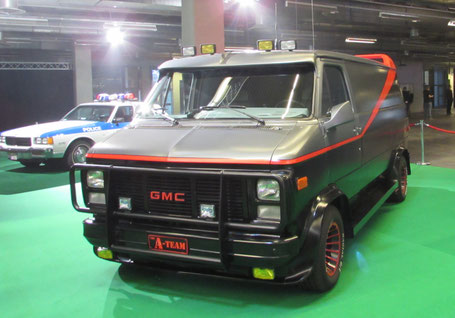 In 1983 Dirk got the role of Templeton "Faceman" Peck in a new NBC tv series called "The A-Team".  The show revolves around four members of an elite force of a US Army Unit (Alpha Unit). During the war in Vietnam they get framed "for a crime they didn't commit" and they are sent to military prison. They flee this prison and are force to take refuge in the Los Angeles underground. From that moment on they work as "soldiers of fortune" and they try to help innocent people, who are being pushed around by bad guys. They do all this while theynare still on the run for the military. The A-Team consists of John "Hannibal" Smith (George Peppard), Templeton "Face" Peck (Dirk Benedict), B.A. Baracus (Mr. T) and "Howling Mad" Murdock (Dwight Schultz). Face is the one that gets things done. He is a smooth talking con man and has a way with the ladies. After Hannibal, Face is the team's second-in-command. In the pilot Face was played by another actor called Tim Dunigan, but fortunately he was replaced by Dirk Benedict. This was because  Dunigan  looked to young to be a Vietnam veteran. In the five seasons the show ran, it achieved a cult-status in the US and overseas. I loved the show and although the show has had a lot of reruns on Dutch television I always kept watching it and it never bored me.
Although Dirk played a lot of other roles after "The A-team", he will always be remembered for his role as Templeton "Faceman" Peck. I can't express how grateful I am to get a chance to meet another one of my childhood heroes. I already bought my photo op with Mr. Benedict and I hope to get a chance to talk to him a little bit. I can't wait!
Let's end this Spotlight article with some (Fun) Facts about Dirk Benedict (and Face):
- From 1986 to 1995, Benedict was married to Toni Hudson, with whom he has two sons (George and Roland). He also has a son from another relationship (John). After his divorce, Dirk got custody over the boys and he moved to Montana to raise them.
- He lost 50% of the hearing in his left ear at the age of 12. This happened while he was was climbing through a barbed wire fence while carrying a presumably unloaded gun. The gun went of next to his ear.
- In 2001 he directed Cahoots, a project he started working on 26 years earlier.
- When Dirk was a teenager he shortly worked as a gravedigger.
- Templeton Peck's real name is Richard Bancroft.
- In the opening credits of "The A-Team" a "Cylon Warrior" walks by Face. The Cylons were his arch nemesis in "Battlestar Galactica".