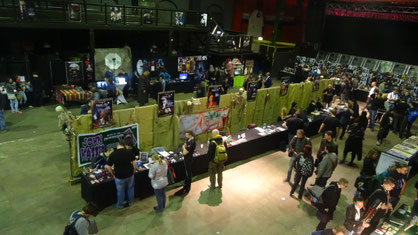 We went to Oberhausen again for Weekend of Hell Oberhausen! Yeah! As some of you might know, Weekend of Hell Oberhausen 2014 was the first convention we ever attended. Because of that, it will always be special to us! Oh yes it will. It feels like it was yesterday... I remember we walked into the Turbinenhalle not knowing what to expect and a little bit shy, but by the end of the day we had thrown away all our shame. We really had a blast.  Usually, the event takes place in November. This year however, the organization decided to also organize a spring edition!Hell yeah! All I can say is: the more, the merrier. 
Of course were very happy and we knew instantly we wanted to go. What I love most about this event is that you can get close to the actors and really have a chat. You can make pictures while they're signing. And there's a specific crowd at the con: horror fans. And I love that! Everyone seems to be in relax mode for Weekend of Hell and we need that to keep the balance, because when at a convention our adrenaline levels peak. It's a great atmosphere and everyone is there for one thing: to have a lot of fun! So... Let's talk about this edition of Weekend of Hell Oberausen! 
Exhibitors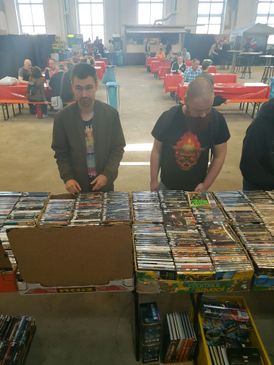 There were fewer exhibitors than we are used to in the November editions. But there was still a lot to buy and see! Sig and Tristan spent a lot of time browsing through the merchandise. And that paid off; Sig bought quite some awesome new dvds. You'll hear more about that in his vlog soon! 
I bought some dvds at the stand of Zeno Pictures again: A God Without A Universe and the Thingy! I'm curious to see these movies. I am very curious about The Thingy, lol. I also bought some dvds at Zeno's stand. Just like Carola I got: A God Without a Universe and I also bought a Dutch horror movie called Amsterdamned, a true classic.
We loved walking around the merchandise. Though most DVDs are German, which is a pity for us, since we're Dutch. And we usually want the English versions of DVDs. But luckily we were able to find a few. 
I must admit: There were some really awesome special editions of DVDs. I was tempted, but since it were German versions, I didn't buy them. Oh yes, the special editions...maybe I should be glad that all of them were in German, because otherwise I would be broke right now.
What I would have loved to see some more is t-shirts! And mainly girlies or hoodies. Some exhibitors sold shirts, but not too many. 
There was a wide variety of figurines, calendars and other merchandise. It was fun to check these out as well!  
The guests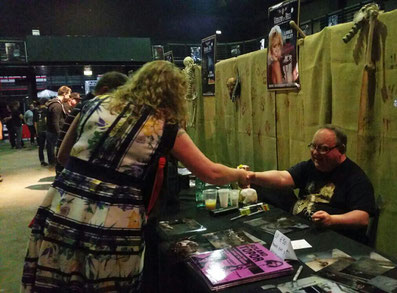 Okay, Weekend of Hell Oberhausen had to cope with a lot of cancellations for this Spring Edition. And they usually have bigger names. But nevertheless: I liked the guests that were there! Personally I loved meeting Laurence R Harvey (The Human Centipede 2 and 3) and Erika Ervin (American Horror Story). But I was also impressed by John Kassir, John Altamura (may he rest in peace) and Linnea Quigley. They were so nice! It was awesome to see them in Oberhausen. Even though they weren't very busy all the time, most of them stayed energetic and had a great time with their fans. We loved talking to the actors and seeing the panels.  We had a lot of fun walking around in the area where the guests were seated. Like Carola said there were a lot of cancellations and I was very disappointed when Seth Gilliam and Linda Blair canceled, but I was very excited about John Kassir. I used to watch Tales from the Crypt when I was younger, so it was very special to meet the man behind the distinctive voice of the Cryptkeeper. At one point, Brian Thompson decided to watch a movie on his laptop at his signing table. I thought that was a bit strange. John Altamura, on the other hand, had a great amount of energy.  He would greet anyone who was walking by, standing up immediately when a fan came to his table. I was really impressed by that! He was awesome, I haven't seen Toxic Avenger, but I am planning on watching it. I went to get an autograph from Laurence. I will write about in a separate article f course. It was great! He's such a kind man. And Liv and I also enjoyed having a chat with Erika. She's so talkative and kind! It was a pleasure to meet her. The prices for autographs were fair. No extremely expensive in my opinion. I just really love it that you're so free at Weekend of Hell Oberhausen. It's allowed to make pictures during the signing, it's allowed to just walk to the actors and have a chat. It makes the experience really awesome!  
The panels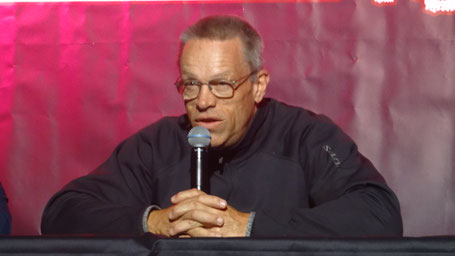 I like that there are so many panels! Every actor did a panel. Each day. I think that's great! Not any people ask questions at the panels. So the panel depends on the interviewer a lot. I thought Isabel (interviewer on Sunday) was doing great! She asked the right questions and I got the feeling the guests really liked her. The panels were interesting and informative. I had fun watching and listening. We learned a lot about the actors!  Indeed Isabel is the best, she is very interactive with the guests.
The first day, a lot of the same questions were asked to each actor. The second day was more specific about their work and movies I loved that. 
The light during the panels could be better. It's not the easiest environment to make great pictures (depending on your camera).
Photo ops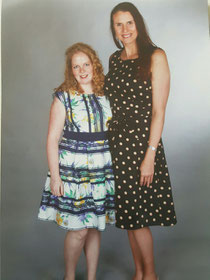 Liv and I did one photo op at Weekend of Hell Oberhausen; With Erika Ervin. At one point, on Sunday, Liv and I were walking around. Discussing what to do next. Liv wanted to out for a smoke, but somehow we checked the schedule first. There we saw that Erika would have her photo op in 10 minutes. We talked a bit about it: Do we want to do it, yes or no? We decided to get the ticket and do the photo op! There wasn't a queue so it just took about a minute to buy the tickets. We immediately walked over to the photo op. There were only 3 other people queuing there. 
So we didn't have to queue a very long time :). Doing the photo op went very quick. We received the photo immediately after, without any troubles. 
So our experience with the photo op was good! No queue and receiving the photo very fast. What more can we wish for? 
And more...
We had a great time at Weekend of Hell Oberhausen. Even though it was a smaller edition than usual. The prices for food and drinks were fine in my opinion. It was also nice to see the Fright Guys, German Ghostbusters Division, Dutch Movie Props and the Walking Dead German Cosplay. Just check out our pictures below! 
Did you also go to Weekend of Hell Oberhausen? What were your thoughts? Let us know in the comments!