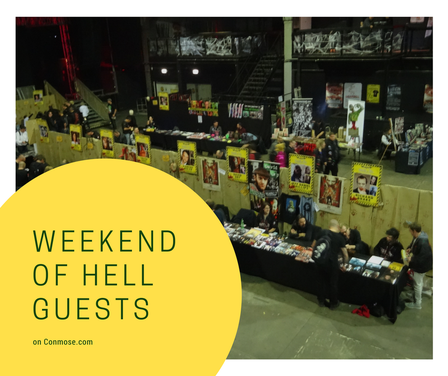 This weekend, we're going to Weekend of Hell! A while ago, we already talked to you about the guests. But.. a lot has changed since that post. Weekend of Hell had to cope with quite some cancellations. But also new guests were announced. So.. since we're going this weekend, let's talk abut the guests! Please let me know in the comments: Do you know any of the actors? Who's your favorite? And.. We'll attend the panels of these guests. Do you have a question for one of the guests you'd like us to ask? 
The guests of Weekend of Hell April
Laurence R Harvey: I have seen Laurence in the Human Centipede part 2 and 3! I'm excited to meet Laurence at Weekend of Hell. He plays an amazing role in the Human Centipede. (He plays a different role in part 2 than in 3). But he's also quite scary in the movie. So I'll see if I'm brave enough to go and have a chat. I'll definitely watch his panel! 
C.J. Graham played Jason in Friday the 13th part 6. Who doesn't love the Friday the 13th movies and Jason Voorhees? I'm excited! I saw there's also a possibility do a photo op with C.J. Graham in the Jason costume! 
Barbara Nedeljakova is awesome in Hostel! Just a few minutes ago, I watched the movie.  think it'a nice horror movie. She plays the role of Natalya. you might alo know her for her role in Children of the Corn: Genesis or Strippers vs. Werewolves. 
Another actress from Hostel is Jennifer Lim. She plays a great role in Hostel. For people who've seen the movie, I'll just say: She's the girl with the eye... Yep. I'm excited to meet her at Weekend of Hell and would love to hear more about hostel in her panel. 
Brian Thompson is also a guest this weekend! He's known for a ot of movies/ series! I'll just tell you a few of them:  Terminator, Fright Night 2, Cobra, Catch the Heat, Charmed, Key West, Dragonheart, Mortal Kombat:Annihilation and way more! If you have a question for his panel, let us know! 
Dan Hicks is known for his role in Evil Dead 2. I watched that movie recently. I loved it! It will be fun to see Dan at Weekend of Hell. You also might know him for Wishmaster of Maniac Cop! 
I'm very thrilled to meet Erika Ervin at Weekend of Hell. I've watched American Horror Story season 4 now. She plays Eve in there. And I really love her! She's awesome. Can't wait for WOH! Anyone who as questions for Erika? 
John Altamura is know for his role in the Toxic Avengers 2 and 3. Has anyone already seen these movies? I haven't yet. If I have time, I'll check them out (preferably before WOH). Any fans of his reading this? 
John Kassir  is a big guest! I don't know him, but I can tell he's popular. He's known for Tales From the Crypt! Yes, he's that guy! Awesome isn't it? Who would go and meet him? 
I'm also excited to see Valentina Vargas. I've watched Hellraisr IV this week. And it's great! She's also known for the Name of the Rose and Faces in the Crowd.
I was happy when Weekend of Hell announced  Linnea Quigley as a guest. She played in many many horror movies! I watched Savage Streets last week for Linda Blair (who cancelled for WOH). But Linnea plays Heather in that movie. Yesterday I saw her in another movie: the Return of the Living Dead! Just to name a fer more movies: Creepzoids, Night of the Demons, Girls Gone Dead, Collapse and way more!