At the moment, we're waiting for the convention season to start again. We need conventions!! So, to get through time.. Let's talk about the upcoming conventions! Today we talk about Weekend of Hell which will be held in Oberhausen on the 8th and 9th of April 2017!
Let's discuss some of the guests they have announced already.  
The Guests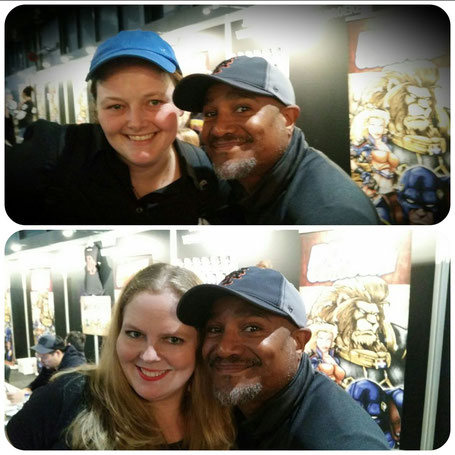 Seth Gilliam was one the first guests to be announced. And we loved to hear that Seth will be attending Weekend of Hell. He is best known for his roles in series like:  "Oz" (Clayton Hughes), "The Wire" (Ellis Carver), "Teen Wolf" (Dr. Alan Deaton) and "The Walking Dead" (Father Gabriel), but also for movies like "Starship Troopers"  (Private Sugar Watkins)and "Courage under Fire" (Sgt. Steven Altameyer). we were already lucky to have met Seth last year at a convention. And we can tell you: he's a great guy! So, no worries! If you want to talk to him or take a photo or get an item signed; He's great. We loved talking to him and he answered all of our questions. We're happy to see him again at Weekend of Hell. 
Another huge guest Weekend of Hell announced was Linda Blair! Linda will also attend WOH in April 2017. That's great news isn't it? Linda Blair is mostly known for her role as Regan. The possessed child in the movie the Exorsist. She had also roles Exorcist 2, Hell Night, Repossessed and way more! Just a few other guests that will be attending WOH in april are C.J. Graham (Jason Lives: Friday the 13th Part VI ), Tyler Labine (Tucker and Dale vs Evil), Jennifer Lim (Hostel), Danny Hicks (Evil Dead 2) and Kassie DePavia (Evil Dead 2). 
The Human Centipede
Weekend of Hell also invited some guests from the Human Centipede movies. Dieter Laser has been a guest in 2015. This year, they invited Ashley C. Williams, Ashlynn Yennie, Akihiro Kitamura and Laurence Harvey.  If you're a fan of the movies you're lucky with the guests Weekend of Hell invited! Laurence played in the Human Centipede II and III (as Marin and Dwight Butler). Akihiro played in the first and third part, Ashlynn in part I and II and Ashley in part I. Have you seen these movies/ What were your thoughts?
Going to Weekend of Hell?
Are you also going to Weekend of Hell? We've been going for a few years now. And I expect us to attend Weekend of Hell again. 
I always enjoy it. I'm still hoping for a few more guests though. Let us know if you're also going! What'your favorite thing at WOH?