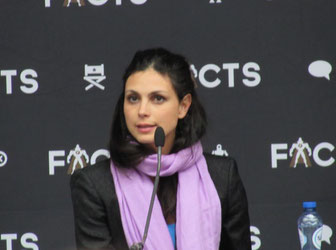 I guess by now you all know we are going to FACTS – Spring Edition (in Ghent, Belgium) this weekend and as always they have an amazing guest list. One of those amazing guests is Morena Baccarin. You might know her from her role as Lee Thompkins in Gotham, but she is also known for some other great roles. She plays Vanessa (Wade Wilson's girlfriend) in the immensely popular 2016 Marvel movie Deadpool. Baccarin also plays the roles of Jessica Brody in Homeland (she was nominated for an Emmy for this role), Anna in V, Maya Griffin in The O.C and Inara Serra in Firefly/Serenity. Morena has some ties to some of the other guests at FACTS. She played alongside Nathan Fillion in Firefly and Serenity, but she also played alongside Ben McKenzie in The O.C. and in Gotham. But there are some personal ties too; because she is engaged to Ben McKenzie and they have a daughter (Frances) together (Morena also has a son (Julius) from an earlier marriage to Austin Chick). Like I said Morena plays Lee Thompkins in Gotham, but these aren't her only steps in the DC Universe. Did you know that Morena is the voice of Gideon in 8 episodes of The Flash? She also voiced Talia al Guhl in some Batman animation movies and she did some voice work in the Batman TV series. Other than that she also voiced the Black Canary in Justice League. For me there are a lot of unknown sides to her, so today we point our spotlight on the beautiful Morena Baccarin.
Who is Morena Baccarin?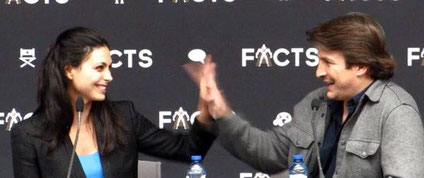 Morena Baccarin was born on June 2nd, 1979 in Rio de Janeiro (Brazil). She is the daughter of actress Vera Setta and journalist Fernando Baccarin. Because of her mother, Morena was exposed to the world of acting at a very young age. When she was aged 10, her father got transferred to work in America and the family moved to Greenwich Village, New York. 
She attended the NYC Lab School for Collaborative Studies, where one of her classmates was Clare Danes (her future Homeland co-star). Subsequently Morena attended the "La Guardia High School for the Performing Arts". Later she entered the theatre program at the prestigious Juilliard School in Manhattan, New York (one of the world's leading schools in the performing arts). Fun Fact: One of her classmates at Juilliard was Wes Bentley, known for his roles in The Hunger Games (as Head Gamemaker Seneca Crane), American Beauty (as Ricky Fitts) and American Horror Story (as Eddie). At Juilliards, Morena was a part of the Drama Division's Group 29 (from 1996-2000). While living in New York, Morena did some theatre; she was the understudy of Natalie Portman in the Central Park production of Anton Chekhov's The Seagull. She also got some roles in movies like Perfume (2001) and Way off Broadway (2001). When she got a role in the movie Roger, Dodger, Morena got to work with Isabella Rossellini and Campbell Scott. This inspired her to move to Los Angeles and that turned out to be a very good decision... 
Los Angeles: From Firefly/Serenity to Gotham
In Los Angeles Morena quickly came to the attention of  writer/producer Joss Whedon (Buffy the Vampire Slayer, Angel). He gave her one of the main roles in his new series Firefly (and its feature film Serenity). Morena auditioned for the role of Inara Serra and two days later she was on the set of her first TV show. Unfortunately the show was cancelled after only one season, but it has become a true cult hit and it gained a big fan support (In 2005 Baccarin reprised her role in Firefly's feature film: Serenity). Firefly was the beginning of an extensive Televison carreer for Morena and in the following years she appeared in a lot of popular shows, such as: Justice League Unlimited (as Dinah Lance/Black Canary), The O.C. (as Maya Griffin, alongside Ben McKenzie), Stargate SG-1 (as Adria), How I Met Your Mother (as Chloe) and Heartland (as Nurse Jessica Kivala). In 2009 Morena landed the role of Anna in the remake of the 1984 Sci-fi show V. After two seasons, V was cancelled and Morena joined the cast of the immensly popular show Homeland. She played the role of Jessica Brody for 36 episodes and got great critical acclaim for it, resulting in an Emmy nomination in 2013. In 2011 Morena married director Austin Chick and in 2013 she gave birth to their son Julius (the couple officially divorced in 2016). In the years following her role in Homeland, Morena kept on working for TV and in 2015 she got the role of Lee Thompkins (Jim Gordon's love interest) in Gotham.  She also got the role of Vanessa in the succesfull movie Deadpool in 2016. At the moment Morena is engaged to Gotham co-star Ben McKenzie and in March 2016 Morena gave birth to their daughter Frances.
Well I have a feeling we haven't seen the last of Morena Baccarin, she proved to be a multi talented actress throughout the years and it will be an honour to meet her this weekend at FACTS.