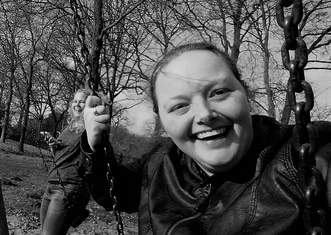 We're going to Bloody Night Con! And (as you can see on the picture) we are very happy about it. Bloody Night Con is a an event organized by KLZ Events (we did an interview with KLZ Events last year, so check that one out if you'd like to know more about them).
Bloody Night Con (Europe) is a convention that revolves around two of the most popular tv shows at this moment; being The Vampire Diaries and its spin-off The Originals. It will be held in The Egg Gallery in Brussels on May 20th and 21st 2017. And this year it's their 5th anniversary! One week later the KLZ circus will take over the Barcelo Sants Hotel in Barcelona (for their 7th Edition!). We will focus on the Brussels Edition, because that's where we are going.  
The Guests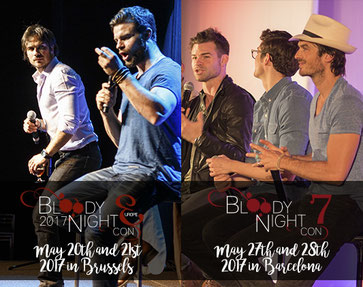 Bloody Night Con Europe has an amazing guest list (so far). Up until now they have announced 5 guests and there may be a 6th one, but that's not sure yet. So who are the guests already announced? Well, we've got Ian Somerhalder (Damon, TVD), Claire Holt (Rebekah, TO), Daniel Gillies (Elijah, TO), Michael Malarkey (Enzo, TVD) and Nate Buzolic (Kol, TVD; Saturday only). That's one great list, right? 
Like I already said, we are going to Bloody Night Con Europe (we already bought our tickets) and we are going to meet Ian Somerhalder. We know this for sure, because we already bought our photo op- and autograph tickets. And I can tell you we are very excited about it. In the upcoming months we will definitely buy some other extras. We both love Rebekah, so we are going to buy some Claire extras for sure. I would love to meet all of them, but unfortunately my bank account won't allow me to do that, lol. 
Earlier this month we went to a Game Event in Tilburg and while Sigmund and Tristan were digging up retro games, we went for a walk and ended up in a playground. We wanted to do some Vlogs, so we got on the swings and started talking about Bloody Night Con. If you would like to see what we talked about, check out the video below!
This was the first part of our Bloody Night Con Countdown and it won't be the last. Keep an eye on our website for more about Bloody Night Con Europe. Who do you think we should meet?