A new month has started! And now it'time to look back on the movies I watched in January. Check out my list below. Have you seen any of these movies? Do you tips for February?
Submarino
Submarino was the first movie we watched in 2017. And it was a great start! Submarino is directed by Thomas Vinterberg. And usually I rally like his movies. So I already had great expectation for Submarino. If you're not familiar with Thomas Vinterberg: He also directed Jagten (The Hunt) and Festen (The Celebration). You might also know him for founding the Dogme 95 along with Lars von Trier. Submarino isn't part of Dogme 95. Festen is. 
Now back to Submarino. It's a Danish drama movie. The duration of the movie is 1 hour and 45 minutes. Let me tell you a bit more about the plot. The story is about two brothers. They had a difficult childhood and lose track of each other. They both live their own life. With the corresponding struggles. Nick has just been released from prison. His brother is a junkie and single father. 
Their paths cross from time to time. And finally they get back in contact again. Is it in time? 
Has anyone of you also seen some Thomas Vinterberg movies? Let me know what you think! I'd love to hear it. I liked this movie. But it's not my favorite. That is, without a doubt, Jagten! 
I will make sure to write a review about Jagten soon. 
Axe
Axe is a horror movie produced by Harry Novak. Axe is one of the original video nasties. Ever heard of video nasties? 
The term 'video nasty' was used in the UK to indicate that a movie was very violent. There is way more to it. But I will write about that one day separately.  The movie is about Lisa. She's living at a farmhouse with her paralyzed grandfather. Then, three criminals on the run enter their house..  
Prometheus
Prometheus is a mystery/ sci-fi movie from 2012. Sig got this movie as a Christmas present. And we decided to watch the movie. Sig had already seen the movie in the cinema. For me, it was the first time to watch it. The movie has a duration of 2 hours and 4 minutes. The movie has a great cast: Noomi Rapace, Charlize Theron, Michael Fassbender, Isdris Elba, Guy Pearce and more! I think Idris ELba is great! I'm now watching the TV series Luther where he plays the role of John Luther. I also loved his role in the wire (As Russel 'Stringer' Bell). 
Prometheus is actually the prequel of the Alien movies. But: It does have an own story line. It's not directly connected to the story line of the Alien movies.  Have you seen this movie? And how about the Alien movies? 
Tallulah
I watched Tallulah on Netflix. Tallulah is comedy/ drama movie from 2016. I saw that Ellen Page had the lead role. I really liked her acting in the movie Candy. So I was interested. Tallulah and her boyfriend live in her van. They travel around. But one day, her boyfriend leaves. He doesn't want that life anymore. Tallulah does and stays in the van. The next day she walks into a hotel to steal food from the guests. When she walks around in the hotel she bumps into Carolyn. Carolyn is a hotel guest. She stays at the hotel with her child. She thinks Tallulah is an employee and asks her to watch her child. Tallulah tries to refuse, but Carolyn is persistent. She wants to go out and she even shares with Tallulh that she doesn't really like it to be a mom. When Carolyn returns drunk and unapproachable, Tallulah takes the child with her..
I really liked the movie. It was good drama movie. I really felt for Tallulah. You see where she's coming from and how she tries to do the good thing. But life's hard. I loved the characters and the way the story was written.  
Sleepaway Camp 2&3
Last month, I already told you about the Sleepaway Camp. Sig gave me the trilogy for Christmas. And I can't stop wondering: Why isn't this movie more well know? I really love it! I won't spoil too much about the movie here. If you haven't seen the first one yet, that's not fun to read!  you have seen the first one, I'll just say: Angela is back! These movies have really surprised me. I really really like them. Okay, part 3 definitely has less story than 1 and 2. So I like Sleepaway Camp 3 the least. But still, the trilogy is just awesome. (You've got to love horror though, if you want to watch this) 
From Dusk Till Dawn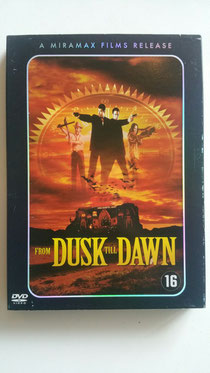 When Sig and I went to the cinema to watch the Founder, we saw an add for From Dusk Till Dawn. Because of the 20th anniversary, From Dusk Till Dawn would be in the cinemas one more time. We were very excited about it and decided right away that we wanted to go. I had seen the movie before. Are you all familiar with it? It's an action/ horror movie written by Quentin Tarantino and directed by Robert Rodriguez. 
I loved watching the movie again. In the cinema, it started with a Q&A (on screen, not live) with Quentin and Robert. They talked about the anniversary and the how they experienced making the movie. I absolutely loved it. There were spoilers. But I didn't mind. You would guess that most of the people that attend such an anniversary have already seen the movie. But there was sitting a couple next to us. They didn't seem to understand it at all haha. After 15 minutes they asked if this was a recap and whether we would get the see the actual movie or not.. Well, I guess they didn't recognize Tarantino (Who even also plays one of the lead roles in the movie)? 
Well, after 5 more minutes they left. I didn't mind (I was happy actually). They were constantly talking and checking their phones anyway. The, after about 30 minutes of Q&A, the movie started. I really enjoyed seeing it again. I love the story. And I really like how the story actually consists of 2 parts. The first part is like a 'regular' action movie.  2 criminals who are on the run and are abducting a family to bring the to Mexico. The second part, well, everything changes there. We get to see the horror part of the movie. Suddenly there are vampires! It might sounds strange. And it is. But in a good way! 
Dolls
Dolls is a 77 minute horror movie from 1987. The year I was born! A group of people stop by at a mansion during a storm. In the mansion lives an old couple. Thy make and collect dolls. But the night comes, the dolls are alive! The creep around and find the guests, one by one..  
Who saw her die
Sig ordered some movies from Shameless, so we watched a few this month. The title might have given it away already: it's a horror movie. The original title is Chi l'ha Vista Morire?. The movie is directed by Aldo Lado and has a duration of 90 minutes. I'll tell you a bi more abut the plot: A girl is brutally murdered in France. Not much later, the daughter of a well known sculptor is killed as well. He decides to investigate and he wants retribution. But soon he'll find himself in over his head.. 
Birdman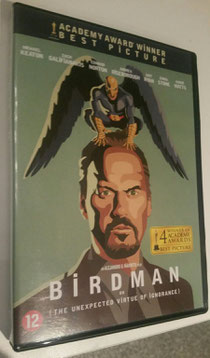 Birdman... Yeah. Haha. I have seen this movie in the cinema with a friend just a few years ago. I know it seems like I loved the movie a lot, since I've watched it again already. The answer is no. Sig was curious about this movie. So I decided I would watch it a second time with him. 
Let's start a few years ago, I saw this movie at Lumière in Maastricht, the Netherlands. An excellent location for a movie. We watched Birdman. But I didn't like the movie. I know the movie has gotten tons of positive reviews. I just don't see it. I f you do, please tell me in the comments!! I'd love to know what you like about it. The movie received 4 oscars, so there must be something I'm not seeing haha. Even now I watched it twice!
Actor Riggen has been really famous for his role as superhero Birdman . He hasn't had a lot of successes in the last years though. The movie follows his latest project. He hopes for a huge comeback on Broadway. He's writing, directing and acting. He's struggling with the critics, his insecurities and his alter ego Birdman.   The whole film appears as if it's filmed in one shot. Which is nice and creative. But it doesn't make this a good movie for me. 
The cast is actually quite good: Michael Keaton, Edward Norton, Emma Stone, Naomi Watts. That are quite big names! But still: I don't féél the story. I just don't get why people think it's that good. It was okay. There were some parts I even hated (The parts where he becomes Birdman). It's just not for me.  
Patrick
Patrick is another horror movie Sigmund and I watched. It's a movie from 1978 and takes 1 hour and 52 minutes. It's about Patrick. Patrick's mom and her lover have been killed. Patrick has been in a coma ever since (3 years). A beautiful nurse starts working at the hospital. And then Patrick starts communicating with her. It seems like he's using psychic powers to control her life..  
Insomnia
We watched Insomnia on a Saturday evening. It was quite hard to pick a movie that evening. Do you know that felling of looking at your (quite full) closet thinking: 'I have nothing to wear.'? Well, that's how I feel sometimes when I look at our 1500 DVDs. I'm just standing there like, we have nothing to watch!  And then you keep searching. And Insomnia caught our eye. It surprised me actually that we hadn't watched this movie before. It's a movie with an incredible cast: Robin Williams, Al Pacino, Hilary Swank and more! 
The movie is about two homicide detectives who are heading to a town in Alaska to investigate the murder on a teenage girl. It will be hard with all the psychological games.. It'a remake of the Norwegian movie Insomnia. I liked the movie. Especially since I always anjoy watching Robin Williams' movies! 
The Sect
Another horror movie from Sig's Shameless collection. The Sect is also known as La Setta or The Devil's Daughter. The DVD we own is namedThe Sect. A school teacher drives around and almost runs over an old man with a box. She didn't actually hit him. But she decides to bring him to her home to sit down and calm down. But it's no accident that the old man has come into her life. he has big plans for her! He is the elder of a Satanic sect and she has been chosen to give birth to the son of Satan.
The movie stars Kelly Curtis (yes, the sister of Jamie Lee Curtis) and Hebert Lom. 
Family Plot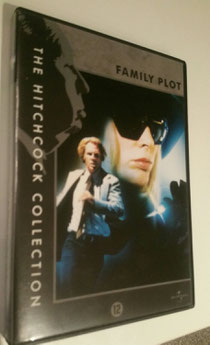 One evening, I really felt like watching an Alfred Hitchcock movie. We have quite a lot of Hitchcock movies. We looked through a few and decided to watch Family Plot. A fake psychic and her boyfriend try to scam an old lady. She's looking for a man (Her sister's son) and promises Blanche (the 'psychic') 10,000 dollars to find him. She believes Blanche will be able to use her psychic powers to find the man. Blanche just wants the money. When Blanche and her boyfriend go looking for this mysterious man, they soon find trouble..  
I loved this Hitchcock movie! I thought it was incredible. This was Hitchcock's final movie. I really liked the actress who played Blanche (Barbara Harris). She just does an incredible job. They way she pretends to be a psychic is marvelous. And the movies contains some pretty awesome scenes. My favorite scene was the one where Blanche and her boyfriend are in a car driving downhill and their brakes are broken. I just love the way that scene has been shot. You see them in the car. But you also see it from the car's perspective: They way they encounter oncoming traffic. 
If you like Hitchcock movie, I'd definitely recommend this one!