Thank God it's Friday! The weekend has arrived and it's time for F.A.C.T.S.! By the time this article will go live I will probably be on my way to Ghent. As We already mentioned in our vlog earlier this week: Carola and Sigmund will not be attending, so Tristan and yours truly will go for one day (Saturday). To be able to arrive on time we will have to stay at a hotel in Aalter tonight, so we're on our way. Don't panic, our fellowship will be reunited for Weekend of Hell in two weeks. I absolutely did not want to miss this edition. Why? Well F.A.C.T.S. is a great convention. They always have a great guest list, amazing props, a lot of merchandise and a lot of great people! And for this edition there is one guest in particular I absolutely want to meet. I am an 80's child so I grew up with some legendary TV shows. Earlier this year I met no one less than Richard Dean Anderson a.k.a. MacGyver at the Spring Edition of F.A.C.T.S. He truly was one of my childhood heroes and tomorrow I will meet another one, because David Hasselhoff has arrived on Belgian ground. Hasselhoff is mostly known for his roles of Michael Knight in "Knight Rider" and Mitch Buchannon in "Baywatch.  I always used to watch these shows and especially "Knight Rider" was awesome (I loved KITT). But "Baywatch" was great as well, who doesn't remember the shots of the Malibu lifeguards, running along the waterside. 
Early life and "Knight Rider"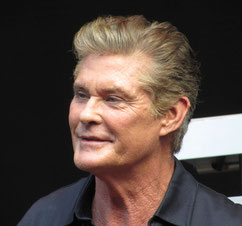 Let's talk a little bit about "The Hoff". He was born on July 17th, 1952 in Baltimore (Maryland). At the age of 7 he took acting, singing and dancing lessons. He was a tall, thin kid and very shy, but when on stage he was the complete opposite. At this time David made his (theatrical) debut in "Peter Pan" and from this day on he only had one dream: he wanted to become a Broadway star.
In 1975 Hasselhoff got his first big role, but it wasn't on Broadway. From 1975 until 1982 he portrayed Dr. Snapper Foster on CBS's daytime soap "The Young and The Restless". In 1982 NBC approached Hasselhoff to star as Michael Knight in their new show "Knight Rider". The show is about a Michael Knight, an undercover LA police detective, who is assisted by his smart, self-aware, fast and indestructible talking car KITT. The on screen chemistry between Michael and KITT was great. Apparently Hasselhoff only met the man behind the voice of KITT (William Daniels), when they already were 6 months into the series (at the Christmas Party). The show became immensely popular in America, but especially overseas in Europe. Hasselhoff got a lot of fan mail, which was often addressed to Michael Knight. Some of the letters were accidently sent to the actor Michael Knight. This was very confusing so the actor changed his name to Michael E. Knight. And get this: during the "Knight Rider" Hasselhoff was married to Catherine Hickland. Later she was married to actor Michael E. Knight. He played Tad Martin in "All my children". In this show Justin Bruening played Michael E. Knight's son. Justin Bruening later played Michael Knight in the remake of "Knight Rider" (2008-20090. That's bizarre, isn't it? "Knight Rider" ran from 1982 until 1986, but Hasselhoff reprised his role of "Michael Knight" in "Knight Rider 2000" (1991).  In 1983 he won a People's Choice Award for his role as Michael Knight. 
Singing Career and "Baywatch"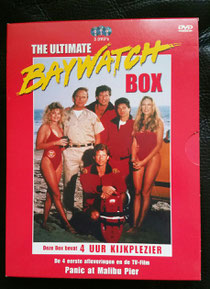 Hasselhoff always wanted to become a singer and when "Knight Rider" ended, he decided to pursue this dream. As I said he was very popular in Europe for his role as Michael Knight and he launched a successful recording career in Europe. Especially in Germany Hasselhoff was (and is) very popular and his single "Looking for Freedom" became a huge hit here. In 1989 the song was the number one on the German Charts for eight weeks in a row. His major popularity resulted in Hasselhoff performing his song ("Looking for freedom") on the Berlin Wall, just a few weeks after it fell and they started to tear it down. Because of this Hasselhoff became the personification of freedom for a lot of young German people in this period.
Also in 1989 David Hasselhoff returned to TV as lifeguard Mitch Buchannon in "Baywatch", a show about the lives of the lifeguards of Malibu Beach. Although the ratings were ok, NBC cancelled the show after the first season. But David thought the show had a great potential, he used his own money to revive the show and eventually bought the royalties from NBC. Well that was a great decision, because the show became very popular and ran for 11 years. At its peak "Baywatch" was watched by over one billion viewers a week in 140 countries. In 2001 the last episode aired.
Furthermore...
In 2000 Hasselhoff fulfilled his live long dream when he starred in a Broadway adaptation of "Jekyll and Hyde" and in 2004 he played a lead in "Chicago" in London for three months.
In his long career Hasselhoff made an appearance in a lot of movies and TV shows. Among them are: "Star Crash" (1978), "The Love Boat" (1980-1981), "Nick Fury: Agent of S.H.I.E.L.D." (1998), "Dodgeball" (2004), "The SpongeBob Squarepants Movie" (2004),"Click" (2006), "Sons of Anarchy" (2011) and "Hoff the Record" (2015). He also made an appearance in talent shows, like: "America's got Talent", "Dancing with the Stars" and "Britain's got Talent". In 2017 he will appear in a "Baywatch" movie, alongside Zac Effron and Dwayne Jackson. Hasselhoff has also played in video games, TV commercials and many more entertainment events. He even had his own talk show on Swedish television. Hasselhoff has become a true cult icon.
I'm really looking forward to meet the phenomenon that is David Hasselhoff. I could have gone on for a lot longer, but it's a long article already lol.
One more thing: Hasselhoff is the owner of multiple world records and is mentioned in "The Guinness Book of Records". Among them are "The most watched man on tv" and "The highest reverse bungee jump".
Cheerio!