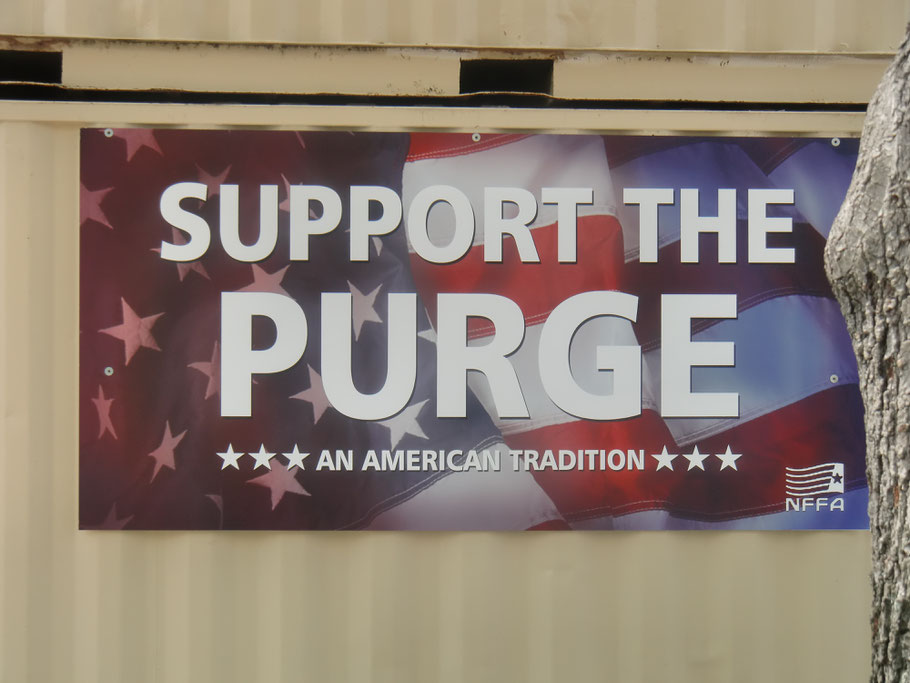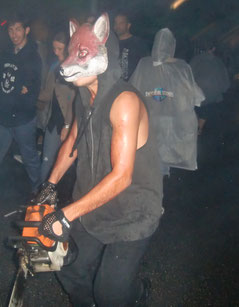 I love the concept of the purge! I've seen the first two movies. I liked the first one the most. Besides seeing the movies, I went to Halloween Horror Nights in Universal Studios Orlando in 2014. You might wonder: What is Halloween Horror Nights? Well, it's annual event in Universal Studios in Orlando, Los Angeles, Japan and Singapore. At night: The themepark is turned into a Halloween themepark. There are several scare zones, haunted houses and live entertainment. And I can tell you: it's pretty scary. And that's why I love it. The scare zones & haunted houses all have their own (movie) theme. One of the scare zones was based on the Purge. We walked around there. And I got a sense of how it feels like to be actually scared just to walk on the street. I was very suspicious. Feeling like anyone could go and chase me at any moment. On this picture you see one the employees of the park that would scare people. I dared to make a photo and Sig payed the price: He was chased with the chainsaw. I loved this evening at Universal and it brought me closer to the movies of the Purge. So I was really excited to hear that there would be a third movie. As soon as possible we went to see the movie in the cinema. 
For the people who are not familiar with the concept of the Purge: 'The Purge' is the movies an annual American tradition. For 12 hours all crime is legal. Everything. Even murder. Excluded from the Purge are government officials (as from a certain ranking). And you cannot use weapens above class 4 (For example rocket launchers). You might wonder: Why would someone intiate this? Why start a tradition like the Purge? Well the reason is: unemployment rates going down, lower crime rate (everyone waits until the Purge) and a strong economy.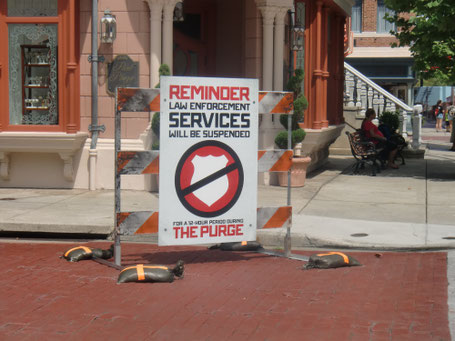 This third movie focusses on election year. Roan (a senator) is running for presidency. She is against the Purge. If she'd be elected, she would abolish the Purge forever. Her opponent, Minister Edwidge Owens, (a member of the New Fouding Fathers of America) doesn't want that to happen. He will do anything to stop her from winning. Before the elections, there's another Purge. They decide to revoke the immunity of government officials. Which means Roan isn't protected by the law anymore. During the Purge anyone can come after her.. What follows is a battle for the presidency: Not just a political battle. During the Purge, everything is allowed. How will Roan handle this? Can she stay true to her ideals? Or will she have to give these up to survive the Purge? 
Roan is played by Elizabeth Mitchell. I had to think for a moment: Where do I know her from? And then I realised: She played Rachel Matheson in Revolution! Some of you might know her as Juliet Burke in Lost. I actually loved almost the whole cast. The were a lot of actors I hadn't heard of before this movie. But I was impressed. The only role that was a bit too much was of the 'schoolgirl' (played by Brittany Mirabile) who wanted to rob a store for a candybar. It was just too much... But I was impressed by Mykelti Williamson, Joseph Julian Soria and Betty Gabriel. In some scenes, Bette Gabriel reminded me of Sacha (played by Sonequa Martin Green) during her darkest periods in The Walking Dead.
I liked watching the movie. the story was interesting and well developed. Though the 'bigger story' might sound quite predictable, there are many elements which are not. The movie surprised me with twists and turns. And there were some great frights in it. I liked the movie better than the second part. 
I think the Purge stays an interesting subject. I'd like to another movie more focused on some 'normal' people. See how they deal with it.
What do you think about this concept (for a movie)? Let us know!