The BAM box is a monthly mystery subscription box. It contains collectibles, limited edition items, exclusives and autographs. They guarantee at least 1 autographed item in every box. Ofcourse nerdish as we are that made our heart beat faster. Carola got one first and not long after that I followed. 
This months theme was "Crazy" and we got an email with the announcement that there would be an autograph of one of the memebers of the "Suicide Squad" in 1 out of 2 boxes. So needless to say we couldn't wait. Unfortunately we had to wait, because there were some complications in the international shipping system. But I have to say the communication was pretty good and eventually the box arrived...hurray! 
Italic = Liv 
Regular font = Carola
Our plan for this month was for Carola to do a vlog and for me to write the article. Unfortunately there was another setback, because the sound of the video is awful. But I could take some screenshots from the video, so for now just sit back. relax and let's start unboxing! I'll try to make a decent video next time! I hate it that the sound was bad haha. I waited to open the BAM box specifically to make a vlog. So it took some HUGE self control. And then.. no video haha. But still, we have some screenshots to show my responses. 
Up-cards
We love up-cards! They mean you have an upgraded item in your box.  There are four different colors and each color represents another sort of item. This month I got the blue up-card. This means that there is an upgraded or limited autographed item in the box. As you can see Carola had a green card, which means she has an upgraded or limited pin. Carola also had a blue card, so she is one lucky girl.
The Pin
There is a custom pin in every box and this month the theme is Jim Carry (yay!). Part time filmmaker and artist Kelly Ferguson took three of Carry's craziest roles ("The Cable Guy", "The Mask" and "Ace Ventura") and recreated the look in these custom pins.  I like Jim Carry and I think his role in "Ace Ventura" (you love him or you hate him) is legendary. Back to the pin, I got "The Cable Guy" and I think it's pretty cool. I like all three movies so I like all of them. However  I think the "Ace Ventura" one is the best one!
I had the Ace Venture pin! And the one with a 1 up card. Pretty awesome! Even though I don't like the Ace Ventura movies, I'm happy with this pin. I do like Jim Carrey! He's played some awesome roles. My favorite Jim Carrey movie would be the Eternal Sunshine of the Spotless Mind. And I also enjoyed watching the Truman Show! I really like the design of my pin, it looks really good. Liv's pin looks great as well. I haven't seen the movie the Cable Guy. I'll look it up and maybe I'll watch it. If I like it, maybe Liv & I can trade pins!  
Hannibal Lecter
Aaaah Hannibal Lecter...one of the greatest movie villains ever, impressively portrayed by the one and only Sir Anthony Hopkins. What a great movie that was, right? For those who don't know (first of all: shame on you!): Anthony Hopkins played Hannibal Lecter in the 1991 movie "The Silence of the Lambs".  Lecter is a caniballistic serial killer, assigned to help the young FBI agent Clarice Starling (Jodie Foster) to solve a case. To make this work, Starling has to visit Lecter in jail and he has his way with words...So what has this got to do with the BamBox?  There is a custom made Hannibal Lecter mask in every box and I love that! Ofcourse I immediately wanted to try it on, but then came the snap back to reality, because the elastic litteraly snapped when I tried it on I guess my head's to big lol. But after a remarkable piece of knot tying, I could finally try it on (As you can see on the pictures below). Great item!
When I tried it, it snapped as well! It's a pity the quality of the strap isn't that great. But, putting that aside, I love the idea of the mask! Silence op the Lambs is a GREAT movie. And I totally love have something that reminds me of that. Will be nice for a photo op with Anthony Hopkins one day.. ;). Haha I know! Dream on..
What's in the Box?
When I spotted the next item in the box, I immediately knew what it was about. Remember the movie "Se7en"? And do you remember the scene with the box? Remember BradPitt frantically asking "What's in the box?!?". Well now we know! It's a Barbie head!  BamBox recreated the scene we have never scene and we can take a peek in the box. I like it, it's an original item and I'm sure I will find a place for it somewhere. 
Well, my response was a little bit different from yours haha. (Check out my face on the picture, lol). 
I have seen the movie Se7en. And  I totally love it. that movie is so well played.. It's incredible. And I immediately thought of the movie as well when I saw the box. But I think the message is.. That the box contained a head ;). Luckily in our case, it's just a barbie head. I think it's a funny item in the box. But for me mainly just 'funny'. Not rally a collectors item or something. Just a joke: A barbie head in a box. 
What I was also thinking about.. Ha someone been decapitating barbies for a living now for real? Imagine that someone must have torn of thousands of barbie heads.. Also adding a little fake blood to it haha. Can't imagine how that feels.. lol
The killing joke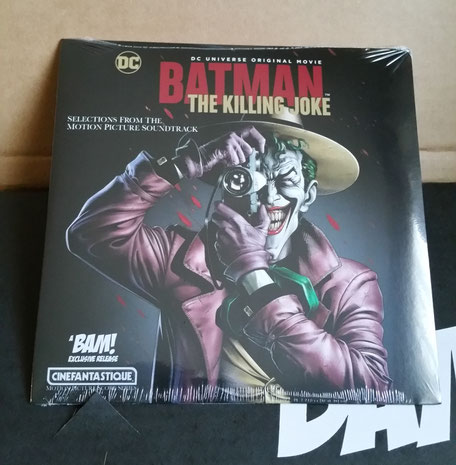 What would a "Crazy" Box be without the Joker? I think the next item is awesome. This year Warner Bros. released the animated superhero movie "Batman: The Killing Joke" (based on the 1988 DC graphic novel with the same name).  This is a Bam! Box exclusive EP with a small selection of the movie's soundtrack. I love that it is vinyl, that makes it just a little bit more special to me. I like it, I like it a lot!
I like this item! It's very unique and exclusive. I'm glad I can play vinyl. This won't be the case for everyone. I haven't listened to it yet. I couldn't push myself to take it out of the plastic. I don't why haha. But I always have this problem. When we by dvds, Sig tears off the seal first thing. I never do that. I wait until I want to see the movie. Then do it haha. 
Suicide Squad
With this year's release of the greatly anticipated movie "Suicide Squad" there had to be some "Squad" related items in this box. The movie received a lot of criticism, but I liked it (Check out our duo review ). Sure the story is kind of lame, but hey what do you expect? It's a superhero movie, so just make a big bowl of popcorn and enjoy! The first "Squad"item is a Harley Quinn Sketch in pin up style from artist Nathan Szerdy. As you can see it's in a calendar style and features the date September 11th , 1992. This is the date Harley first appeared in the animated series. The sketch is signed by the artist and mine is number 1422 out of 1999. I think Harley Quinn is an awesome character so I love this. But the last item is the best one, remember when i mentioned the upgraded autograp at the beginning of the story?  Well I had the blue card, soI got lucky. It's a signed picture of Karen Fukuhara, she played Katana in the movie. Thank you Bam! Box. 
What do you think of this month's box? Should we do a vlog next time? Let us know in the comments! 
And now if you'll excuse me : "I do wish we could chat longer, but I'm having an old friend for diner" ;)