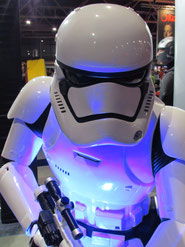 Since a lot of people liked our 'In the Spotlight' about Ray Park (Darth Maul in Star Wars Episode 1: the Phantom Menace) I decided to write about Dave Prowse this week! Dave Prowse is an English bodybuilder, weightlifter and actor! And yes, he played an important role in Star Wars? Do you know which one? 
No it's not a storm trooper. The picture is a hint, but it's not that! Dave Prowse played the role of Darth Vader. Yes, Darth Vader!! Though I immediately have to explain i a bit more to you. Darth Vader is not played by just one person.. James Earl Jones provided the voice for Darth Vader. Dave Prowse is the one behind the Darth Vader mask. But do you remember that moment in Star Wars: return of the Jedi? Where Darth Vaders mask was removed? Well, that's not Dave Prowse. That was actor Sebastian Shaw. All the other times you saw Darth Vader, it was Dave Prowse! Awesome, isn't it? I think he did a great job in portraying Darth Vader. 
Dave Prowse may be mainly known for his role as Darth Vader, it's not the only role he did! He's also known for Clockwork Orange (Julian), Frankenstein and the Monster from Hell (monster) & The Horror of Frankenstein (the monster), The Tomorrow People and the Rose Medallion. Of course there's more! Besides this, Dave Prowse won the British heavyweight weightlifting championship in 1962, 1963 and 1964! he also helped Christopher Reeve train for his role of Superman. 
Dave Prowse attends a lot of conventions. However, next year, he won't be doing any international shows anymore due to health reasons. He will still attend the conventions he already committed to. I haven't met Dave yet, but luckily he's announced a convention I will be going to! He will be attending Weekend of Hell in November of this year and German Comic Con Berlin. We will be going to Weekend of Hell in Oberhausen! We're excited. Have you ever met Dave Prowse? Share your story in the comments. Or would you have a question for him? 
 I just love it that he does a lot of conventions. He's putting a lot of effort in making fans happy. I really like that. If you don't have the possibility to meet him in person, you can also order an autograph via his website!