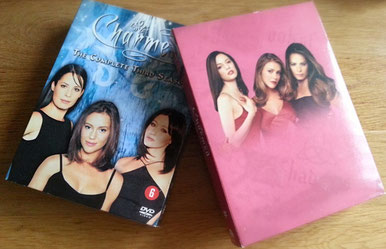 Do you know who he is? Does it ring a bell? Well, let me take you years and years back... Do you remember the article Liv wrote about Charmed? Bingo! Charmed was my very first series addiction. I love this series s much! It literally kept e up at night. After episode I thought.. Just one more! At the time I was still living with my parents and I was watching it on my room all the time. When everyone was asleep already, I was still quietly watching Charmed.  And that's where I discovered Julian McMahon!! So today I'll introduce you the actor who played my first favorite character.. 
"Charmed" revolves around the Halliwell sisters, the most powerful good witches of all time. Initially the show focuses on Piper, Prue and Phoebe, also known as "the Charmed Ones". Later on it is revealed the girls have a half-sister named Paige. Julian played the role of Cole Turner. Cole was one of my favorite characters from the moment I saw (season 3) him on the series. Cole was half human, half demon. His demon side was called Belthazor. He had the ability to power to teleport and the power to throw projective energy balls which could stun or kill. Cole is always struggling between being good and evil. He and Phoebe  are in love but of course that gives trouble.. He is recruited by the Source of all Evil to kill the charmed ones, but falls in love with Phoebe. Cole is constantly torn between his human side and his evil demonic side. Julian McMahon does a "hell" of a job in his portrayal of the most loveable bad guy ever.
I have no idea if Julian McMahon does conventions, but I'd love to meet him one day! It's just tat Charmed was my first series addiction and Cole was absolutely my favorite character!! He was so awesome. So it would be great to be able to ask him some questions about it and have a photo op & autograph :). Dream on... Hahaha. Well, I should have some hopes right? Maybe one day he will appear on a convention.. He's not only known for Charmed.. So let's keep on talking! Julian is an Australian actor. He's a son of former Prime Minister of Australia, William McMahon. He is best known for his roles in Home and Away (As Ben Lucini), Charmed (Cole Turner) and Nip/Tuck (Christian Troy). As for movies, you might have seen him in the Fantastic Four movies, Red and Bait (Ans way more of course) 
I have also watched Nip/ Tuck. Even though I will always know Julian McMahon mostly for his role as Cole, I loved watching Nip/ Tuck as well! I admit, me watching Nip/ Tuck had a bit to do with the fact that Julian has a main role.. And in Nip/ Tuck he proves again to be a great actor! I can summarize the plot of Nip/ Tuck quite easily: It's about the life of 2 plastic surgeons. And I can assure you: This ain't a dull life! Julian plays one of the two surgeons. The other ones is played by Dylan Walsh. And I also especially like the role of Robert Lasardo in this series! I mainly watched these two series. When I look at imdb, there's still enough I can watch. Like the movies I already mentioned. And there's way more to watch. 
Let me know: Who was the first actor you really thought was great? What was your first series addiction? Do you know Julian McMahon?