June 25th and 26th Liv and I went to Arccon. Arccon is a fan convention  with guests from the series The Flash and Arrow. Shantel VanSanten plays the role of Patty Spivot in the Flash!
Patty Spivot is a former police detective at the Central City P.D. She joins the police force after her father is shot by Mark Mardon during a robbery. When Mardon is affected by the dark matter after the explosion at S.T.A.R. Labs he becomes a metahuman (He is able to control the weather). Patty joins Joe West's Metahuman Taskforce to get revenge on Mardon. Patty and Barry grow closer and eventually start dating. Eventually Patty decides to chase her dream to beecome a CSI and she leaves Central City. For me this was a bit to sudden and I hope Patty returns to Central City in the future, because she was a very loveable character.
Shantel VanSanten: the Flash
As fans of the Flash, we bought an autograph & photo op for Shantel so we were really excited to see her Arccon! 
Arccon started with a Q&A of Shantel VanSanten and Rick Cosnett. As we already wrote in our post about Rick, they were great! You could really see the chemistry beteen them (even though they didn't play in the Flash at the same time) They're an awesome duo! Apparently they went on a sightseeing tour of Brussels together on Friday. I would love to have been a fly on the wall during this tour, because it sounded like a lot of fun. As was their Q&A: There was dancing, laughing and lots of talking! We didn't only see this Q&A but we also saw Shantel's own Q&A's, the full meetingroom and the Flash Q&A.  What I liked the most in (all the) Q&A's was the fact that the actors were so open about themselves, their fears and their feelings. Especially Shantel VanSanten: she talked about the death of her grandmother (she died of lungcancer) and about the way it affected her. She also talked about the need to raise money and awareness to beat this terrible disease. One of  the organizations she is associated with is Lungforce  (wanna read about this or maybe donate some money just click the link).
Photo op & Autograph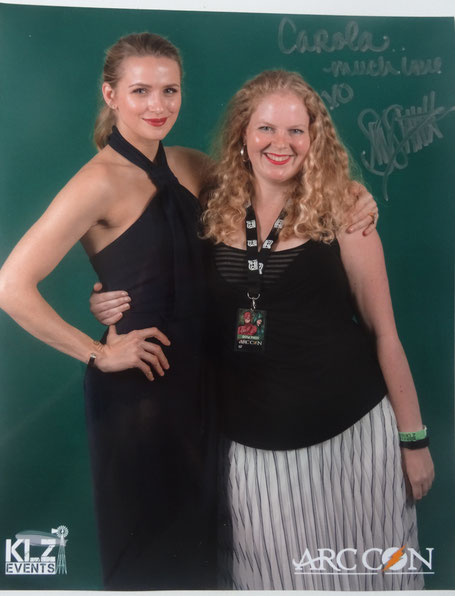 First, we went for Rick Cosnett's photo op. So by the time we could go for our photo with Shantel VanSanten, we at least knew what to expect. Which room we would be in etc. At this time I felt like a veteran, because I also had my photo op with Matt Ryan on Saturday. Again, everyone already seemed to know a pose for a the photo. I (still) didn't. Me neither...ofcourse! Usually I perform best under stress. But not at a convention. There my brain just goes into a short circuit and that's that. Yeah what is that all about.? Same here: at school for exampe I started learning for an examn the day before, because I perform best when stressed out Unfortunately this is not the case with convention stress. I have no idea why I suddenly turn into a sort of Pinocchio, when I walk into a photo op room. I did not think about a pose too much before I walked up and decided to just wing it. I felt my face going in convention mode. Shantel greeted me and looked at me waiting for instruction for a pose.So much for winging it. All I could think about was my old (drunk) photo pose, so hey at least I thought of something.It turned out ok, so I'm happy about it (check out the picture below. So, my brain wasn't capable of thinking of any nice pose. But I was determined tough, to say something to Shantel VanSanten. Something about the Flash, her role, or the convention. And I did. So far, so good. I walked towards her and told her I was happy to meet her and that I loved her dress. And then something highly unexpected happened (for my brain in short circuit). She responded. Yeah.. It may sound obvious (someone talks to you, you respond). But I wasn't prepared at all! Usually a photo op is very, very quick. So I thought I'd just say something to her and disappear. But she wasn't so much in a hurry. So of course then I ruined it and just thought 'What are you doing..., aahhh what did you just say'. And I didn't come any further than my famous convention grin and a "Thank you"  with a high pitched voice.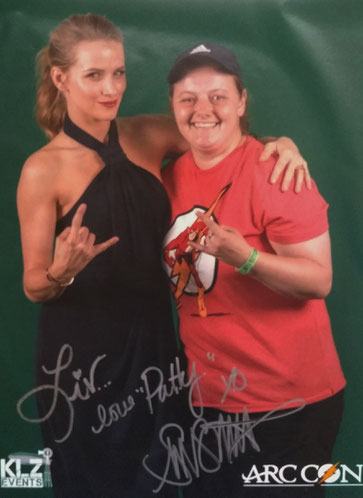 Luckily I got a resit! We were still going to get an autograph. And I was looking forward to that as well. When we went into the rooms for autographs, we first got one from Violett Beane. Shantel VanSanten was the second we went to. I decided to take my chance and actually tell her how I felt about her character. (I wrote about that earlier in the article I wrote about Shantel: Ín the spotight: Shantel VanSanten). So I told her that I loved Patty Spivot in the Flash: Where I thought it was kind of hard to see Eddie tear Iris and Barry apart I didn't have any trouble with Patty. I would have loved to see Patty and Barry spend more time together. I thought they would be a great couple and I would love to have seen her on the show for a much longer period! It was a real pity to see her leave the show. I thought Shantel did an awesome job in "The Flash". Patty was a great character. 
She was really kind and we talked a bit. Now I didn't freak out as much and I loved talking to her. 
And then it was my turn and I must say Shantel VanSanten was great. She made me feel at ease (or as much at ease as I can be at a convention). As I mentioned before Shantel talked about sightseeing in Brussels in her Q&A with Rick on Saturday. They asked for some tips, about what they really should see and someone mentioned the peeing baby ("Manneken Pis"), which turned into a hilarious misunderstanding by the way (Rick and Shantel thought it was a real peeing baby). I asked Shantel if she had the chance to go and see it and she answered she was going to try and see it that night. We talked a little bit more, while she was signing my photo. All I feel lucky to get the chance to meet Shantel, she is a wonderful person and really down to earth. It's always nice when the person who's playing a character you like in a show, turns out to be a great person in real life. I hope Patty returns to Central City  in the Flash!
Meeting Shantel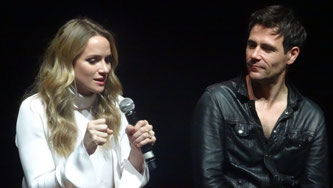 I loved meeting Shantel VanSanten! She's really kind and easy to talk to. So I can say out of experience, no need to be scared ;). Her Q&A's were very inspirational. It was lovely to hear her insights on the Flash and One Tree Hill. But she also really opened up. It was a very personal Q&A as well. And she's a great person. I'm glad to know more about her and respect her even more for it. So if you ever get the chance to attend one of her Q&A's or panels: Go for it. 
Cheerio!