The next convention that Liv & I will be attending is Arccon! Arccon is fan convention  with guests from the series The Flash and Arrow. I watch both series and really love it. We're definitely very excited to go to Arccon. To make the waiting a bit easier, we'll do an Arccon countdown. We'll discuss which guests will be there and what we are planning on doing.
Let's start with the guests! The following guests will be present at Arccon: Rick Cosnett (The Flash), Colton Haynes (Arrow) (Cancelled),  Manu Bennett (Arrow), Shantel VanSanten (The Flash)  and Katie Cassidy (Arrow). 
Rick Cosnett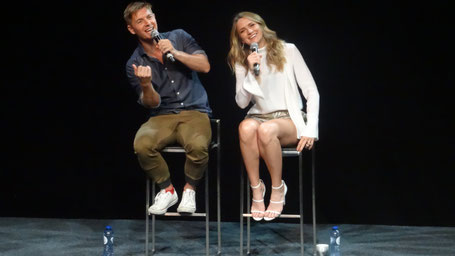 Rick played the role of Eddie Thawne in The Flash. Eddie is a police detective at the Central City Police Department (Joe's partner) and Iris' boyfriend. I like the role he played in The Flash. Eddie is a likable character and Rick does a wonderful job in portraying him. Though from time to time it was hard to see Iris struggle with choosing between Eddie and Barry. That sometimes predominated the character, but there was much more to the character than just his relationship with Iris. 
Since most of you who will be reading this will be familiar with The Flash and Arrow, let's also see what Rick Cosnett has done besides The Flash! He played the role of Elias Harper in Quantico, a crime/ drama series. You might also known him as Dr Wes Maxfield in the Vampire Diaries or Mal Hensall in Forensic Investigators.  
Colton Haynes
Colton Haynes was Roy Harper in Arrow. Who doesn't love him? He was an incredibly important character and I liked him more every episode. I was really glad to see that Colton will be attending Arccon. Finally a chance to meet him! Other might know Colton for Teen Wolf, Look or The Gates. 
Manu Bennett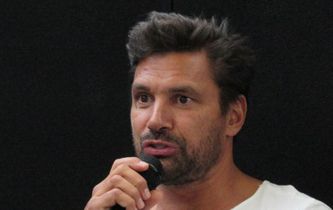 And then there's Manu Bennett. Another great guest on the list (Yeah, I admit: i think the guests are all awesome!!). Slade Wilson / Deathstroke is one of the enemies of Oliver Queen. Orignially he and Oliver were allies on the island. After an incident though, Slade swore vengeance against Oliver. I love how you get to know him better during the seasons. At first, you almost know nothing about him. But then slowly more is revealed. That makes Slades' character very interesting. Manu Bennet is a wonderfull actor.  If you want to see more, you might like to see Spartacus: Blood and Sand, Street Legal or The Shannara Chronicles! 
Shantel VanSanten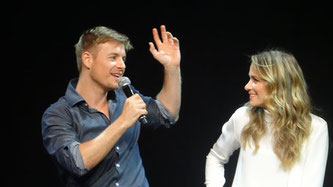 When Shantel VanSanten was announced, I had no clue who she was in the Flash (sorry). I only had seen season 1, so I hadn't seen her yet. Now I have and absolutely love her role as Patty Spivot in the Flash. Though it was kind of hard to see Eddie tear Iris and Barry apart I didn't have any trouble with Patty. I would have loved to see Patty and Barry spend more time together. I thought they would be a great couple and I would love to have seen her on the show for a much longer period! Luckily we can ofcourse see Shantel in other projects than the Flash. For example: One Tree Hill, The Final Desitination, The Messengers. 
Katie Cassidy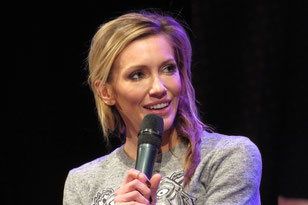 And ofcourse we're not forgetting Katie Cassidy. We were SO exited to see her name on the guestlist. She plays the role of Laurel Lance (Black Canary). It's a huge role and very important. It's too much to describe actually. To begin with, she's Oliver's ex-girlfriend and Sara's sister. Laurel is one of the characters that changed the most during all the seasons. And that's great to watch. At first, I didn't know what to think of her. Was she nice, or did I think she was annoying? But Laurel develops through the episodes and when you didn't like her from te start, you learn to love her! She has such a big influence on the rest of the characters and the story. Katie is great actress. She has a lot of other impressive projects on her name: Click, A Nightmare on Elm Street, Gossip Girl, Melrose Place and I can go on and on! 
Well that's one long introduction isn't it? That kept our mind off of waiting for a bit ;). See you next week!