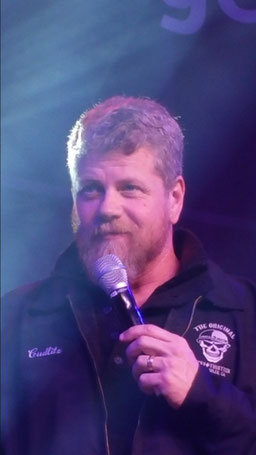 This week in the spotlight: Michael Cudlitz! As from the moment I saw Abraham in the Walking Dead, I knew this was going to be my favourite character. And he still is! (Together with Carol). Abraham is not like the other in the Walking Dead and like no one that has been on the Walking Dead. He has a mind of his own and shows a certain strength. It's nice to see this character develop and get more depth in The Walking Dead. 
I was extremely lucky, because Dutch Comic Con promised a guest from The Walking Dead in 2015 and it turned out to be Michael Cudlitz! I was over the moon. If you want to read about how it was to meet him, read the article we wrote about it! 
I started to watch some more things in which he starred, I started with Southland. (I wrote about Southland in 'Series tip of the week', so check it out!). I really love Southland, it follows the work of the Los Angeles Police Department. Michael Cudlitz plays a totally different role: John Cooper, an officer with chronic back pains. And because of this role, I started to appreciate Michael Culitz More and More. John Cooper and Abraham: It's a difference like night and day. If I didn't know, I maybe even wouldn't see it's the same actor. And that's really amazing. Michael Culitz is capable of portaying many sort of characters.
And there's more. Michael cudlitz also Starred in Band of Brothers: A mini-series about Easy Company of the US Army. Michael plays the role of Denver (Bull) Randleman. And again his acting is spot on! The story is about their mission in WWII. Band of Brother is a really incredible series! I can recommend everyone to watch it. If you want to see something about WWII, watch Band of Brothers. We'll write about this series more in Series Tips! 
Ofcourse there's much more! These are the series where Michael Cudlitz played a role in, that impressed me the most. But there's so much more! Check out imdb, Michael stars in many more noteable movies/ series. A few examples: The Negotiator, Surrogates, Standoff.