I've seen "The Dentist" years ago, when I was a teenager. I remember that I loved the movie. The last years, I've always wanted to see "The Dentist" again. Of course there's a big risk in that. Some things are better left in the past. I've seen movies for a second time, that turned out horrible! Maybe I didn't see it the first time, maybe I just have a selective memory. Sometimes I only remember the parts I actually liked. The other parts of the movie are buried far away in my mind. To get at me when I least expect it: While watching the concerning movie (For example: "The Box"!)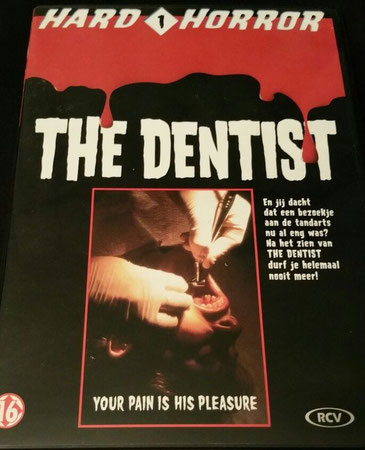 This week, I bought some DVDs and luckily enough, "The Dentist" was one of them. I doubted whether I should re-watch it. Keep the memory intact, or watch it, now that I'm used to so much more? Well, of course I couldn't help myself and we watched the movie Sunday evening.
The movie is about a dentist who discovers that his wife is cheating on him (with the pool boy). He is very angry, but nevertheless decides to go to work. That's where trouble starts. He starts suffering from delusions. Perfectly white teeth look like filthy rotten teeth, people start transforming and he can't separate truth from illusion. This means the worst for his patients: They bear the brunt of his madness.
He wants to take revenge on his wife and he takes everyone down in this attempt. This is a guarantee for some gory torture. If you're squeamish, don't watch! I liked the tension in the movie. You see flashes of the good dentist he once was. When you think he will go crazy, he doesn't. But when you believe he might get his act together, he can't. It's not predictable what he is going to do, until the total madness begins. And there is total madness. He is enraged and everyone will suffer in his chair. He's not only going after his wife and the poolboy, but also after his patients and more. He uses all his tools on their teeth .You can feel his anger and he seems unstoppable.
Corbin Bernsen does an amazing job in portraying the dentist. He's really creepy and you can feel the fear.  But it's not just Corbin Bernsen, who plays his role very convincing. I was also pleasantly surprised to see Ken Foree in the role of detective Gibbs.
Seeing this movie again was no disappointment for me. I loved watching "The Dentist" for the second time. Though the outlines are clear, there's so much to see in the details: The decisions he takes, the way he loses control and tries to punish people. The plot is different from many other horror films, and I like the gory scenes.  I definitely recommend watching this movie!