It's that time of the year again: leaves are falling, days get shorter and one particular killer seems to be more popular than he ever was. Michael Myers is back in the new "Halloween" movie, that hit cinemas worldwide over the last weeks. I watched the movie when I was in England and I really liked it, because it gave me that good old "Halloween" feeling. Carola also watched it and we will be doing a duo review of it soon. Back to Michael Myers. Somehow that character always fascinated me. Not because of his gruesome killings of course, but because of the simplicity of the character. I mean he wears a mask and he doesn't run after his victims, he just walks. Why is he regarded as one of the scariest characters in horror history? I guess it's the man behind the mask that makes Michael the subject of many nightmares, especially the Michael Myers from Rob Zombie's version of the movies. The man behind that mask is Tyler Mane and I met him at For the Love of Horror in Manchester. This upcoming weekend we will be going to Weekend of Hell and Tyler will also be a guest over there, so reasons enough to talk about: Tyler Mane.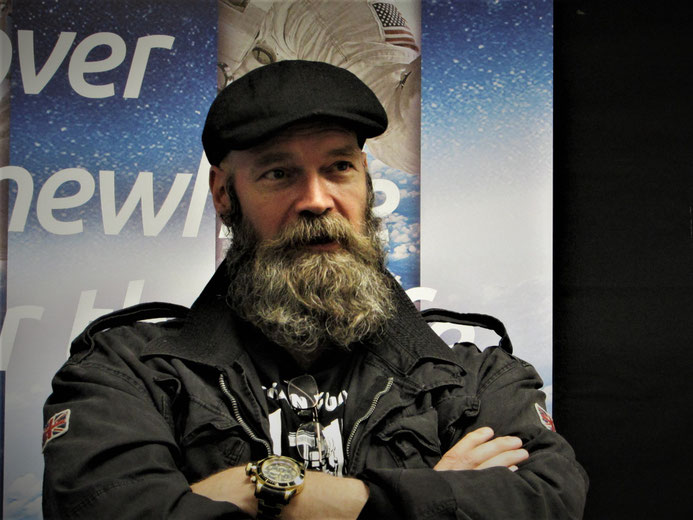 Who is Tyler Mane?
Tyler Mane was born as Daryl Karolat on December 8 1966 in Saskatoon, Canada. He is a former professional wrestler. As a teenager Tyler travelled to Calgary, where he trained with the famous Canadian wrestler Stu Hart. In 1986 Tyler Mane began his professional wrestling career, in Canada, under the name Skywalker Nitron. In the years following he travelled the world, participating in wrestling Tournaments. In 1993 he joined the WCW, under the name Big Sky. He retired from wrestling in 1996. During his time participating in Wrestling tournaments in Mexico, he got a role in the movie "Luchadores de las Estrellas". Tyler Mane played the role of El Vampiro Interespacial, the villain of the movie. Later during his time in the WCW, he auditioned for and got a role in the TV show "Smokey and the Bandit".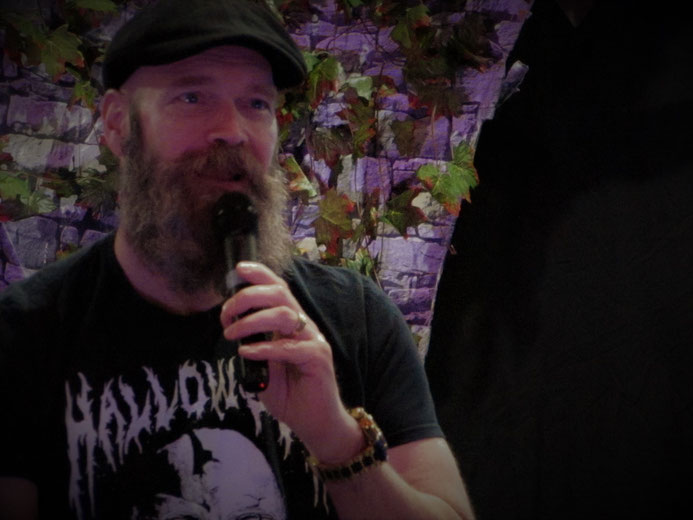 In 2000 Tyler Mane landed the role of Sabretooth in "X-Men" and this was his breakthrough. Initially this role was intended for Kevin Nash (also a former wrestler turned actor and Man's former tag partner), but because of some conflicts in Nash' schedule Tyler got the job. In the years following he played roles in movies like: "The Scorpion King" (2002) and "Troy" (as Ajax, 2004). In 2005 he played the role of Rufus Firefly Jr. in Rob Zombie's "The Devil's Rejects". At that moment he did not know that his was another turning point in his career. Some time after his role in "The Devil's Rejects" his phone rang and it was Rob Zombie. According to Tyler Mane: "That's a phone call you take,right?" Zombie told him that he wanted to do a new "Halloween" movie and that he wanted him as Michael Myers. He also mentioned that if Tyler did not want to do it, he didn't want to make the movie. So in 2007, Tyler Mane put on the mask of Michael Myers for the first time in Rob Zombie's "Halloween" and in 2009 he reprised his role for "Halloween 2". Check out Tyler's Imdb page for more about his later movies and recent projects.
Press Event For the Love of Horror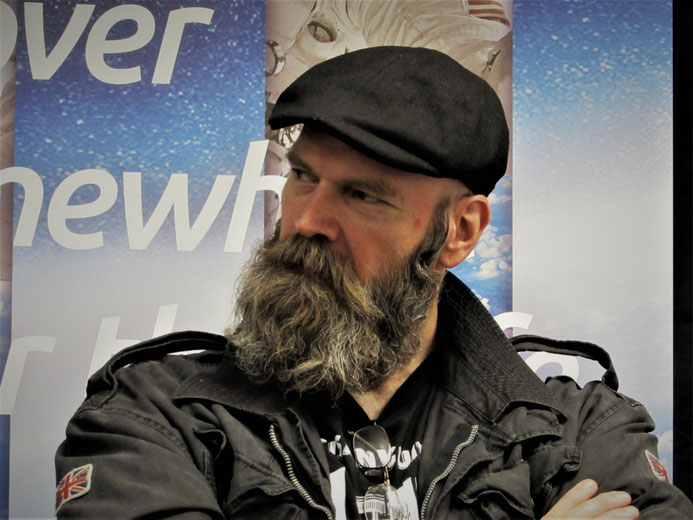 On Friday October 19th, I attended the press event of For the Love of Horror. This was also the day the new "Halloween" movie was released in the UK. The press event took place in the Odeon Great Northern in Manchester. In fact after the press event there was a possibility to watch the new "Halloween" movie...with Tyler Mane. Unfortunately I could not fit the movie in my schedule, but I did attend the press event. The press event was attended by Tyler Mane, Alex Vincent ("Child's Play" franchise) and Cecil Garner (a.k.a. Cecil Grimes, a professional Rick Grimes Cosplayer).  In this article I will focus on what Tyler had to say. If you want to see the entire press conference, just click the video below.
At the press event Tyler talked about how he binge-watched all of the "Halloween" movies in the franchise, with the exception of "Halloween III" (1982). He did not watch the third installment, because Michael Myers does not appear in that one.  When he was asked if he ever binge-watched another horror franchise, Tyler Mane answered:
"I tried it with Jaws, but the first one is the best one...and that's about it, 'cause the best killer is Michael Myers. It's either a shark or Michael Myers."
Ever since the first "Halloween" movie in 1978, Michael Myers has been one of the most popular horror characters. Earlier on, I also mentioned that I wondered why that's the case...well this is what Tyler Mane thinks about it:
"Well it's the franchise. Every one is different and they are fantastic stories. Michael Myers is the ultimate killing machine on land. I mean you have Jason, you have Freddy Krueger, little Chucky...all these guys. But Michael Myers is the ultimate land shark and I'm excited to see the new movie".
What do you think has to happen to keep the horror genre fresh and engaging?
"Horrors are hits and misses, just like every other movie. It's something, you just gotta put your heart and soul in it and see what happens and hopefully the audience takes to it. That's all you can hope for as a producer and as an actor in them. And to be a part of this franchise, I'm just so thrilled and excited to hand the torch to James (James Jude Courtney, who plays Michael Myers in the new "Halloween") and see what he can do with it. Frankly, I've done two and I always like to up the ante every time. And after the second one, I don't know what I'd have to do...I'd have to rip someone's head off or something to get to that next level. So I am very happy and glad to hand the torch"
Why do you think the genre keeps captivating people?
"Because it scares the hell out of them and it gets them out of their own reality. Let's face it, we all deal with a bunch of sh#t in our lives and it's a way to release and to realise that some people have a little sh#ttier life than us, getting killed by these guys you know (laughs). It's a great escape."
What does it take to get in that state, to play a bad guy (like Michael Myers or Sabretooth for that matter)?
"You gotta do your research and just have fun with it. And take it to the next level, where people will be hopefully scared and peer to the character. For Michael Myers, I did all my research on serial killers...to see how they interact in society and stuff like that. And I read the "X Men" comic books. You just want to help create that character and take it to the next level."
When someone asked what Tyler's favorite horror movie of 2018 was, his answer was simple and clear:
"Well I'm hoping Halloween... I'm pretty sure it will be. I heard nothing but great things."
What about favorite movies in general?
"I'd have to say horror wise, it's The Shining and Jaws."
Was there a moment in your life when you decided you wanted to be in the entertainment business?
"Oh yeah I was a skinny, tall kid with braces and glasses. I was picked on in school. I would run home from school. In the weekend I watched pro-wrestling and action films. I was like some day..I wanna be doing both of these. I'd end the weekend with the wonderful world of Disney and hoped for Davy Crocket. Luckily I got to pro wrestle for eleven and a half years and now I'm doing the film. I got no regrets"
Would you ever go back to wrestling?
"No, I do not miss that at all.
How did he get into wrestling?
"I grew up in Saskatoon, I'm a Saskatoon boy. I went and trained with Stu Hart in The Dungeon and I did all of that. And then the WWF came in...Red Bastien and I went to Los Angeles, trained wit Red and Mando Guerrero, from the Guerrero Family. That's where I got my training and here we are sitting here in Manchester talking about wrestling and movies (...) I was one of the last people to wrestle André the Giant in Japan too. It was fantastic. He was a super sweet gentleman."
Did you get to see the documentary about him?
"I've seen parts of it. He was a great guy. He could drink his wine (...) I've been a Scotch drinker, a whiskey drinker and I was going to the wine to give my liver a little bit of a break. I'll be back to the whiskey soon."
Back to the movies, have you got any cool set stories that you want to share with us?
"Nope...(laughs out loud)...not anything I can tell..."
If you could play any other character what would it be?
"Frankenstein."
What are you hoping for the "Halloween" film tonight?
"I just wanna see Michael at it again...I wanna see him doing his thing...and not be me. So that when I see James next time, I can go: Well that probably hurt, because I know it hurt when I did it...'cause you know people don't realize...even though the kills are the way they are, it's very taxing on the body The long days of shooting..10,12,14,16 hours a day, trying to kill people. That's hard, you know...it wears you out. You need a good bottle of wine and a cigar after that."
So after the press event, there was a little time to take a picture with Tyler Mane and he was very happy to do it. Then they all went on to see the new "Halloween". Like I said, unfortunately that did not fit in my schedule (but I did see it after the weekend).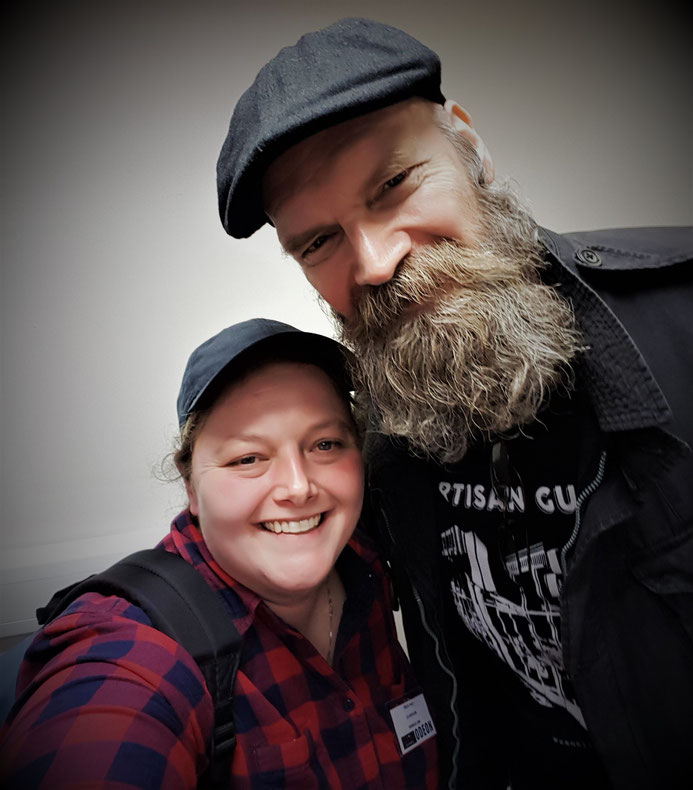 Tyler at For the Love of Horror
Of course I also attended Tyler's Q&A on the Saturday of For the Love of Horror. The first question for Tyler Mane was obvious: What did you think of the new "Halloween" movie?
"I liked it...Michael was not as intense as I was, but it's all good. It is another Halloween and that's the most exciting thing. Michael wears the mask once again".
He also talked about working with Rob Zombie and had (as many others who worked with him) nothing than good things to say. He said that it's great to see the difference between Rob Zombie on stage with his band and Rob Zombie as a director. Tyler Mane says that Rob is a very talented and intelligent man and he also recommends to see a concert of Rob: "because he puts on a hell of a show".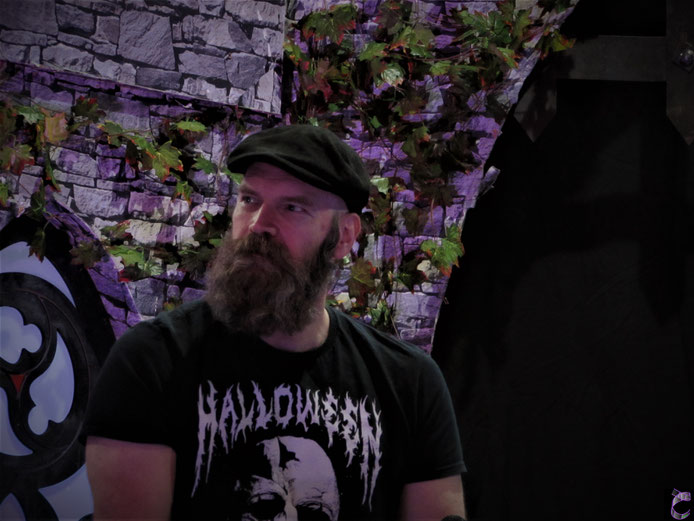 Tyler Mane mostly talked about his time on Rob Zombie's "Halloween" movies. He said that when they were not filming, he used to goof around a lot on set, but when it was time to shoot he went into full Myers-mode. Because Michael wears a mask, it is important that you use your body to express his emotions. Fun Fact: Tyler is the tallest actor to ever have played Michael Myers. He is 206 cm tall (6'9''). Tyler Mane also says that he absolutely felt some pressure in portraying one of the most iconic horror character. He says that for him there is a really specific way to be Michael, it's something in his presence. He had to send fear into people, without using his facial expression. Tyler Mane also mentioned he had a lot of fun portraying Michael Myers. "You get to kill people and pay no consequences. And you go home, have a glass of wine and it's all fine." He also talked about getting hurt on set. He used to waking up with pain, but his main goal is not to hurt other people when he is on set. His wrestling background seems to help him with that. And then he also talked about being Sabretooth and he said if given the possibility he would love to play him again. He says Sabretooth is a very interesting and dark character. If you would like to see the registration of the Q&A of Tyler Mane just click the video below.
It was so much fun to meet the man behind the Michael Myers mask. Tyler Mane really seems to be a very warm and kind person. What stood out for me at the convention, was the fact that he was constantly interacting with his fans. He was constantly doing selfies and talking to people. He also walked around the convention a lot. This weekend I am going to see him again at Weekend of Hell in Dortmund. I can't wait and if you are going, just pay him a visit....oh and ask Tyler Mane if he already has a name for his own Scotch label.