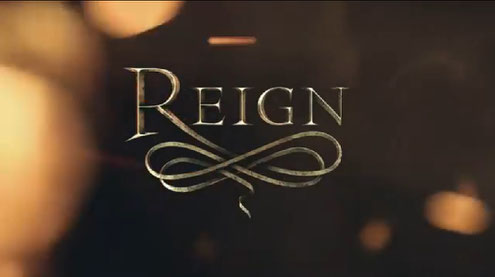 A year ago, I stumbled upon "The Reign" on Netflix. When I read the synopsis I was intrigued, but somehow, I never got to start watching. I don't know why, because I really wanted to. A little over a week ago, however, The Con Factory announced Adelaide Kane as a guest for WolfCon 4.0 in Amsterdam. Adelaide plays the role of Cora Hale (Derek's sister) in "Teen Wolf", but more importantly, Adelaide Kane plays the role of Mary Stuart (Queen of Scots) in "Reign" and that is one of the main characters. This was the last nudge I needed to start watching the show and I absolutely love it. So today we kick off our WolfCon Week with a new Series Tip. I am of course talking about: "Reign".
The Story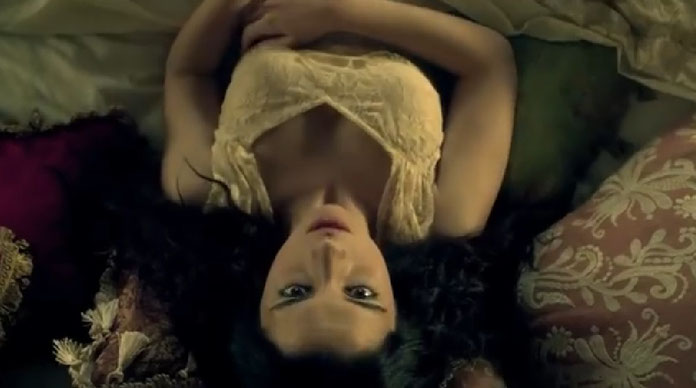 "Reign" tells the story of Mary Stuart (Queen of Scots), no wait it tells an alternative story of the life of Mary Queen of Scots. It is set in 16th century France, reigned by King Henry II of France and his wife Queen Catherine de' Medici. The movie is partly based on true historic facts. Mary Stuart was the daughter of King James V of Scotland and his wife Mary de Guise. She became Queen of Scotland when she was only six days of age, following the death of her father at the Battle of Solway Moss. At a young age she was brought to France to live at a monastery, to keep her safe. During this time Scotland was reigned by her mother. She also spends some time of her childhood at the French Court and at age of 6 she was promised to Prince Francis. At the beginning of the series, Mary returns to French Court at the age of 15, to await her marriage with Prince Francis. The marriage is arranged to reassure the alliance between Scotland and France, mainly because of their tense relationship with England. When they were children, Mary and Francis were best friends, but now so many years later they both changed and the relationship is tense. Francis does like Mary but sees their relationship as a business arrangement and says he will always do what is best for France. Although Mary is their future daughter in law, she is not greeted with open arms by Henry and Catherine. When the court's seer, Nostradamus, gets a premonition that tells him that Mary will be the death of Francis; Catherine will do everything in her power to stop the marriage from happening. And then there is Bash, Francis' half-brother. He is the bastard son of King Henry and his mistress. Bash is a good guy, but he also shows interest in Mary. Furthermore, there seems to be a 'ghost', haunting the castle's secret passageways and a bloodthirsty monster in the woods surrounding the castle. Luckily Mary is not all alone, four of her best friends from Scotland join her as her handmaidens. They also search for a rich nobleman to wed at the French Court. Mary must survive in an environment full of changing political situations, intrigues, murders and deceit. 
The actors and actresses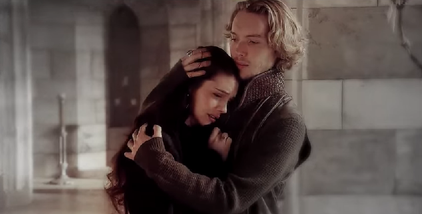 There are a lot of fine actors in "Reign". At this moment I am watching season 2 of the show, so I will only talk about the main characters in season 1. 
Mary Stuart is played by the Australian born actress Adelaide Kane. I only knew Adelaide as Cora Hale in Teen Wolf and I love her in "Reign". She auditioned for Mary, during her role as Cora in "Teen Wolf" and when she got the part, the role of Cora was written out of "Teen Wolf".  I really like the way Adelaide portrays one of the most interesting characters in history. There is something about her that made me instantly like her. Besides "Reign" and "Teen Wolf", Adelaide is als known for her roles in other movies and series like: "The Purge", "Once upon a Time" and "The Power Rangers". The role of Francis is played by Toby Regbo. I had never heard of him and at first I did not like his character, but during the first season he grew on me, as his love for Mary grew. Regbo is an English actor and musician. He was born in London at October 18th, 1991. Fun Fact: Toby played the young Albus Dumbledore in "Harry Potter and the Deathly Hallows - Part 1". Besides this he is known for roles in: "The Last Kingdom" and "Mr. Nobody"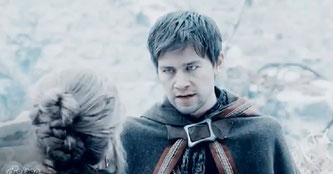 The role of Sebastian or Bash is played by Torrance Coombs. I knew him from his role in season 5 of "The Originals", where he plays the role of Declan (Hayley's boyfriend). I like the character of Bash. Francis has to walk in line, because of his future as king of France, but Bash is free to do whatever he wants. He is Henry's bastard and it is thought that the only reason he resides at the French Court is because he is Henry's favorite. Besides his roles in "Reign" and "The Originals", the Canadian Coombs is also known for his role in "The Tudors".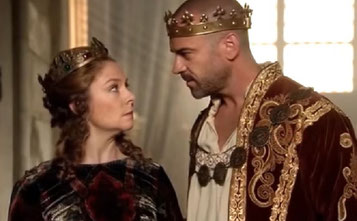 For me the two absolute stars of the first season (besides Adelaide Kane) are Alan van Sprang as King Henry and Megan Follows as Catherine de' Medici. The love-hate relationship between them is played out great and their on-screen chemistry is amazing. They are both ruthless and are capable of everything in order to be the most powerful man and woman of France. Even if they have to betray each other to do this. I love them!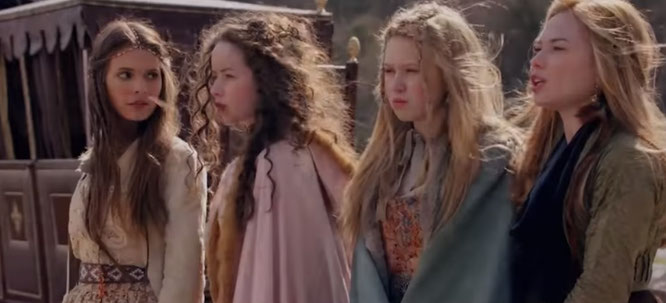 I already mentioned Mary's handmaidens. From left to right, there are Kenna (Caitlin Stasey), 
Lola (Anna Popplewell), Aylee (Jenessa Grant) and Greer (Celina Sinden). I like all of them and especially Kenna and Greer. I already knew Caitlin Stasey from her role alongside Phoebe Tonkin in "Tomorrow, When the war Began". Anna Popplewell is known for her role as Susan in the "Narnia" franchise.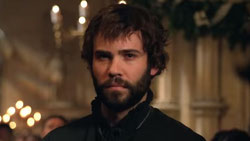 Finally, I would like to mention the amazing Rossif Sutherland as Nostradamus. I mean the man just has a great and mysterious charisma. Nostradamus is Catherine's seer and he is kind of a prisoner, without a cell. He can't go away and choose for a life of his own, because Catherine needs him and goes through great lengths to keep him there. 
My opinion
I am so glad that WolfCon announced Adelaide Kane as a guest, because that was the final nudge I needed to start watching "Reign". There is a lot of criticism about the incorrectness of the story, compared to history. I think this is nonsense, because the makers of the show never pretended that it would be historically correct. The show is described as "Game of Thrones" meets "Pretty Little Liars" and "Gossip Girl". I'm not sure if I would say it like that, but "Reign" had got me hooked from the first episode and right now (at 1 a.m.), I'm thinking that sleep is overrated. Let's watch another episode...!