A few weeks ago we got a message from Mr. Steve Blackwood about his new short movie called: "Meet the Author". This short movie comedy just made the Boston International Film Festival and he would like us to review it. Of course we love watching movies, so a few days later I sat down and watched it. Now let's talk about: "Meet the Author".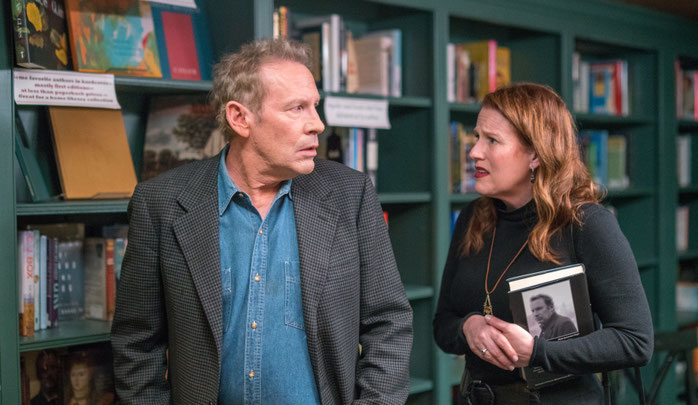 "Meet the Author" is a 2018 Short Comedy, written/directed by Steve Blackwood and produced by Hop Top Films Co. You may know Steve as Bart Beiderbecke in the long running TV show "Days of our Lives", but he also appeared in movies like:  "Machine Gun Preacher" and "Cedar Rapids". In "Meet the Author" Steve plays the role of Marvin, a failing writer of romantic novels. His first book was pretty successful, but his second novel not so much. This becomes painfully clear at a book signing session in New England. Apart from a bum (played by Bob Mignarri) ,who only seems to be there for free food and drinks and his manager Marnie (Pamela Jayne Morgan), there is no one to be seen. After a very amusing discussion between Marvin and his manager about the lack of people, Jennifer (Marty Smith) makes an entrance. She seems to be a big fan of Marvin, but hates his book...
Opinion
First of all I really enjoyed watching "Meet the Author". The movie has a very well balanced cast and the chemistry between Steve Blackwood and Marty Smith is wonderful. I also really loved the interactions between Steve Blackwood and Pamela Jayne Morgan. The quality of the sound and the lighting was excellent. At first it seems like the character of Marvin is a bit arrogant and full of himself, while his career seems to have landed in a downward spiral. Throughout the movie (with a duration of just under 20 minutes), however, it becomes clear that there is more behind Marvin's facade. Same goes for the other main character Jennifer. 
"Meet the Author" will be going into the festival circuit this season. It got picked up by the Boston International Film Festival and the screening will take place at the 13th of April at 12.45 p.m. Unfortunately "Meet the Author" isn't available for you to watch yet, unless you are going to one of the festivals that screens it. We will keep you posted on this one, but in the meantime check out the trailer by clicking the button below.