There have been made quite some tv series and movies about prisons. There are also many documentaries of course.  Let's talk today about some of these TV series. I'm curious to hear what your favorites are and what you didn't like. Prison series are still gaining more popularity: Prison Break has started again, Orange is the New Black is a huge success and new series keep coming. 
I'll kick off today by starting to talk about my favorites: Oz and Wentworth. Oz is a men's prison, Wentworth is a women's prison. It's a coincidence that I have both a men's and women's prison in my favorites. It's just that I love both series. 
Oz
Oz is even on top of my list of Tv series of any genre! I just love this series!  Oswald State Correctional Facility is a level 4 maximum security state prison. Unit manager Tim McManus (Terry Kinney) is setting up a new unit: Emerald City. It's an experimental unit. Within the unit, many gangs are formed. There are the African American Homeboys, Muslims, Wiseguys, Aryan Brotherhood, Gays, Latinos and more! Oz concentrates on the troubles between the gangs, within the gangs and between the prison staff and the prisoners. 
What in my opinion is so special about Oz, is the element of surprise. It's never predictable, not a second. It's harsh. There's a lot of action, but still enough story. You do get t know the prisoners. But on the same time, they don't dwell on endless stories of the past. You never know what to expect. And I was always wondering who'd survive the next episode. I didn't feel like anyone was safe.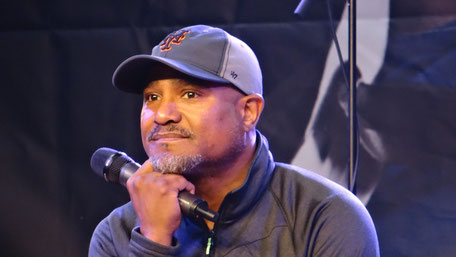 The show is strong, it can survive any death of a character. The story just goes on and stays interesting. it's a unique series, really one of kind. I love the casting. There are some really amazing actors. For example Seth Gilliam, Ernie Hudson, Adewale Akinnuoye-Agbaje, B.D. Wong, Christopher Meloni, David Zayas, Harrold Perrineau and way more! Oz started in 1997 and many of these actors were at the start of their career. I love to see them showing up in so many movies and tv series nowadays. 
I also love how Harold Perrineau's character is a bit of a narrator in the story, giving us more background and explaining how things work around there. With all these new prison series coming up, I really think they can take an example of Oz. A tv series with all the right ingredients and an awesome cast! 
When I met Seth I asked him about about his favorite other prisoner in Oz. His favorite is the same as mine: Adebesi! You can watch the video below. 
Wentworth
Wentworth is also one of the prison series with a lot of action it. Just like Oz, it's harsh and you'll never what to expect. You get to know the prisoners, you might even feel attached to them. But then suddenly something happens and they show a totally different side of themselves. They're not afraid of some violence and prepare for some pretty bloody scenes! 
Wentworth is a women's prison. Bea Smith goes to prison for attempted murder of her husband. It starts with Bea's first days in prison. She finds out soon enough that prison isn't a nice place where can make friends and just wait for time to pass. I love the Tv series starts with Bea, but soon also highlights the other prisoners. Quickly it's not just about Bea anymore. But about a lot of women in Wentworth. And, just like in Oz, also about the staff. 
I love the combination of the struggling inmates and the political game in the prison. All of the prisoners want to be top dog. But hey, the staff isn't too different actually: They all play games to become governor of the prison. 
Wentworth is an Australian TV drama and is based on the TV series Prisoner. There's also a Dutch TV series that's based on these: it's called 'Celblok H'. The show is still running: the sixth season will premiere in 2018! I can't wait. I've started watching Wentworth before I watched Orange is the New Black. And I can assure you OITNB really is 'soft' in comparison to Wentworth! 
So, there were my top 2 prison series. Let me know what you want to read in the next part: Something about documentaries or movies about prisons? Or do have other TV series that you want to read about? Let me know ;)!