We're back with another review! This time, we had the pleasure of testing the Purpuz planner! We received a pink Purpuz planner for 2019. Awesome right? 
An introduction: The Purpuz planner
Let's start with what a Purpuz planner is. The Purpuz planner is an agenda, planner and life coach in 1. With Conmose, we're always very ambitious. But also very busy. There's so much that needs to be done. To add a little structure and planner, we're starting to work with the Purpuz planner. Curious to see what all this planning and structure did to us? No worries, we're still the same! This actually helps us getting our videos, articles to you in a better way and it helps us to achieve our goals with Conmose. While we can just stay energetic and lyrical as always. #Excitedisanunderstatement. We made vlog for you about our first experiences with the Purpuz planner: 
I think for us the Purpuz planner will be great! We write about 3 articles a week, often write articles together, we post almost daily on Instagram, we're very active on Twitter and Facebook, we vlog, watch movies and series every week and go to as much comic cons as we can. It's hard to keep track of! This Purpuz planner will definitely help us grow in 2019 and will help us do it better. With more fun, less stress and more structure! 
Setting goals with the Purpuz planner
We think that setting goals is really important. We always talk about what we want to accomplish. We started small. We just wanted to start a website and write about the actors we met. Show our passion for movies/ series. But our website and social channels started to grow. We got to know so many awesome people. Started doing interviews, attended even more comic cons! We started setting goals. I won't call them dreams, I see them as goals :). I really believe we can accomplish our goals just by focusing on it. It gives you a direction and you know where to focus on. Now, the Purpuz planner will help us to structure our goals. 
There's just one thing.. We are both quite chaotic! And we want it all! So our Conmose life is always busy and everything is a priority. Meanwhile, we keep on growing and we need a bit more structure! Our goals are getting bigger too. And we need to stay focused. That's where the Purpuz planner comes in. It really helped us to define our goals, define what we need and the steps we need to take. Now everything is more clear. It really made us think and choose. That was really hard. Prioritize and decide where to focus on. But at the same time: It feels good to define what's important to you. And to have a clear vision on how to reach it.  
It's the first time we have such a clear plan for Conmose with the Purpuz planner!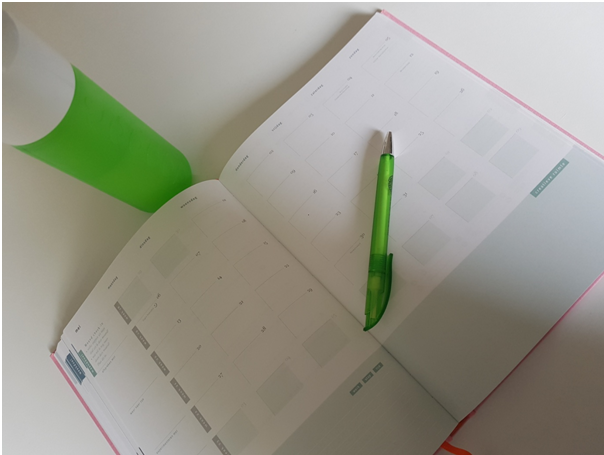 Planning with the Purpuz planner
Now it's almost 2019 and we're ready! Next week, Liv and I will have our final Conmose meeting for 2018. We'll recap our plans, and talk about planning all the activities we want to do. And of course get them into the Purpuz planner. Usually, we do everything 'on the go'. We like to be spontaneous so we usually at most discuss what we want to post that week. 
On the other hand: With busy schedules, not planning can weigh pretty hard. Sometimes we really need to rush to make sure we have everything in place.  I am looking forward a lot to plan with the Purpuz planner in 2019! The agenda in the planner is so clear and there's so much space for appointments, remarks, priorities. I love that. It will trigger me to really write everything down in the planner. You can even write down your daily growth and victories. I'm definitely going to do that. That's so motivating. I also love the weekly quotes and check-ins. The first week of the year says: Who reaches his goals in balance, is happy and successful. The weekly check in says: "which steps will I take this week towards my goal?" and "What else do I want to do this week? Plan it in". 
I'm really curious how and how often I will use the Purpuz planner as from 2019. I can not wait and will keep you updated! 
Ready to start planning & setting goals in 2019 as well? Check out their website!