Since we write a lot about comic cons, we decided to give you some more insight in details of our comic con visits! We'll show you more of the places we stayed, the places we ate and all our other adventures. Today we kick off by showing you the hotel we stayed in during Bloody Night Con Brussels 2017: Park In by Radisson.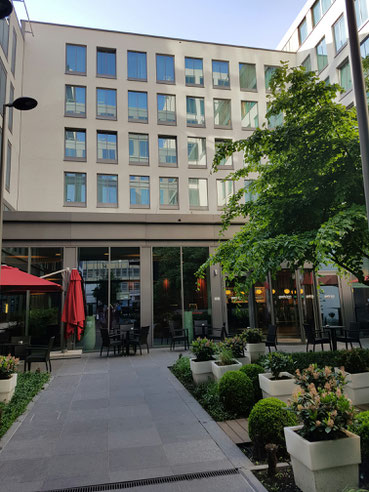 The Hotel
We were going to Brussels for Bloody Night Con 2017. BNC is a series convention with guests from the Vampire Diaries and the Originals. We met Paul Wesley (Stefan Salvatore), Riley Voelkel (Freya Mikaelson), Charles Michael Davis (Marcel Gerard), Kat Graham (Bonnie Bennett), Michael Malarkey (Enzo St John) and Nathaniel Buzolic (Kol Mikaelson). Since the convention took place on both Saturday and Sunday we needed a hotel! Liv did some research and proposed the Park Inn by Radisson. 
The hotel is located across the train station of Brussels Midi. This was excellent for us. We parked our car close to the train station so it was a short walk for us. Besides that, Bloody Night Con took place in the Egg in Brussels. This was a 10-minute walk for us. Perfect!
The hotel has wifi (Yesss!!) and a 2 reception desk. This was very handy for us. After the event, we walked into the city of Brussels to eat something. But it was very busy in Brussels (It was also the day of the Belgian pride). We arrived quite late at the hotel. We didn't have to wait: They helped us immediately. Everything went fine and was very clear.  
The rooms
I LOVED the rooms of the Park Inn by Radisson in Brussels. We had a room on the sixth floor. The room was great. I mean it when I say that this was the best room we had when going to a comic con. The room was very spacious. There were electric beds. And a lovely light surrounded the bed where you could choose the color yourself. Loved that! It was very clean. I slept very very well (Like a rock!). And I was impressed that they had Dove in their bathroom. In the bathroom was a shower and toilet. The shower worked perfectly. It was easy to adjust the heat and it was also very spacious. The room also had a desk, nice chairs and the possibility to make some coffee and tea. Well, just check out the photos yourself: We loved it! 
Our final thoughts on Park In by Radisson
We really loved our stay! What we loved the most: 
- The spacious rooms
- Everything was very clean
- Electric beds & the light above the bed
- Possibility to make coffee and tea
- Stable wifi
- Good bed to sleep on
- Spacious shower
We do recommend this hotel and would love to stay here again when we're in Brussels!