Tristan and I went to F.A.C.T.S. last weekend and it was great. They had an amazing guestlist for their 25th anniversary edition and one of the guests was the Canadian actress Cobie Smulders. Cobie is mostly known for her role as Robin Scherbatsky in the sit-com "How I Met Your Mother" (which ran for 9 seasons), but she also plays the role of agent Maria Hill in the Marvel Cinematic Universe movies, like: "The Avengers", "Captain America: The Winter Soldier" and "The Avengers: Age of Ultron". She will most probably reprise this role in the upcoming movie "The Avengers: Infinity War". On Saturday I met her when I went for an autograph and I will write about meeting Cobie very soon, but today we are focusing on her panels (Q&A's). I visited her panel on both days and they were so much fun. 
Saturday panel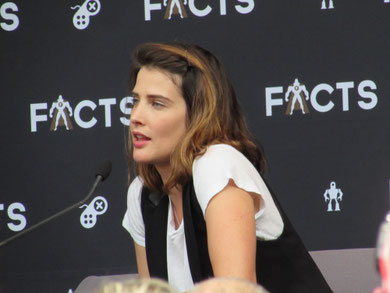 I was looking forward to this panel a lot. I love "How I Met Your Mother" and I also love the Marvel movies. So hey what could go wrong. The only thing that could happen was that Cobie Smulders turned out to be not nice, but this was certainly not the case. I immediately noticed that she was very spontaneous, funny and she seemed to have a lot of fun in being there. She was very interactive with the audience and it al seemed very genuine. Cobie talked about her father being Dutch and how she visited Belgium and The Netherlands when she was young. The only Dutch word she knows is "hagelslag" (which are chocolate sprinkles you put on your bread).  Of course Cobie talked about her time on "How I Met Your Mother", but she also talked about "The Avengers" and "Friends from College". During the panel it was very warm in the panel room, because of the glass ceiling. At one point Cobie asked if we were hot, because the sun was all over the room. She genuinely seemed to care about the well being of the audience. I recorded a big part of the panel and you can watch it below.
Sunday Panel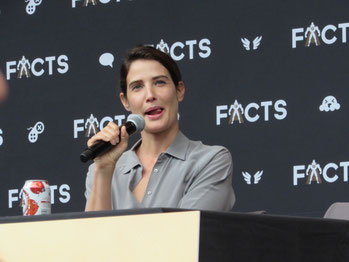 I watched most of the panels on Saturday and upmfront I had not planned to do paneles twice. However, Cobie Smulders'panel on the Saturday was so much fun, that I decided to go to the Sunday panel too. And she was great again! I had a place on the second row for this, so I was really close to the action. Of course there were a lot of questions about "HIMYM"and "The Avengers" again. There seemed to be a lot of people, who enjoyed the Saturday panel as much as I did, because there were a lot of familiar faces. At one point a girl got the microphone to ask a question, but she said she only wanted to tell Cobie how uch she enjoyed being at her panel. She said she had done a lot of panels and how she thought it was great how funny, spontaneous and open Cobie was towards her fans and I couldn't agree more. I also recorded a ig part of this panel, so if you can't get enough of Cobie, watch it below. I truly recommend you watching it, because it is just so funny.