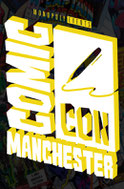 Upcoming weekend (29 & 30 July), Monopoly Events will be in Manchester for Manchester Comic Con 2023! We were there last year and this year, Liv will be back for one day (Sunday). As always, the guestlist for this event is amazing and in our first article about Comic Con Manchester, we already talked about the nine (!) "The Walking Dead" guests, that will be making an appearance in the BEC Arena. Now we are going to talk about some of the other guests on the list... Unfortunately there have been some cancellations in the last few days, but not to worry there are more than enough great actors and actresses coming to Manchester. Let's get it started!
Jessie T. Usher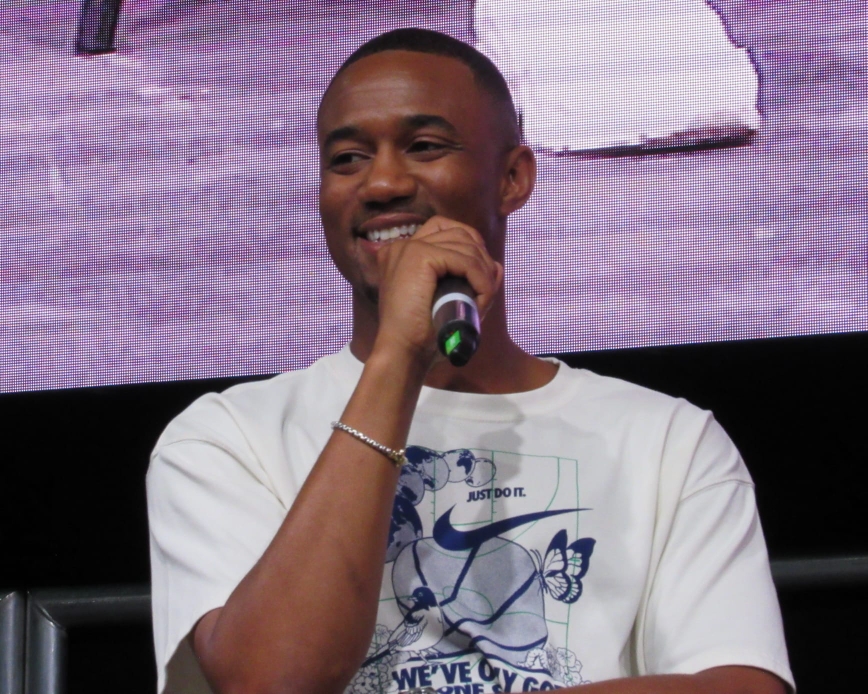 Can't stop the A-Train baby! Yes, that's right: the man behind the A-Train in "The Boys" is coming to Manchester next weekend! 
Jessie T. Usher jr. was born on February 29, 1992, which means he was born in a leap year. Jessie was born in Silver Spring, Maryland (U.S.) as the son of Jessie T. and Judith Usher. Born in a leap year, he was born to take big leaps on his way to the top. At the age of 2, he already learned to write and read. And throughout his academic career, he always was at the top of his class.  Jessie knew he wanted to become an actor from a young age. His love for acting was inspired by his older sister Jesstia, when she landed a lead role in a commercial. His parents encouraged him to pursue his wish to become an actor and in 2003 the family moved to Los Angeles, California. Jessie landed his first professional acting job in 2005, when he had a guest role in the TV show "Without a Trace" (as Malcolm). In the meantime, Jessie was still in High School and graduated with honors (as the class salutatorian) at the age of 15 (2007). He went on studying culinary arts in community college as a member of the Alpha Gamma Sigma Honorary Society.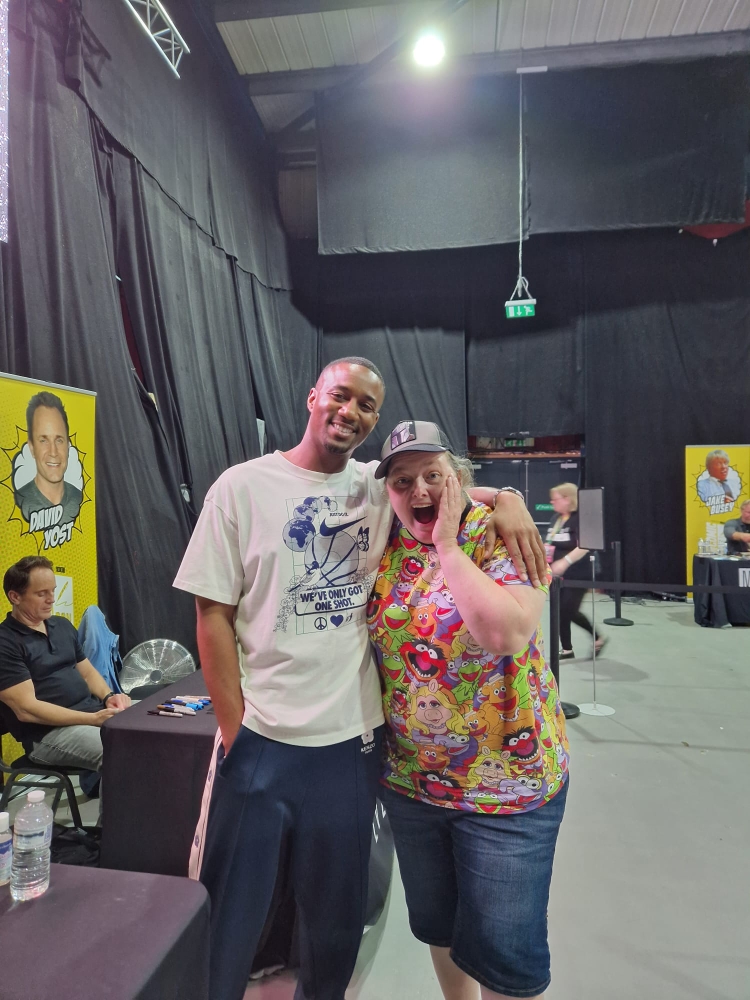 Over the first years of his career, Jessie played a lot of guest roles in TV shows and in 2011, he got a starring role as Lyle in the Cartoon Network movie "Level Up". Th film later turned into a movie and Jessie reprised his role as Lyle in 31 episodes over two seasons of the show (from 2012-2013). In 2014, he stars in the sports movie "When The Game Stands Tall", which is based on the true story of legendary football coach Bob Ladouceur (played by Jim Caviezel). Also in 2014, he lands the leading role as Cam Calloway in the TV series "Survivor's Remorse", produced by NBA star Lebron James. The show ram for 4 season from 2014 until 2017. In 2016, Jessie plays the role of Dylan Hiller in "Independence Day: Resurgence". In 2019, he lands the role of JJ Shaft in the movie "Shaft". 2019 is also the year of his big break when he lands the role of A-Train in "The Boys". The show is now renewed for a fourth season. In 2022, Jessie played the role of Trevor in the horror movie "Smile".
Jessie T. Usher will be a guest at Comic Con Manchester on both days...
Prices:
Autograph: £52.50 (about €61)
Photo op: £52.50 (about €61)
Times:
Q&A: Sunday 12:15-13:15
Photo op: t.b.a.
* Please note that appearances, prices and times are subject to change.
Seth Green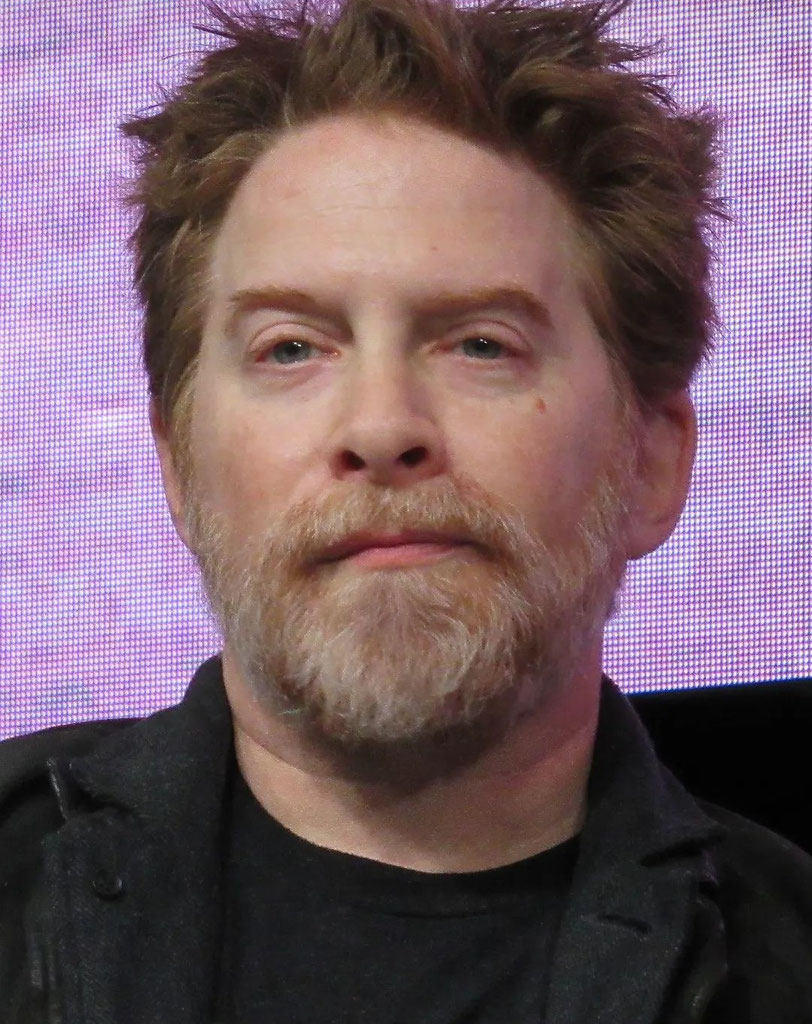 You might know him as young Richie Tozier in the original "It", you might know him as Oz in "Buffy The Vampire Slayer", you might know him as Scott Evil in the "Austin Powers" franchise or you might know him as the voice of Chris Griffin in "Family Guy". This guy has been on our screens since the 80s and he is coming to BEC Arena in Manchester. His name is Seth Green and excited is an understatement.
Seth Benjamin Gesshel-Green was born on 8 February 1974 in Philadelphia, Pennsylvania as the son of Barbara (an artist) and Herbert Green (a teacher). Seth is raised Jewish, but later on in his life, he converted to Atheism. He has one sister, named Keala. Ever since he was a young boy, Seth realised he wanted to become an actor and having a casting director as an uncle was very helpful for young Seth. At the age of 6/7, he was already working in commercials for Kodak and Burger King. His movie career started in 1984, with a co-starring role in the move "The Hotel New Hampshire" alongside Jodie Foster and Rob Lowe. When he was just twelve years old, he went to a Woody Allen audition. He got a date to start working and had no idea what it was. It turned out to be a main role (Joe) in the movie "Radio Days" (1987).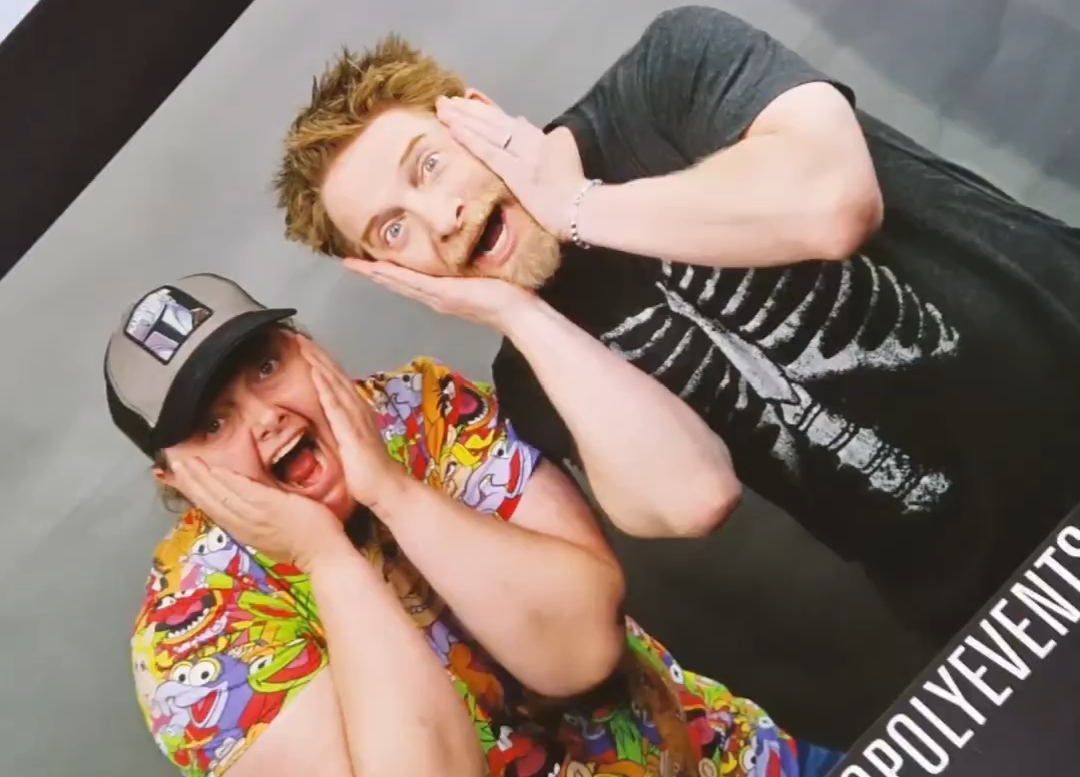 Also in 1987, he was Chuckie Miller in "Can't Buy Me Love" and in 1988 he played Fred Glass in  "My Stepmother Is an Alien". Also in 1988, Seth played Jason in the Bette Midler movie "Big Business". In 1990, Seth played Joey in "Pump Up the Volume" and he also played young Richie Tozier in Stephen King's "It". During the early and mid 90s, Seth had numerous (guest) roles in TV show and movies. In 1997, he joins the cast of "Buffy The Vampire Slayer" for season 2 of the TV show based on the 1992 movie with the same name (in which Seth had a small role as a vampire). He played the role of werewolf Oz in 40 episodes from 1997 until 2000. Also in 1997, he portrays Scott Evil for the first time in the comedy movie "Austin Powers: International Man of Mystery". He reprised this role in the two sequels: "Austin Powers: The Spy Who Shagged Me" (1999) and "Austin Powers in  Goldmember (2002). These movies starred Mike Myers in the role of Austin Powers, Dr. Evil and some mire roles. Myers was also the director of the movies and one of his directives to Green was: "improvise and try not to laugh". The movies became a huge success and Scott even got his own action figure. Seth (a huge action figure fanatic) even helped with the development.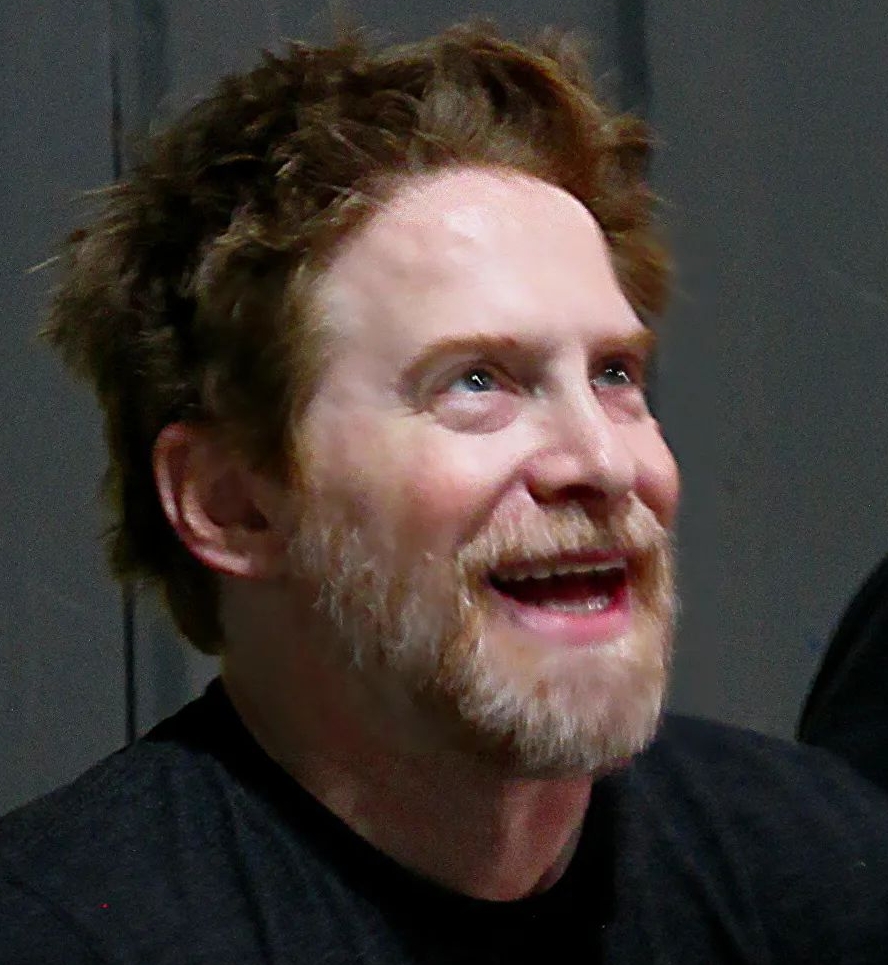 In 2001, Seth plays the role of Duane Cody in one of my feelgood movies "Rat Race" (It's a race!). It's around 2000, Seth starts doing more voice work in movies and series. Over the last 20 years he has been doing a lot of projects and I am going to try and highlight some of them (check out Seth Green's IMDb page for all). In 1999, he lends his voice to Chris Griffin in the new animation series "Family Guy". This was the beginning of an era, because at this moment (more than 20 years and 408 episodes later), he is still the voice of Chris in "Family Guy" , which continues to be immensely popular. From 2001 and 2022, he has been the creator and star of the stop motion show "Robot Chicken". He played Lyle in the 2003 movie "The Italian Job". He also played a guest role as Mitch Miller in 5 episodes of "That 70s Show". He plays Craig in Disney's "Old Dogs", alongside Robin Williams and John Travolta in 2007. He played Eli Sachs in the TV show "Dads" in 2013-2014. He is the voice of Howard The Duck in the "Guardians of the Galaxy" movies. From 2013 until 2015 he voiced A-Bomb in "Hulk and the Agents of S.M.A.S.H.". He voiced Lumpy in "Krampus" (2015). From 2014 until 2017, he voiced Leonardo in "Teenage Mutant Ninja Turtles". In 2020-2021, Seth voiced Blinkerquartz in "Crossing Swords" and in 2022 he voiced Thunderbolt in "Stargirl". The list goes on and on. Seth Green has been filling our screens for 30 years now and we haven't seen (and heard) the last of him yet!
Seth Green will be a guest at Comic Con Manchester on both days...
Prices:
Autograph: £68.25 (about €79)
Photo op: £68.25 (about €79)
Selfie: £52,50 (about €61)
Times:
Q&A: Sunday 14:00-15:00
Photo op: t.b.a.
* Please note that appearances, prices and times are subject to change.
Zachary Levi
In 2019, DC's "Shazam!" hit the cinemas! A little boy in the grown man's body is always a good concept for a nice storyline (do you remember "Big" with Tom Hanks?). Well now, add some superpowers to the mix and you,ve got Billy Batson/Shazam. Earlier this year, the second installment of this superhero movie named "Shazam! Fury of The Gods" came out. The role of Shazam is played by Zachary Levi and guess what? He is coming to Manchester next week! Unfortunately, he is only there on Saturday, so I won't be able to catch him. But no worries, we already saw his panel at CCXP Cologne in 2019, so we did already see him once!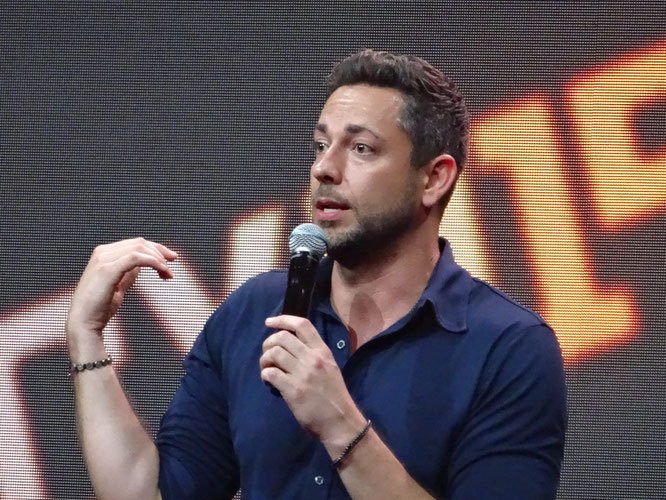 Zachary Levi Pugh was born on September 29, 1980 in Lake Charles, Louisiana (U.S.). During his childhood Zachary's and his family moved around a lot and this took a lot of adaptation to changes. At the age of six, he began acting, singing and dancing in school productions and also in local theater. Because of all this moving around Zachary had difficulty to put down his roots in a place and get a feeling of home. Because of this, Zachary dealt with a lot of anxiety throughout his childhood and his life really. Eventually (after moving through several states), the family ended up in Ventura County, California. The family stayed there, so Zachary could stay in one high school until graduation. It was in Ventura, that he attended Buena High School for four years. After his graduation from Buena,  Zachary moved to Los Angeles to pursue an acting career. He acted in productions, like""Grease", "The Outsiders", "Oklahoma! and "Oliver "at the Ojaj Art Centre in Ojaj, California. His portrayal of Jesus in "Godspell", was the performance that drew the attention of Hollywood. He made his first appearance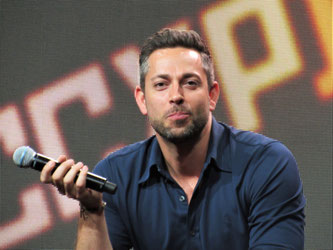 in the television movie: "Big Shot: Confessions of a Campus Bookie" (2002). A year later (2003), he portrayed the role of Grant in "See Jane Date" with Charisma Carpenter. In the following years he played some guest roles in television shows. From 2002 until 2006, he had a steady job, with the role of Kipp Steadman in "Less than Perfect" (he played this role for 81 episodes). In 2007, Zachary got his big break when he landed the title role in the TV show "Chuck". Zachary played the role of "computer nerd gone special agent" Chuck Bartowski for 5 seasons (91 episodes)  from 2007 until 2012. In 2010, he voiced Flynn Rider in Disney's "Tangled". Originally, he was asked to portray the role of Fandrel in "Thor". Unfortunately, he had to cancel because of conflicting schedules while working on "Chuck". But Levi did play the role in the sequels "Thor: The Dark World" (2013) and "Thor Ragnarok"(2017). Also in 2013, Zachary made his Broadway debut in "First Date". In 2015, he was cast as a a lead member of the cast for "Heroes Reborn" (a mini-serie about ordinary people, who discover that they have special abilities). Unfortunately the show was cancelled after the first season. In the years that followed, he steadily kept on playing roles on both big and small screen (and also on stage). From 2017 until 2020, he voiced Eugene/Flynn Rider in the TV series of "Tangled". He played in the Broadway revival of "She Loves Me", played the role of Benjamin in the critically acclaimed "The Marvelous Mrs. Maisel" and eventually got the role of Shazam in the 2019 superhero comedy of the same name. In 2021, Zachary played the role of Neil Buckland in the movie "The Mauritanian". In 2023, he reprised the role as Billy Batson/Shazam in the sequel "Shazam! Fury of the Gods".  Besides acting, Levi is also a musician. 
Fun Fact: he sang a duet with Mandy Moore on the soundtrack of "Tangled" (they even performed on the 83rd Academy Awards ceremony. 
Zachary will be a guest at Comic Con Manchester on Saturday.
Prices:
Autograph: £115.50 (about €134)
Photo op: £105 (about €121,25)
Times:
Q&A: Saturday 15:00-16:00
Photo op: t.b.a.
* Please note that appearances, prices and times are subject to change.
That's still not all there is on the guest front. For more information about the guests of Comic Con Manchester, check out their website.