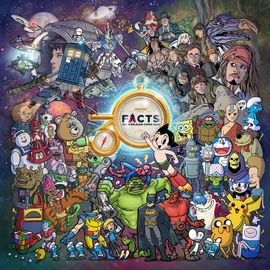 "Excited is an understatement!"
This weekend it's time to party, because the FACTS mothership will be docking in Ghent (Belgium) again. 2023 is an anniversary year for FACTS Ghent, because 30 years ago the first edition of the convention took place in Café 't Tonneke in Ghent. Last week we already wrote about James McAvoy, who will be attending FACTS upcoming Saturday. Of course, James McAvoy is not the only guest to be attending FACTS. In this article, we are going to tell you about the other movie and TV guests that are announced for this upcoming weekend. So please ... sit back, relax and enjoy!
Stephen Amell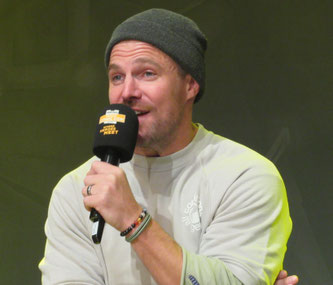 Attention to all DC fans! The man behind The Green Arrow is coming to Flanders Expo for the anniversary edition of FACTS and his name is Stephen Amell. Last year, we met Stephen at Heroes Dutch Comic Con Winter Edition and that was such an awesome weekend. We are both big fans of the TV show "Arrow" and Liv is also fan of "Heels", a TV show about show wrestling, starring Stephen Amell and Alexander Ludwig.
Stephen Adam Amell was born on 8 May ,1981 in Toronto, Ontario (Canada). His parents are Thomas J. and Anne Amell. Stephen grew up in Toronto and from a young age he had a big interest in sports. During his youth, Stephen was an avid supporter of local sports teams like: the Toronto Raptors (basketball), the Toronto Maple Leafs (ice hockey) and the Toronto Blue Jays (baseball). He attended the all boys private independent school, St. Andrew's College in Aurora (Ontario), Stephen graduated in 2000 and it was during his teen years at this college, that he decided he wanted to pursue a career in acting.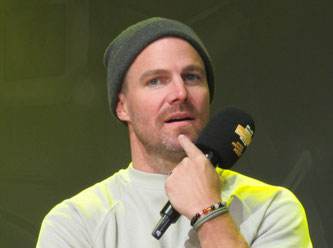 Stephen made his first appearances on Canadian television in 2004, with minor roles in: "Queer as Folk" (as a spinning instructor)  and "Degrassi: The Next Generation" (as a doorman). Fun Fact: While Amell played the spinning instructor on "Queer as Folk", he actually had a side job as spinning instructor to pay the bills. In 2005, he played the role of Jason in five episodes of the romantic drama "Beautiful People". Besides this, he also played the role of David in the first season of "Dante's Cove" (unfortunately he got replaced in the second season). From 2006 to 2008, Stephen played a recurring role (as Billy) in the Canadian sports comedy "Rent-A-Goalie". Stephen won a Gemini Award in 2007, for his guest role as Craig Riddlemeyer in the sci-fi show "ReGenesis'. In the years that followed, Stephen appeared in multiple TV shows, like: 'Da Kink in My Hair" (2007-2009, as Matthew) and "Heartland" (2007-2010, as Nick Harwell). In 2010, he moved to Los Angeles, to try and make it in Hollywood. His first job in America, was a role sitting in the audience of "Jimmy Kimmel Live". During the show, he got a call from his agent about a previous audition and immediately he got a reprimand from the security guard. He snuck out during the musical break of the show and his manager told him he got a role in one episode of "CSI: Miami" as Peter Truitt. He told this story to Jimmy Kimmel, during his first appearance as a guest on the show in 2015.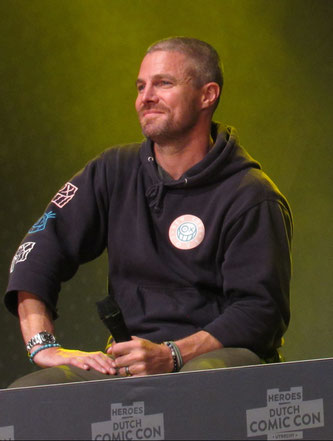 In 2011, Stephen starts to make a name for himself in Hollywood with multiple bigger roles. He joins the cast of popular TV show "The Vampire Diaries" as werewolf Brady and plays the role of Jason in 10 episodes of comedy "Hung". Also in 2011, he starred as real life Dutch criminal Joran van der Sloot in the TV Movie "Justice for Natalee Holloway" (based on true events). Stephen was also announced for the recurring role of Scott Becker in the upcoming season (2012, season 5) of "Private Practice". Early 2012, Stephen was announced to be cast as Oliver Queen/Green Arrow on the upcoming CW superhero show "Arrow", which is based on the DC Comic books. In the years that followed, the Arrowverse was created and this led to Stephen also appearing as Oliver Queen/Green Arrow in other shows within the universe of "Arrow", like: "The Flash", "Legends of Tomorrow", "Vixen", "Supergirl" and "Batwoman". During his time on this Arrowverse, he also played some other roles like Casey Jones in "Teenage Mutant Ninja Turtles: Out of the Shadows" (2016) and he also played Garrett in "Code 8" (2019). In 2020, Stephen says goodbye to the role that made him rise to prominence after a total of 8 seasons. In 2021, he combines his love for acting and his love for show wrestling (Stephen first stepped in the wrestling ring in 2015 during WWE's Summer Slam), when he takes on the role of Jack Spade in the Starz show "Heels" about the rivalry between two brothers ... no I'm gonna stop here, just check it out! The show just finished its second season last month.
Stephen Amell will be a guest at FACTS Fall edition on both Saturday and Sunday.
Prices:
Autograph: €60
Selfie €70
Combo autograph and selfie: €120
Photo op: €70
Meet & Greet: €200
Times:
Photo op: 
Saturday: 12.15-13.15 (Photo booth 1)
Sunday: 14.00-15.00 (Photo booth 1)
Q&A:
Saturday: 15.30-16.00
Sunday: 11.00 -11.30
Meet&Greet: 
Sunday only: 12.30-13.00
Kevin McNally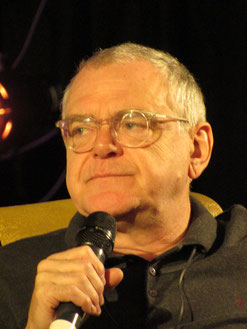 Yoho yoho a pirate's life for me! Drink up your rum and head over to Flanders Expo this weekend. This amazing actor is mostly known for his role as Mr. Gibbs in the "Pirates of the Caribbean franchise, but that is certainly not all he did. British actor Kevin McNally is a guest at FACTS this weekend.
Kevin Robert McNally was born on April 27, 1956 in Bristol, England (UK) as the son of Robert Gerard McNally and Margaret June McNally (née Sperring). Although born in Bristol, McNally grew up in Birmingham. He went to Redhill Junior School and Mapledene primary school, before attending Central Grammar School for Boys in Tile Cross. McNally had his first professional acting role at the age of 16 at the Birmingham Repertory Theatre. In 1973, Kevin got a scholarship to attend the Royal Academy of Dramatic Art in London. Two years later he won the Best Actor Bancroft Gold Medal for his performance on stage.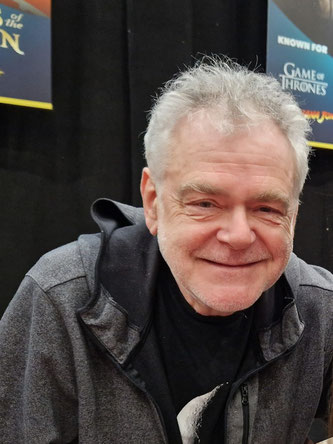 In 1976, McNally appeared in 4 episodes of  BBC's "I, Claudius" as Castor and in 1977 he played the role of Drake Carne in 13 episodes of "Poldark". Over the 25 years that followed, Kevin made a name for himself in the TV and movie business, with roles like: "The Devil's Crown" (1978), "The Long Good Friday"(1980), "Doctor Who" (1984, as Hugo Lang), "Cry Freedom" (1987, as Ken), "Sliding Doors" (1998, as Paul) and "Entrapment" (1999, as Haas). McNally had been trying to get a bigger role in American movies for many years, when he got the audition for "Pirates of the Caribbean: The Curse of the Black Pearl" in 2002-2003. At first he skipped the audition, because he was enjoying some birthday drinks in his backyard and he was kind of fed up with being turned down for roles in American productions. Eventually, he did get the role of Mr. Gibbs and this was the moment of his ultimate breakthrough. "Curse of the Black Pearl" was an enormous success and the movie got four sequels with: "Pirates of the Caribbean: Dead Man's Chest" (2006), "Pirates of the Caribbean: At World's End" (2007), "Pirates of the Caribbean: On Stranger Tides" (2011) and "Pirates of the Caribbean: Salazar's Revenge" (2017). McNally played the role of Mr. Gibbs in all five of the movies. His part in the first "Pirates", paved the way for his breakthrough in Hollywood and many roles followed. In the two decades that followed, Kevin did a lot of movies and TV shows. We wont name them all, but some of the highlights are: "De-Lovely" (2004, as Gerald Murphy), "Valkyrie" (2008, as Dr. Carl Goerdeler), "The Raven" (2012, as Maddux), "TURN" (2014-2017, as Judge Richard Woodhull), "Legend" (2015, as Harold Wilson), "Designated Survivor" (2015-2016, as Cochrane), "Das Boot" (2018-2020, as Greenwood Senior), "The Crown" (2020, as Bernard Ingham), "Doctor Who" (2021, as Jericho) and "The Wingfeather Saga" (2022-2023) as Podo.  In 2022, McNally brought out his sci-fi novel "Sons of Sol". We already met Kevin McNally multiple times and he is very nice and also very funny!
Kevin McNally will be a guest at FACTS Fall edition on both Saturday and Sunday.
Prices:
Autograph: €35
Selfie €25
Combo autograph and selfie: €50
Photo op: €40
Times:
Photo op: 
Saturday: 14.45-15.45 (Photo booth 2)
Sunday: 11.45-12.45 (Photo booth 2)
Q&A:
Saturday: 16.15-16.45 
Sunday: 14.15-14.45
Mark Williams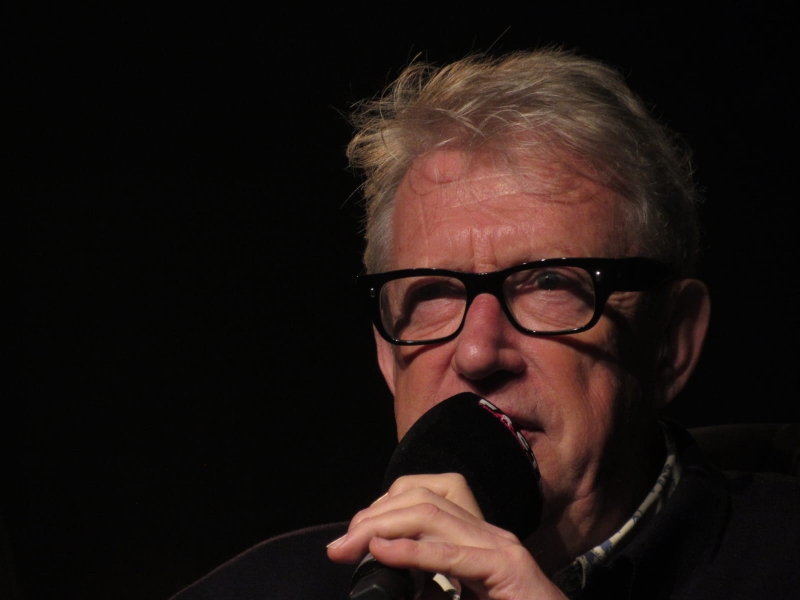 Accio Father Brown! Oh yes, the legendary actor Mark Williams is coming to Belgium. Of course, Mark is known for his role as Arthur Weasley in the "Harry Potter" franchise, but he is also known for his role as the smart crime solving priest in "Father Brown". It's shaping up to become a magical weekend!
Mark Williams was born on August 22nd, 1959 in Bromsgrove, Worcestershire, England. Mark was born into a working class family and his parents were among the first generation to be educated after World War II. Mark's parents met at art college and his mother was a very talented artist. Eventually she ended up as a librarian, while his father went on to become an architectural technician. Mark was educated at North Bromsgrove High School and he knew he wanted to become an actor from a young age. Mark acted in plays at school and when he was on stage for the first time (he was the jester in 'The Reluctant Ogre'), it was a liberating experience for him. In later interviews he stated that he was no good at sports or math, but on stage he knew what to do. Besides acting, Mark had another big passion in history. Mark grew up surrounded by industry and he has a passion for the industrial history. At the age of 13, he won the school's history award and as a prize he requested a copy of R.A. Buchanan's Industrial Archeology. Later on in his career, Mark got to make some documentaries for the BBC, about the history of industry.
After North Bromsgrove High School, Mark went on to study English Language and Literature at Brasenose College in Oxford. During his time in this college he worked and toured with the Oxford Union Dramatic Society. When he left Oxford, he joined a fringe theatre called The Fools and later on he joined the Mikron Theatre Company in 1983, where he got his equity card. As a  theatre actor, Mark made a career with the Royal Shakespeare Theatre and the Royal National Theatre.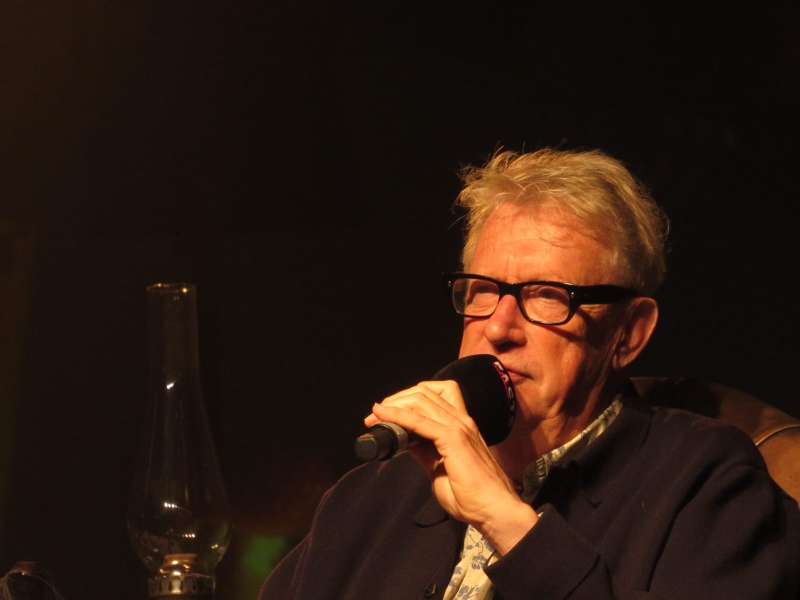 In the mid 80's, Mark made his transition to movie and TV. He had already made his film debut in 1982 in the Oxford University Film Foundation's production "Privileged" as Wilf. Hugh Grant also made his debut in this movie. Mark came to wider public attention with his roles in two British comedy sketch shows. In 1988/89 he was amember of the cast of "ALexei Sayle's Stuff" and from 1994 until 2000 he played multiple parts in "The Fast Show". During the 90s Mark made a name for himself starring in movies and TV shows, like: "Kinsey" (1992, as Danny), "The Smell of Reeves and Mortimer" (1993-1995, as Don Powell from Slade), "101 Dalmatians" (1996, as Horace), "Shakespeare in Love" (1998, as Wabash) and much more. His breakthrough came in 2002, when he joined the cast for "Harry Potter and The Chamber of Secrets" (the second movie of the franchise). Mark got the role of Arthur Weasley, Ron's dad. Before he got the role, he had read one of the books and he became interested in the story. He called his agent and informed about the possibilities to do the talking books. When he found out that Stephen Fry was already doing this, he got interested in playing the role of Arthur. He went to a casting meeting with director Chris Columbus and producer David Heyman. After a while, Columbus addressed the other people in the room and said that "he (Mark) looked like he was old enough to play Julie Walters' (who plays Molly Weasley) husband". This was the moment that Mark realised he got it and the beginning of a magical journey. Mark reprised the role in the rest of the movies in the franchise, being: "Harry Potter and The Prisoner of Azkaban" (2003), "Harry Potter and The Goblet of Fire" (2005), "Harry Potter and The Order of the Phoenix" (2007), "Harry Potter and the Half-Blood Prince" (2009), "Harry Potter and The Deathly Hallows - Part One" (2010) and "Harry Potter and The Deathly Hallows - Part 2" (2011).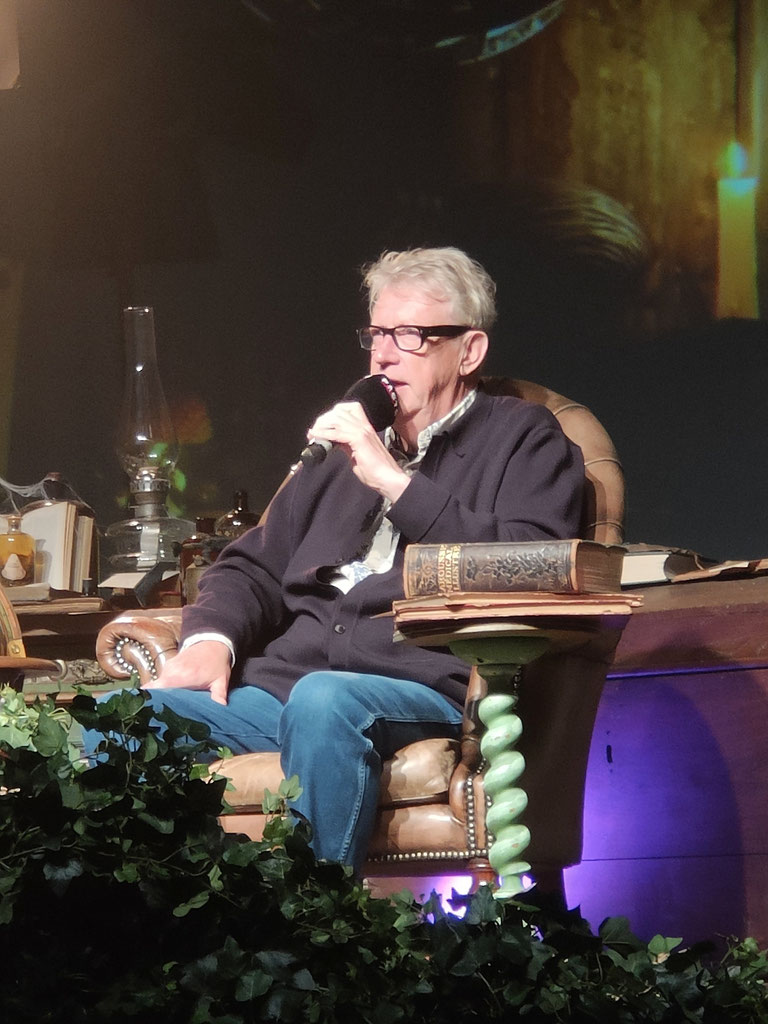 During his years in the Harry Potter movies, Williams did not sit still and he played roles in various movies and TV shows, like: "The Fast Show Farewell Tour" (2003), "The Rotters' Club" (2005, as Sam Chase), "A Cock and Bull Story" (2005, as Ingoldsby), "Viva Blackpool" (2006, as Tommy Vesty), "Stardust" (2007, as Billy), "Sense and Sensibility" (2008, as Sir John Middleton), "The Indian Doctor" (2010, as Richard Sharpe) and more. In 2012, he had a two episode role as Brian Williams in "Doctor Who". In 2013, Williams got another big role as the titular character in the British detective show "Father Brown". The series is loosely based on the short stories by G.K. Chesterton. Over the last decade he put on the cassock and hat of Father Brown in 110 episodes (and counting). Williams recalled he was speechless when they offered him the role. He was already familiar with the character, because he read the short stories. Of course, Mark did a lot of other projects over the last 10 years and if you want to know more about these projects, check out his IMDb page.
Mark Williams will be a guest at FACTS Fall edition on both Saturday and Sunday.
Prices:
Autograph: €25
Selfie €35
Combo autograph and selfie: €50
Photo op: €35
Times:
Photo op: 
Saturday: 13.30-14.30 (Photo booth 2)
Sunday: 12.15-13.15 (Photo booth 1)
Q&A:
Saturday: 11.45-12.15 
Sunday: 15.00-15.30
Charisma Carpenter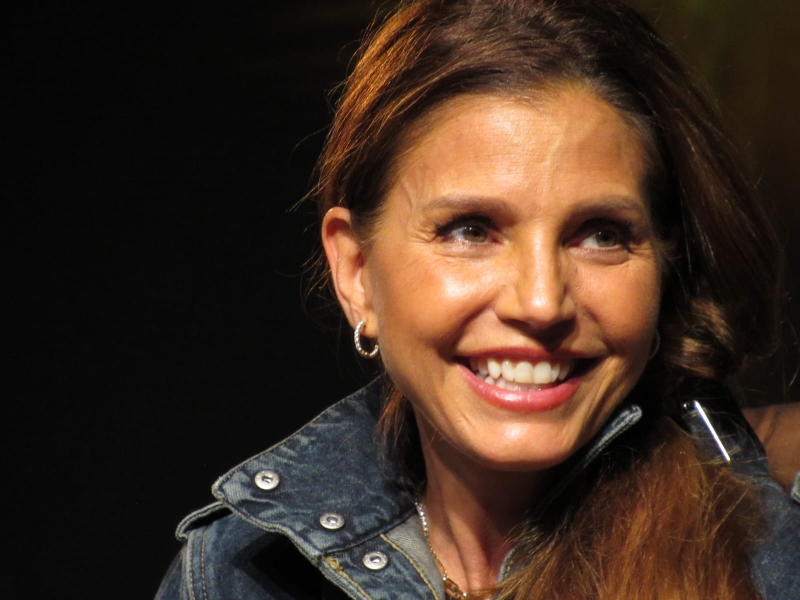 Any fans of "Buffy The Vampire Slayer"??? I am a fan of the show, so I am very excited that FACTS announced Charisma Carpenter as a guest for this weekend. Charisma is mostly known for her role as Cordelia Chase in "Buffy The Vampire Slayer" and its spin-off "Angel".
Charisma Lee Carpenter was born in Las Vegas Nevada (U.S.) on July 23, 1970. Her mother Christine, worked in a bird sanctuary and her father Don, was a salesman. Charisma was named after a perfume and she hated her first name when she was a kid. Entertaining is in her blood, because she already was apart of a sing and dance group when she was only nine years old. She attended Bishop Gorman High School in Las Vegas and when Charisa was 15 years old, the Carpenter family moved to Rosarito Beach in Baja California, Mexico. Later they moved back to the US and settled in Chula Vista, San Diego. While going to school in San Diego, Charisma still had a things for the performing arts and she attended the Chula Vista school of Performing Arts. After her graduation, Charisma needed some time off and travelled to and around Europe. When she got back to San Diego, she needed to make ends meet and had a couple of jobs (for example as a video store clerk and as an aerobics instructor and also in property management). In 1991, Charisma worked as a cheerleader for the San Diego Chargers football team. Also in 1991, something terrible happened. While Charisma was swimming with two male friends, they were attacked at gunpoint by former police officer (and serial rapist) Henry Hubbard Jr. During the struggle that followed, Hubbard and Charisma's friends were shot and Hubbard fled the scene. Eventually he was arrested and sentenced to 56 years in prison. In 1992, she decided to move to Los Angeles...
In Los Angeles, Charisma started waiting tables, to try and earn some money for college. It was while she was doing this, that she was discovered by an agent. She started working in theatre productions and did more than 20 commercials. In 1994, Charisma made her TV debut as Wendie Sanders in an episode of "Baywatch". In 1996, she landed a lead role in the TV show "Malibu Shores". She played the role of Ashley Green in 10 episodes of the show. Also in 1996, Charisma auditioned for the role of Buffy Summers in the WB series "Buffy the Vampire Slayer". She did not get the role, but she was offered the role of Cordelia Chase instead. This turned out to be Charisma's big break and the show grew out to be a huge success. After three seasons of playing the snobby Cordelia on "Buffy", she got an even bigger role as Cordelia in the "Buffy" spin-off "Angel". Over the two decades that followed Charisma kept on working steadily and she starred in numerous movies and TV shows. Among later projects is her role as Lacy in the "The Expendables" franchise.  If you want to know more about her projects, check out her IMDb page. 
Charisma Carpenter will be a guest at FACTS Fall edition on both Saturday and Sunday.
Prices:
Autograph: €35
Selfie €40
Combo autograph and selfie: €65
Photo op: €35
Times:
Photo op: 
Saturday: 14.00-15.00 (Photo booth 1)
Sunday: 15.15-16.15 (Photo booth 1)
Q&A:
Saturday: 17.00-17.30 
Sunday: 11.45-12.15
Christopher Judge
Unfortunately Christopher Judge had to cancel due to illness
Jason Paige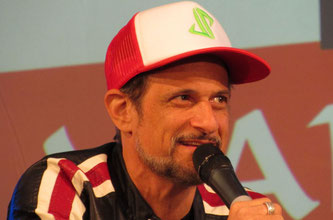 Besides these actors, Jason Paige will also be a guest at FACTS this weekend. You might know him as the singer of the Pokémon song. He is very vibrant and to attend one of his performances is an absolute highlight. He will be on stage three times dit weekend (two times on Saturday and one time on Sunday.
Of course you can also get an autograph or a selfie with Jason, just get over to the Elite Store booth in the Exhibitor Hall, you will also find the prices there.
Arnold Gelderman
This Dutch voice actor did the Dutch voices of numerous Disney characters, like:  Kaa in "Jungle Book", Lumière in "Beauty and The Beast" and Scar in "The Lion King". He will be on the main stage of FACTS on Sunday from 12.30 until 13.00, to answer all of your questions.
Of course we will also be at FACTS this weekend, but we can only go on Saturday (unfortunately). Will we see you there? Just shout whoop whoop and we will have a coffee together.