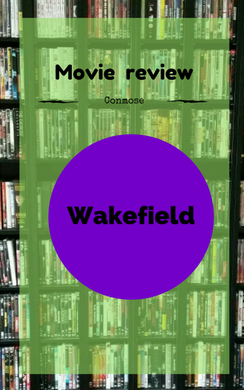 Just imagine: How would your family react if you'd go missing? Would they panic? Be desperate. Or actually quite fine?  One day Howard comes home from work. He sees an animal and chases it. They end up at the attic. There, he notices that he can see his kitchen from the window. He sees his wife and children. This view intrigues him. Being able to watch his family. Without being actually a part of it. He decides to stay just a little bit longer and watch. He sees his wife calling him. But he ignores the call. Eventually he falls asleep while watching his family.
As soon as he wakes up, he realizes he will have some explaining to do. But he still doesn't want to go back there. So he stays in the attic. Meanwhile his wife is getting worried. She realizes her husband hasn't come home this night. There's no way back. How will he explain this? He's just too curious to see how his family will behave. And he wants to break free from his life. He stays put. And watches their every move. His family thinks he's missing. But he actually never left them. He's just sitting there. 
What do you think your family would do? Would be able to watch them just like that? 
In the movie Wakefield you'll see how this works out for Howard! 
Lumiere
Sig and I watched this movie in Lumiere Maastricht. We were actually planning to go and see Goodfellas. It was Scorsese weeks at Lumiere and we went to see quite some Scorsese movies. But that night, we were mistaken: Goodfellas was playing on Saturday! Not on Thursday. So, we were just standing there ready to go to Goodfellas! But we looked at the screen and realized that we were mistaken. Immediately we decided to watch another movie. We were at the cinema already, so why not pick another movie? We checked out the movies on imdb and we both really liked the story of Wakefield. That was an easy decision! We were going to see Wakefield. 
Acting
When I read the plot, I thought it was very intriguing. It's creative and unusual. And I like that kind of movies. Howard, is played by Bryan Cranston. A lot of you might already know him from Breaking Bad, where he plays the role of main protagonist Walter White.  At first I was a bit scared that his role in Wakefield would be overshadowed by Breaking Bad. (I have seen a few seasons of Breaking Bad). But that wasn't the case. I wasn't to fond of Bryan in Breaking Bad'(sorry), but I was very impressed here! I love how he portrays Howard. The character is very all round and elaborated.. I love how the movie is mainly about him. You see everything from his point of view. And that makes it so unique. It's just his version of the story. And you just to know more and more. I also thought that Jennifer Garner was awesome as Howard's wife. 
The plot
I really love the idea of this story. How many people feel stuck in their lives? Or wonder how life would be if you'd just walk away. This movie just gives you a little sens of that. And it also makes you think. It's really a movie that will make you think about decisions and about being conscious of what your decisions. I like how you follow Howard throughout the whole process. You see him at work, leave for home. And gradually you see the change. You'll learn more about his reasons to do whatever he does. And it's so interesting to see. I won't get into it too much. I don't want to spoil anything. I really enjoyed watching the movie. Just watch the movie and find out more about Howard's journey!