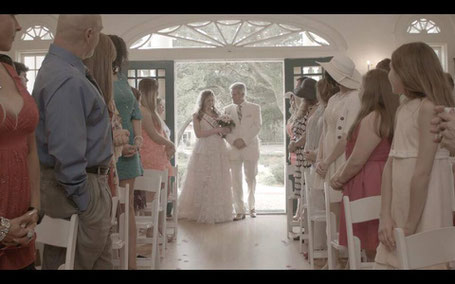 A while ago, a request landed in our mailbox! We were asked to review the movie Fighting Belle. We all took a look at the trailer and Liv and I decided we would watch the movie and write a review. Yes! We e are always happy when a request lands in our mailbox and we love to watch new movies. Of course we'll start by telling you a bit more about this movie! 
We would classify Fighting Belle as a romantic comedy. The movie is directed by Sean Riley. It stars:  Jessica Harthcock as Delilah, Sherri Eakin as Marney, Ryan Czerwonko as Kelvin and Noah Cook as Tandy. The movie was filmed in Mississippi , USA and the estimated budget for the movie was $15.000.
 Fighting Belle is about Delilah McIntosh and it's her big day! She bought a beautiful dress and is surrounded by friends an family. Delilah is going to marry the love of her life: the arrogant fighter Kelvin Wingfield. The future looks bright for her.. Delilah is a real girlie-girl. She won multiple beauty pageants and she is all about great makeup and having the best nails. 
But then..
She walks down the aisle. Everything looks perfect and Delilah says 'yes'. She looks so happy! Until her husband to be says the unspeakable: 'Actually, I've been doing some thinking'. Well, that is not what you want to hear when you're getting married! She wants to punch him in the face, but misses. Delilah is devastated. She decides to keep a low profile for a while. Her mother is constantly criticizing her and she takes a job, selling perfume, in a local boutique. After a very embarrassing visit from her former friends, she decides she wants revenge! After all, he humiliated her on her big day and he left her for her best friend! The best way to get revenge is to beat him in a fight, so Delilah pulls herself together and gets to a local gym to learn how to box. Up until this point, the movie has a good pace. I think it's a good thing that it doesn't move on too quickly. We see Delilah struggle and try to fight to pain. What does bother me is the sound. The sound isn't smooth and varies from loud to soft. Background music is in some cases way too loud and some songs stop abruptly. This did distract me from the movie. Exactly, I thought it was very difficult to follow the story due to the shaky sound. I think the sound in a movie is very important. I did, however, love the song choices. They are nice, but don't use their full potential right now. 
Boxing!
Delilah finds herself a trainer in Tandy. At first Tandy is a bit hesitant about the whole thing, but eventually he gives in and agrees to train her. Delilah is played by Jessica Harthcock. I like the way she portrays her. Though I have to say that I like 'fighting' Delilah way more. In the beginning, Delilah always wears her tiara and sash, even during her work (selling perfume) and training sessions. We both found this a bit strange and over the top. As soon as she really starts boxing I like her character better. And I also feel like Jessica is able to show her capabilities more. Delilah just gets more real and believable. And I was very happy to see that side. I totally agree I get that the movie tries to work with caricatures, but I think this is a bit too much.
Our favorite scene is the one where she's icing her eye and is talking to Tandy (Noah Cook), her trainer. That scene felt very genuine. As from there I think the story is good. It's a well thought out plot with the necessary ingredients for a romantic comedy. I also liked Caroline DeLatte as Abby, Tandy's little sister.
It's nice to Delilah get better at boxing. It's not just the boxing, but it's building a new life. Making new friends. All these elements are very well elaborated in this movie. And then there's also the big question: Will she beat her ex in a boxing match? Will Delilah get her revenge? And will she find love again? 
Fighting Belle
The sound in this movie was an issue for me. It was a distraction going from loud to soft and back. It's just too inconsistent. And the songs don't start or end fluently. I also found that there was too much focus on making Delilah look really girlie in the beginning of the movie. It could have been a bit more subtle and hr transition would still be clear. Mainly the tiara and 'Miss Mississipi' was too much for me. Further on the movie, that disappeared and I really started to like Delilah. I like the details in the story and how everything comes together. The way she makes friends during boxing and builds a new life. Learning the other girls how to use makeup. This was a nice way to let both worlds come together. Tandy is also a great character.
I agree with Carola on the sound issues. It really distracted me from the story and there were some parts of conversations that were really difficult to understand because of it. What I did like was the camerawork. The scenes were shot from multiple angles and that is always nice! For me, the best characters in the movie were Tandy and his little sister Abby. I thought these characters were very genuine and likable. 
 Are you already curious? Check out the official trailer below! Fighting Belle is now available for purchase and rental on Amazon. Just check it out!
Fun Fact: Fighting Belle was a quarter finalist at the BlueCat Screenwriting Competition.