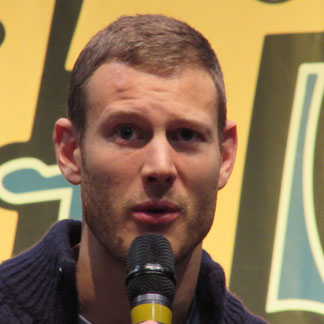 Last month Carola and I went to Utrecht again, for yet another edition of the wonderful Dutch Comic Con. Up until now we have visited every edition of Dutch Comic Con (spring and winter) and we just love it. One of the guests this year was Tom Hopper. You might know him as Dickon Tarley in "Game of Thrones", Ser Percival in "Merlin" or Billy Bones in "Black Sails". When Dutch Comic Con announced Hopper, it gave me the last nudge I needed to start watching "Black Sails". I mean I love watching anything with Pirates in it, so it was long overdue. I immediately liked the character of Billy Bones (portrayed by Tom Hopper). He is a very righteous and loyal pirate, who constantly struggles with the dark side of being a pirate. When it was time to go to Dutch Comic Con I knew one thing, for sure: I wanted to meet Mr. Hopper...
First of all: who is Tom Hopper?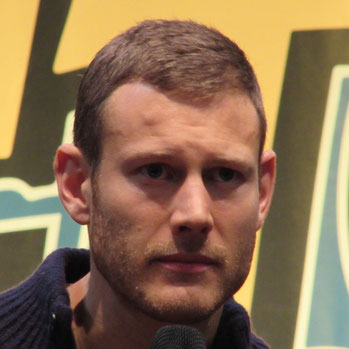 Tom Hopper was born Thomas Edward Hopper at the 28th of January 1985 in Coalville, Leicestershire (United Kingdom). He went to Ashby school in Leicestershire, before he started studying acting at the Rose Bruford College in the South London suburb of Sidcup. While he was at Rose Bruford,  he did a lot of theatre, including roles in: "Festen", "The Tempest" and "The Way of the World". Being on stage with a real audience got him to really want to pursue an acting carreer. He grauduated Rose Bruford College in 2006 with an honours degree. In the early stages of his carreer Hopper appeared in British television shows, like: "Saxon", "Casualty", "Kingdom"  and "Doctors". He also played Marcus in  in the comedy/horror movie "Tormented" (2009). This BBC movie is about a heavily bullied teenager, who comes back from the dead to torment the ones that made his life a living hell. In 2010 Hopper landed the (recurring) role of Percival in the BBC series "Merlin". In 2014 Hopper set a memorable performance in the medeival  "Northmen - A Viking's Saga". Not shy for some 'swashbuckling action' he also starred as the Roman soldier Arminius in "Barbarians Rising" and eventually signed for the role of Billy Bones in Michael Bay's "Black Sails". In the seventh season of HBO's "Game of Thrones" Tom replaced his good friend Freddie Stroma (who had landed a role in another show, so his schedule didn't allow him to come back) as Dickon Tarly. The two have the same agent and Tom had just finished shooting for "Black Sails", so his agent mentioned he was free. 
Photo Op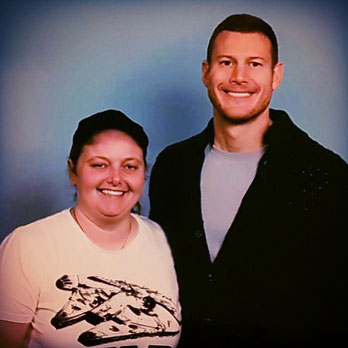 Like we already mentioned in our general overview ( I can't write this without hearing Ted and Robin from "How I met your Mother" btw), due to works on the train rails we had a lot more travelling time than we should normally have. In the train I was constantly checking the time, because Tom's photoshoot was the first one of the day. By the time of our estimated arrival, the shoot would already be in progress. So any kind of delay could cost me the photo with Tom Hopper. Luckily everything went very smooth and we raced to the photoboot to buy the ticket. Huffing and puffing I asked if it was still possible to buy a ticket for the photo op. I was waiting for the "No, sorry", when the (very nice) guy behind the booth told us: "Of course! Tom is a bit late. He hasn't left the hotel yet!". The downside to this was, that we were gonna miss the biggest part of the Kevin McNally Q&A, but there was an upside as you can see: my head turned back to it's natural colour...
Q&A
During his Q&A Tom talked about his work on "Merlin", "Black Sails" and "Game of Thrones". He also talked about the state of his body (and how to keep it that way), his love for "Back to the Future" and a lot of other things. You can check out some of the highlights in the video below.
Autograph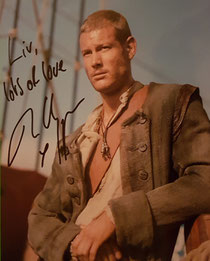 At the end of the day we were walking around some more, like we always do and I kept on hesitating about taking an autograph of Tom too. He seemed like such a nice guy during the photo op and his Q&A. I mean it had been an expensive couple of months and december was coming up so I wasn't sure what to do. Carola kept on saying this was my chance and eventually I came to the point that I just thought: "Ok, let's just do this!". Carola decided to go with me. We had to wait for a little while, because there were some other girls in front of us. When it was our turn, it turned out I was right. Tom was very nice and outgoing. He asked us how our day had been and we talked a bit about our long journey home. I am so glad I decided to take the autograph. It was so nice to meet Mr. Hopper and hopefully we will see a lot more of him on the smaal and big screens in the future....
Ooh right the singing. I forgot to talk about the singing. Well as you might know during our shenanigans, Carola and I sing a lot. We are not exactly nightingales when it comes to the quality of our voices, but we have a lot of fun doing it. We sing songs of "The Sound of Music", tunes from some of our favorite old school tv shows and so on. We also make up our own songs and Carola already has a Ken Foree-song. Well Mr. Hopper: now you have a song too. You want to hear the Tom Hopper-song? Jut ask ;)