2018 was a "strange" year for me and I mean that in the best way possible. In the weekend of the 7th and 8th of April 2018 I met Joe Keery (he plays Steve in "Stranger Things")  and just a few months ago at the Winter Edition of Dutch Comic Con 2018, I met his "brother from another mother": Gaten Matarazzo..who ofcourse plays Dustin.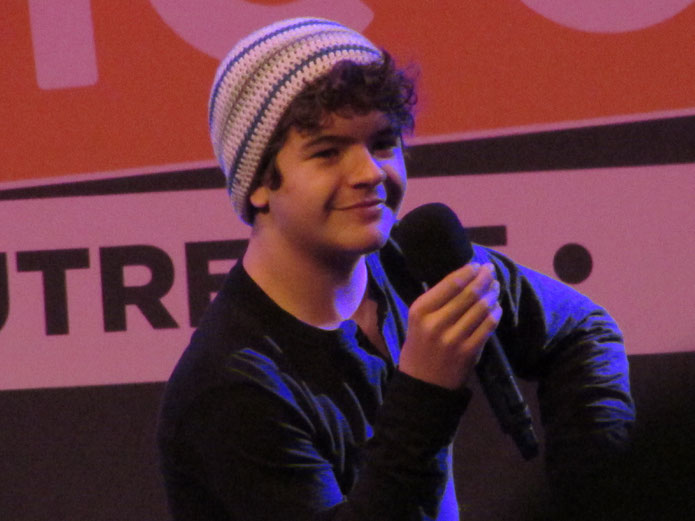 Talking about "Stranger Things": I love that show! Last week Netflix announced the release date for season 3 of this immensely popular show: the 4th of July! That's right: "Stranger Things 2" premiered on Halloween and "Stranger Things 3" hits our screens on Independence Day (....is it Summer already?).
Well back to Dutch Comic Con 2018! When Gaten Matarazzo was announced as a guest, I literally jumped for joy. Dustin and Eleven have been my favorite "Stranger Things" characters (kids-wise) from the start. A few years ago, I was subscribed to the BamBox (they stopped shipping to the Netherlands, which really is a pity) and the theme of the box was "Strange". At this moment you probably think: "Okay Liv, where are you going with this?", but hang on. In that box was a signed (!) replica from Dustin's cap. I remember I was so happy when I got that (as you can see on the picture below) and it seemed so unlikely that one of the cast members of the show would ever make his way to the Netherlands at that point. But now two years later, Dutch Comic Con did it: Gaten Matarazzo was coming to the Jaarbeurs. 
Who is Gaten Matarazzo?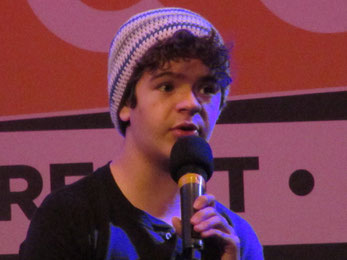 Gaten Matarazzo was born on September 8th, 2002 in New Jersey (US) as Gatano John Matarazzo III. He was born with cleidocranial dysplasia. This rare genetic condition affected the development of his facial bones, skull and teeth and caused him to be born without collar bones. Gaten says he has a mild version of the condition and he wears dentures as a result of it. He now uses his fame to raise awareness about the condition. He also fundraises for CCD Smiles. This organization helps to cover the costs of oral surgery for people with the condition. Gaten started acting on stage and he played roles in Broadway productions of "Priscilla Queen of the Desert" and "Les Misérables". He also played a guest role in the TV series "The Blacklist", before the Duffer Brothers cast him as Dustin Henderson is "Stranger Things".
Fun Facts:
- Gaten says that if he could play anyone he wanted, he wants to be Spider-man.
- Chris Pratt is his role model as an actor.
- Gaten is still in school and his favorite subject is history. The least favorite is math.
- The thing that scared him most when he was younger was: Michael Jackson turning into a werewolf in "Thriller".
- He loves video games.
- One of his all-time favorite movie is "The Goonies" 
Gaten Materazzo at Dutch Comic Con - Panel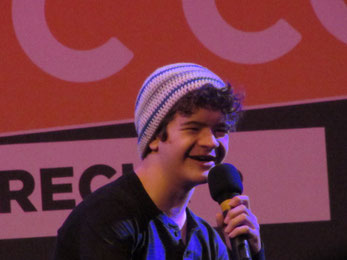 I already bought my photo op with Gaten beforehand, so I knew that would be on Sunday. On Saturday we attended his panel. The first 10 minutes of the panel, it seemed like he was a bit shy and insecure. He got some requests to sing a song, repeat a line from the show ("She is our friend and she's crazy") and to reproduce his famous "rrrr"sound from season 2 of "Stranger Things". He was a great sport and met all of those requests, but you could tell it made him feel a little bit not at ease. Later on, when there were a lot of questions about the cast and the show itself, he seemed to relax a bit more and you could really see he enjoyed talking about all of that. At one point someone asked him if he could do "the weird arm" thing, which I thought was really inappropriate, but Gaten again was very friendly and talked about the condition he suffers from, called CCD. Gaten has a mild version of the condition. Because of this he has no collarbones and that is also why he had no teeth in the first season. because of the lack of colarbones Gaten can make his shoulders touch in the front. Gaten talked about how he personally did not mind, that the guy who asked the question called it 'the weird arm thing', but that there are people that have far more problems caused by CCD. He supports the charity "CCD Smiles" and mentioned that the people that suffer from a more severe form of the disease probably would be hurt by talking about it like that. He also talked about his relationship with Joe Keery (who plays Steve) and the rest of the cast. Curious about what else Gaten had to say? Just click the video below!
The photo op
On Sunday it was finally time for my photo op and I was so happy to meet yet another actor from one of my favorite shows. Of course it was a photo op, so it all went pretty fast. Just like in the panel, Gaten seemed a little insecure and shy, but he was very friendly and I am happy that I had the chance to do it. The picture is going to get a great place next to the signed cap. If I ever get the chance to meet him again, I would certainly go back for a real in person autograph. After this I really cant wait for Season 3 of "Stranger Things" to hit Netflix! So I will ask once again: "Is it Summer already???"