It's already been a few months ago that we all attended Weekend of Hell! We still you owe you some articles :). Today we're talking about Erika Ervin! I was glad that the was announced as a guest for Weekend of Hell! You might also know Erika as Amazon Eve. She's an American actress and model and you might know her for Family Tools, Hemlock Grove or American Horror Story: Freak Show. I know Erika Ervin for playing Amazon Eve in American Horror Story: Freak Show. I really loved that season of AHS. All the characters are great and the story development is awesome. Amazon Eve is a great character and I would have loved to see even more of her on the show! 
Erika Ervin: The panel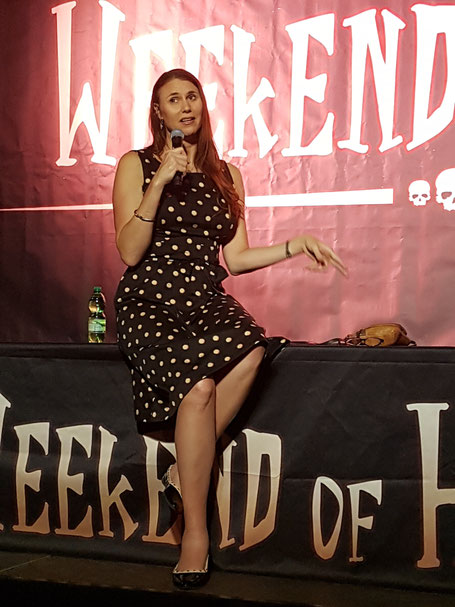 Erika Ervin attended Weekend of Hell on both days. Of course Liv and I made sure to also attend her panels. We were thrilled to hear what she had to say. A few things from the panels that are nice to know: 
- She liked Angela Bassett's character (Desiree Dupree) the most in American Horror Story: Freak Show. 
- Erika ervin loved working with so many talented people on the set. It was really eye opening to work with for example Jessica Lange, Sara Paulsson and Kathy Bates. 
- At first she was a little starstruck when she started working with Jessica Lange. They had a couple of great scenes together.
- But her favorite scene was together with Angela Basset.  She loved the feather scene. 
- Erika Ervin will be starring in the 2017 movie called Chimera. She'll be playing Dita Gruze: A German ass kicking assassin. She thought it was a fun role to play! 
Erika Ervin also talked about the last episode of AHS:Freak Show [Spoiler alert]. The question was if she felt like her character sacrificed herself. Erika told that he was surprised that people were seeing her character as such a hero after that. [End of spoiler]. She also tells that she's a transgender woman and the show did give her the visibility and a chance to move, touch and inspire more people. 
We loved attending Erika's panels. Erika Ervin was very lively and interactive. I thought she was great to all of her fans. She was constantly paying attention to see if someone had a question and really telling a lot about her work and her thoughts and ideas. It was a very inspirational panel!  
Meeting Erika Ervin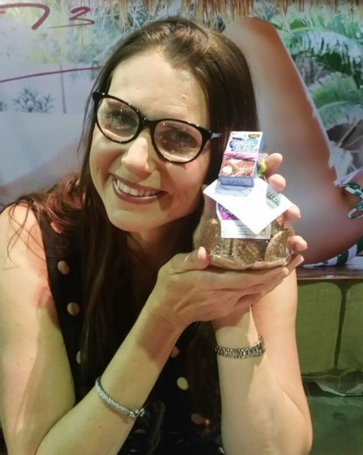 At one point, on Sunday, Liv and I were walking around. Discussing what to do next. Liv wanted to out for a smoke, but somehow we checked the schedule first. There we saw that Erika Ervin would have her photo op n 10 minutes. We talked a bit about it: Do we want to do it, yes or no? We decided to get the ticket and do the photo op! There wasn't a queue so it just took about a minute to buy the tickets. We immediately walked over to the photo op. 
We also didn't have to queue a long time for the photo op. So that was amazing. Doing the photo op went very quick. We received the photo immediately after, without any troubles. I'm glad we did the photo op. It was very nice and Erika Ervin was very kind to us. It was great meeting her and being able to get a picture. 
After that, we also decided to go her table. We had a present for Erika and we were hoping to talk a little bit more. So we went over to her table! We gave her the 'stroopwafels' and she was very happy. We talked a bit: It was great! We told her we were from the Netherlands. She was already familiar with 'stroopwafels' and she also talked about Amsterdam. She'd really like to visit the city. So let's hope Comic Con Amsterdam will invite her soon ;).  
We really enjoyed meeting Erika Ervin. It was awesome. She's such a kind person and very lively and talkative. She's very open about being transgender and I think she's inspiring a lot of people with this. And that is so important! She's a great woman and such a strong person. I loved listening to her stories. And let's not forget: Erika Ervin is an amazing actress as well. If you haven't seen AHS: Freakshow yet, I'd recommend you to take a week off and watch it!